Polenta with glazed Brussels sprouts & roasted hazelnuts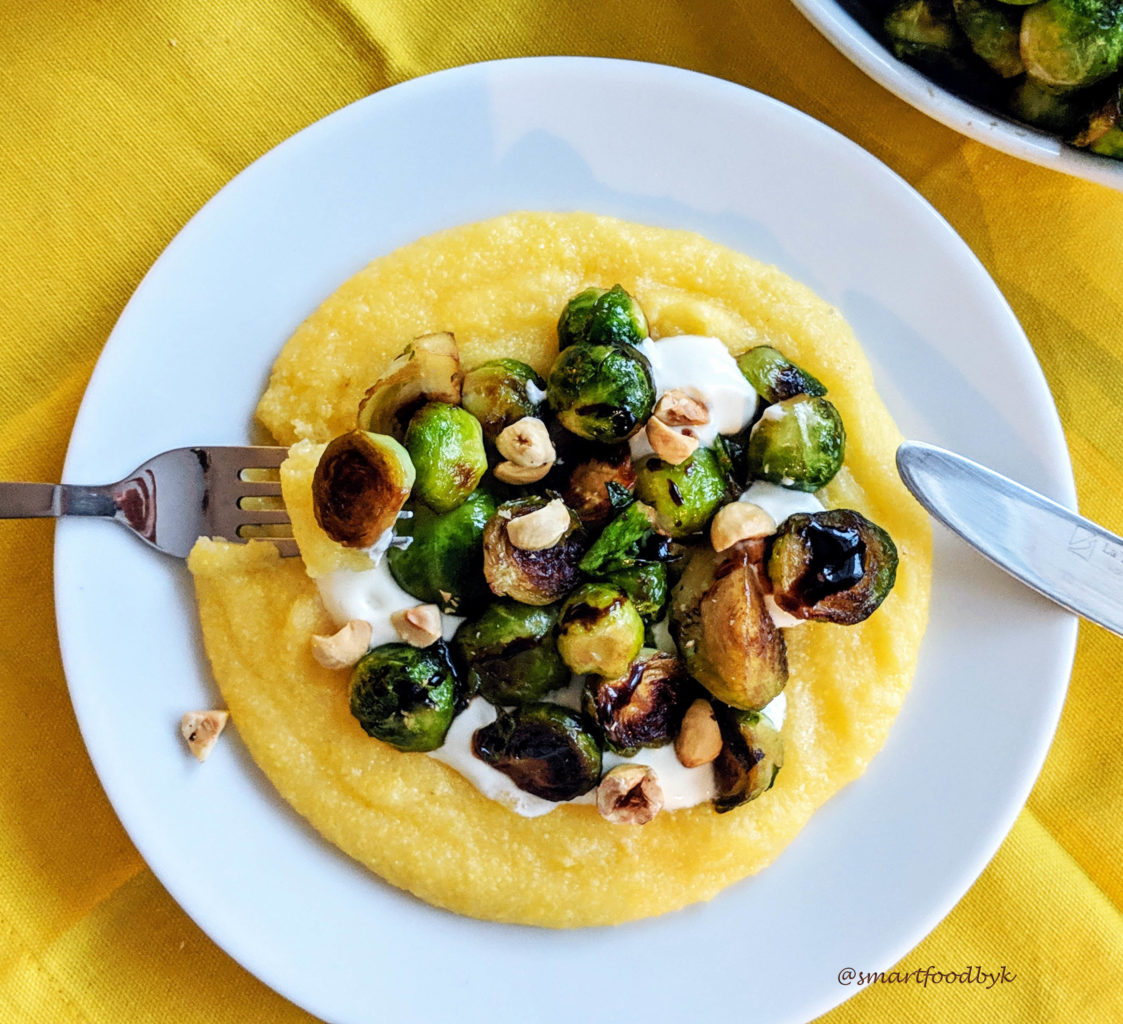 How come we start seeing Brussels sprouts everywhere around Christmas? It used to despair me as I really did not like them before. I would push them around on my plate and finally abandon them…  In my childhood memory they were more bitter than today. What memories do you have of Brussels sprouts? Maybe they have been changed in the meantime through various transformations (food is transformed in so many ways today to please our more and more standardised taste)? Anyway, one thing is sure, they are a great match for polenta 😉
It is my veggie transition period that made me put them back on my shopping list. I did not want to leave any vegetable out. I told myself that there must be some way to prepare them that would enhance their unique taste 😉 So here is one: Brussels sprouts pan-fried with olive oil and iced with maple syrup, placed on a cushion of soft polenta and sprinkled with toasted hazelnuts with a drizzle of balsamic cream.
With an addition of some Greek style soy yoghurt (or fresh goat cheese), or not, up to you 😉
Serves : 4-5. Total time : 45-50 minutes (preparation 15-20 min, cooking 30 min)
INGREDIENTS (organic and in order of use)
Polenta
4 1/2 glasses of Water (1 glass = 250ml)
2 tablespoons of Olive Oil
1 glass of Polenta
1 level tablespoon of Unrefined salt
some fresh Thyme leaves
Maple syrup glazed Brussels sprouts
500g of Brussels sprouts
1 large pinch of Unrefined Coarse Salt
4 tablespoons of Olive Oil
2 tablespoons of Maple Syrup
Balsamic Cream to serve
handful of roasted Hazelnuts to serve
2 tablespoons of thick Greek style soy yoghurt per plate (or 1 spoonful of fresh goat cheese to serve for those of you who eat dairy)
PREPARATION
Easy oven cooked Polenta
Preheat oven at 180°C.
In an oven proof dish that you can cover with a lid heat 4.5 glasses of water until it simmers. add 2 tablespoons of olive oil and some fresh thyme leaves.
Gradually add the polenta by stirring continuously until the mixture is boiling. Small bubbles will begin to rise to the surface and the mixture will begin to thicken.
Cover immediately with a lid and bake at 180 ° C for 20 minutes.
This polenta is really easy to make and avoids stirring the preparation throughout the cooking. I have seen it on @bonappetitmag instagram account, and found the recipe on their site.
Roasted hazelnuts
Roast a handful of hazelnuts for 10 minutes on a baking sheet at the same time as the polenta.
Crush them and leave for later for the service.
Maple syrup glazed Brussels sprouts
Wash and cut in half the 500g of Brussels sprouts. Fry them over medium heat (and covered) with a large pinch of coarse unrefined salt and 4 tablespoons of olive oil. Stir regularly to cook and brown evenly, for about 15-20 minutes.
Sprinkle with 2 tablespoons of maple syrup and continue cooking for another 5 minutes on a little higher heat.
Plate presentation
As in the picture below, put a nice layer of polenta in the middle of the plate.
For even more flavour and creaminess, roughly spread 2 tablespoons of Greek style soy yoghurt in the middle of the polenta. You can totally skip this step, the dish will still be delicious 😉
Place the sprouts on the polenta sprinkle with a dash of balsamic cream and some crushed hazelnuts.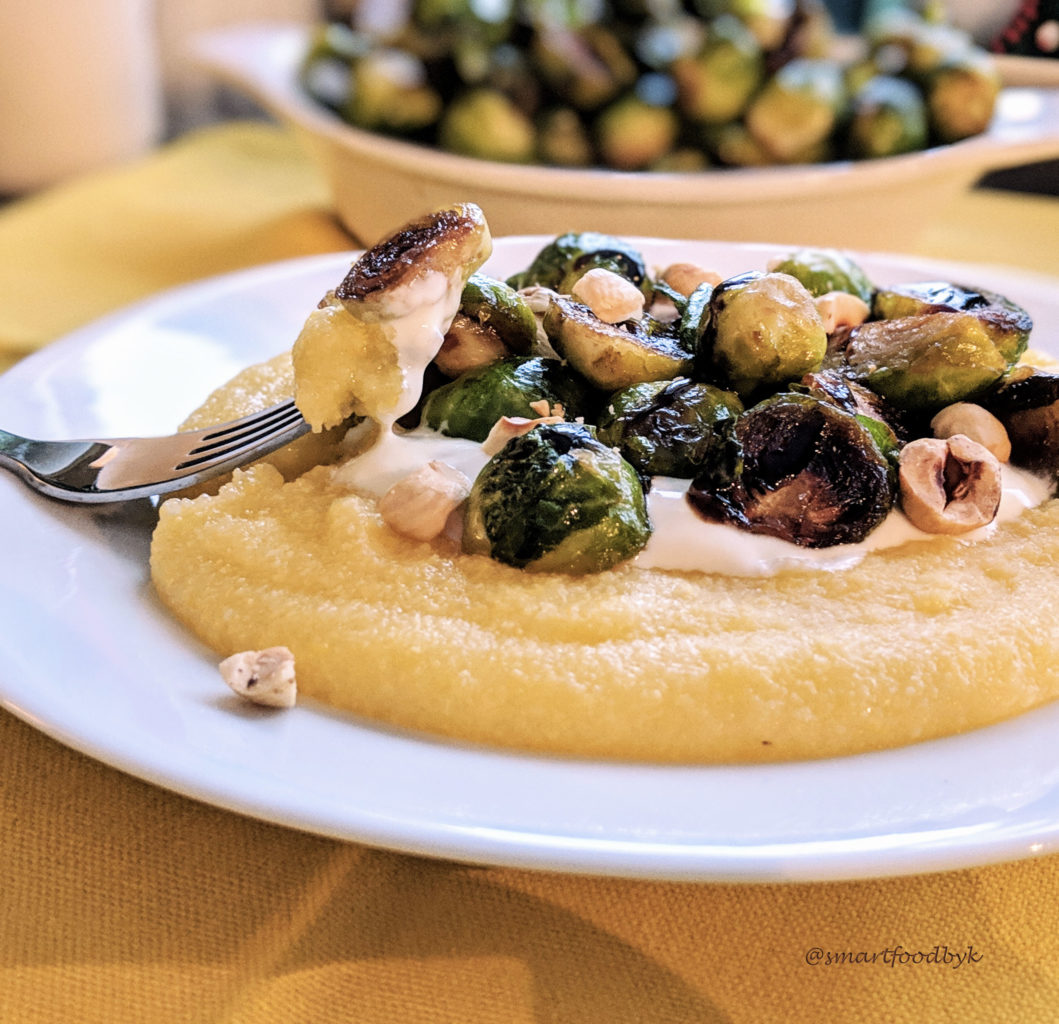 ---
---