Savoury breakfast corn pancakes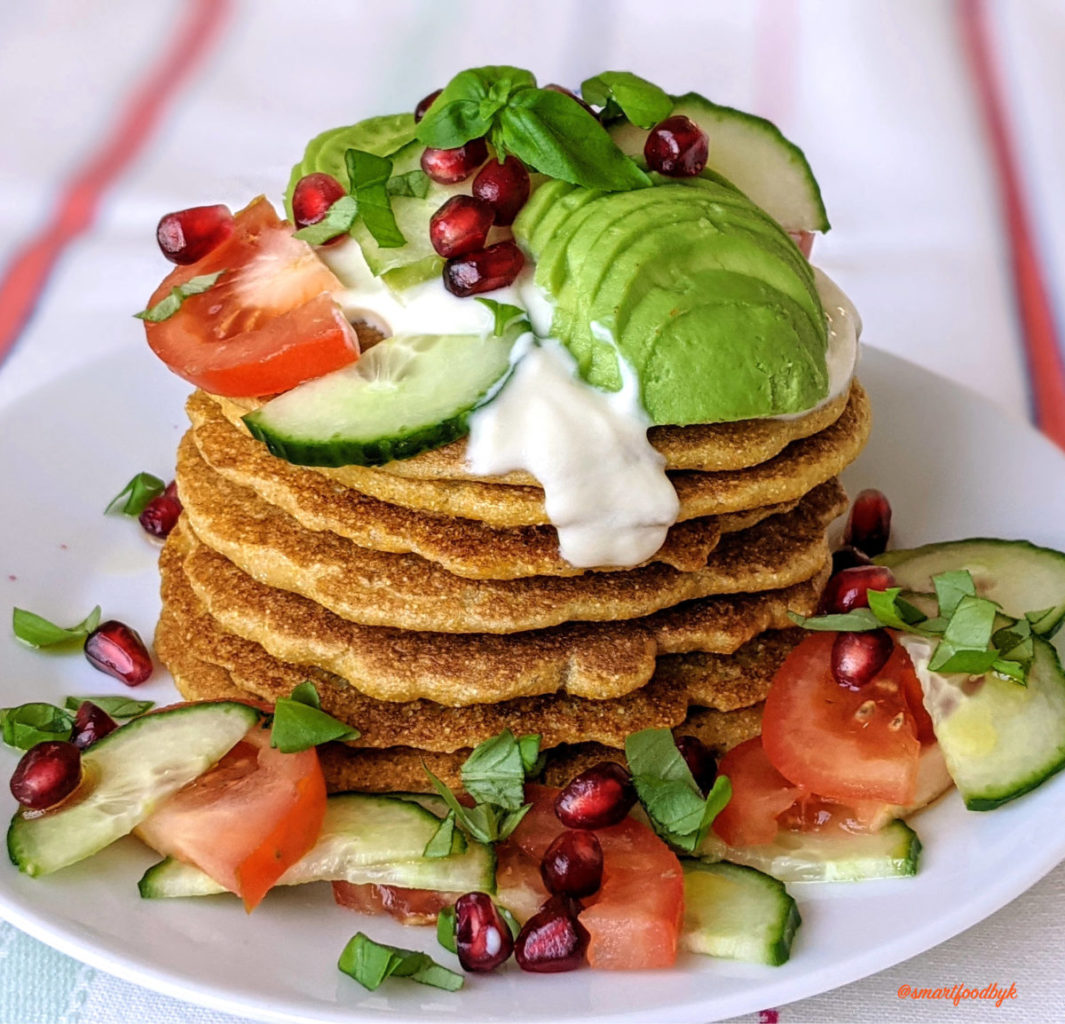 In our home pancakes are about late mornings and taking the time to enjoy every bite. They are about being creative with the toppings, choosing the right spread or sauce and eating them first with our eyes. So indulgent, so delicious and so easy to share because everybody loves them! I have tested many different recipes and experimented with various ingredients and corn pancakes are unanimoulsy among our top three.
The thing is pancakes can also easily become a very unhealthy breakfast, made of white refined flour topped with very (refined) sugary spreads. We definitively want to avoid that. If you are like me and you value nutrition as much as you value the taste of your food, you definitively want to avoid stuffing your body with what we call "empty calories". Processed flour and sugar are perfect examples of calories that have no nutritional value but get easily stored in your body as fat.
Here is an idea of how to pimp your pancakes with an extra nutritional value and make them savoury for a change. Super easy to make, I promise you, you'll love them (if you like corn) 🙂  And you can always make them sweet too.
Serves: 10-12 pancakes. Total time 1 h (preparation 10-15 min, batter resting 30 min, cooking 15 min)
INGREDIENTS (organic and in order of use)
For the corn pancake batter
20g of fresh Yeast or 1 tsp of dry Yeast
1/2 tsp of Unrefined Sugar
250-300 ml of warm water (not hot)
140g of Polenta (not corn flour)
70g of flour (I use a mix of Wheat and Rye flour)
1 tsp of Unrefined Salt
For the pancake sauce
100ml of Greek style (thick) Soygurt
1tbsp of Vegan Mayo
1/2 Lemon Juice
Salt and Pepper
Fresh Dill or Parsley or Coriander or Basil
1 tbsp of my Protein Powder for extra nutrition (optional)
PREPARATION
Melt (or dilute) yeast in 100 ml of warm water (not hot, it could kill the yeast) with 1/2 tsp of unrefined sugar and let rest for about 5 minutes. Small bubbles will start appearing on the surface.
Combine 140g of polenta, 70g of flour and 1 tsp of unrefined salt in a batter bowl.
Add the yeast mix and then progressively 150-200ml of warm water while mix everything together to obtain a smooth batter. It should have about the same consistency as the classic pancake batter. Let rest for about 30 minutes to activate the yeast and start rising the batter. It will thicken a bit while resting.
While the batter is resting, you can prepare the sauce for the topping. Just combine all the ingredients together, stir vigorously and it's done.
 If you do not use a non-stick pan you may need a sprinkle of olive oil to cook your pancakes. Preheat the pan and pour a pancake size quantity when hot. Cook each side for about 1 minute, flip when the little bubbles start appearing like in the photo.

Pancakes pan cooking – flip when little holes appear.

Serve your corn pancakes with anything you like. I served them with some fresh veggies: avocado, tomato, cucumber, pomegranate and of course the sauce.

Corn pancakes with toppings: sauce, avocado, tomato, cucumber, fresh basil and pomegranate.

You can of course serve them with any sweet topping you like too, they are as delicious 😉
---
---