Irresistible Plant-based Spanakopita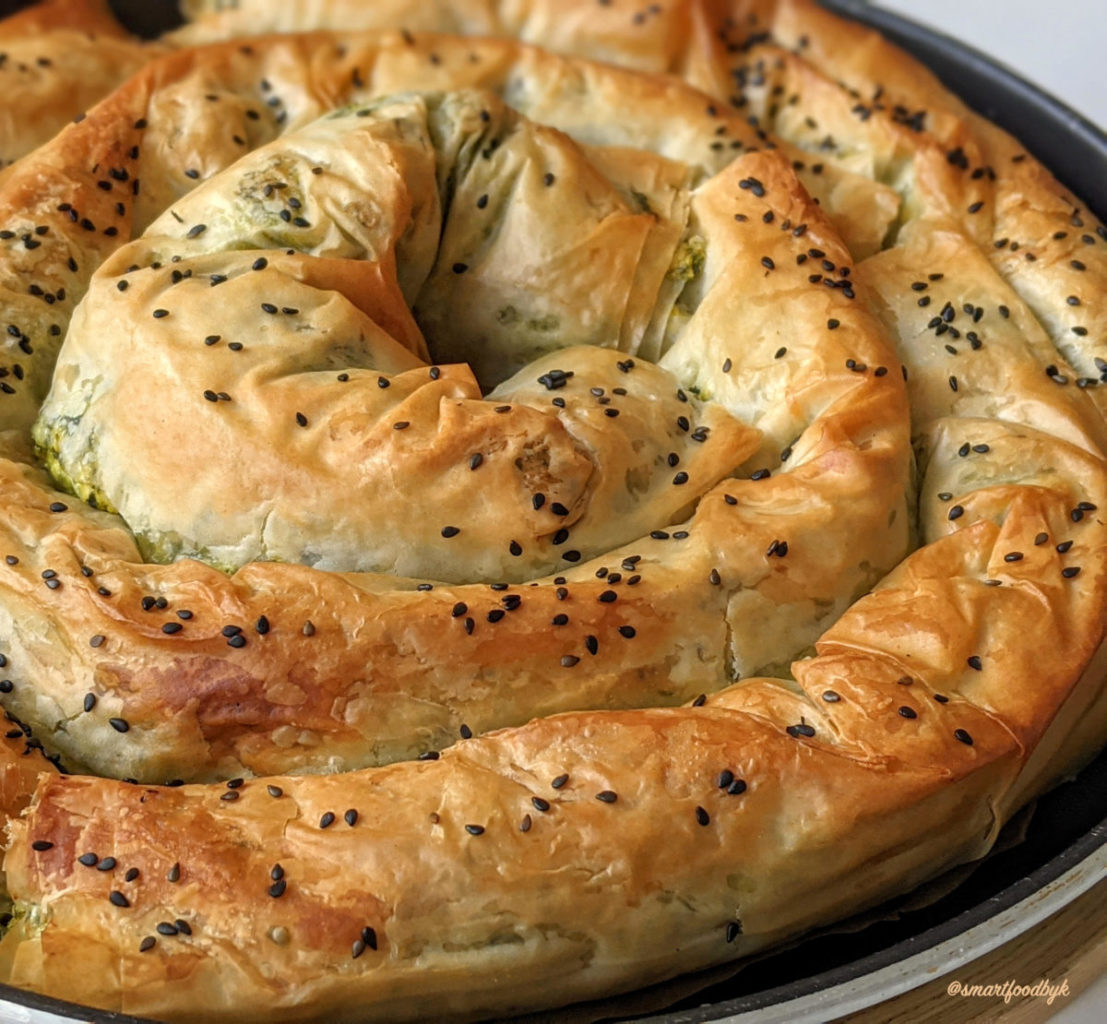 Those who know me know that one of my favourite dishes ever is the Serbian traditional "gibanica" – sort of a cheese and egg millefeuilles pie that my mum makes to perfection. It is such a comfort, delicious, indulging food that I was seriously contemplating making it an exception to my plant-based diet (check the recipe). I have tried replacing gibanica ingredients with some plant-based options but without much success. As my vegan friends know, it is not easy to recreate the fluffiness an egg can provide or the unique cheesy creaminess of a cheese. Replacing the ingredients and expecting them to taste as the "originals" was a mission impossible!
BUT…
Recreating the "gibanica" experience was the way to go! The crispiness of the golden baked filo pastry, the indulging deliciousness of the warm cheesy filling accompanied (as we would do in Serbia) by a nice cup of fresh yoghurt. That was what I needed and that was what I created with this Greek style plant-based spanakopita. For my Serbian friends, it is a hybrid dish, between "gibanica" and "burek" and so far all my native gibanica-lovers really liked it very much. For my other friends around the world, it is very similar to the Greek spanakopita. It is a perfect Sunday breakfast or brunch or even a delicious addition to your party buffet.
Let's dig in 🙂
Serves: 6 – 7 persons (6 – 7 rolls). Total time: 1h 15 minutes (preparation 45 min, baking 30 min)
INGREDIENTS (organic and in order of use)
14-15 Filo Pastry sheets
2-3 tbsp of Olive Oil
For the plant-based spanakopita filling
300-400g of Spinach (fresh or frozen)
1 tbsp of Olive Oil
1 small-medium Garlic Clove
300g of Tofu
100g of Smoked Tofu
2 heaped tbsp of thick Oat Cream or Greek style thick Oat Yoghurt (soy works too)
1 level tsp of Turmeric
3-4 pinches of Unrefined Salt (or more to taste)
2-3 pinches of Pepper
juice of 1 small Lemon
1 tsp of dried Dill or a handful of a fresh one
1 heaped tbsp of Nutritional Yeast (optional but recommended as it adds a nice cheesy flavour)
a small handfull of Black Sesame seeds to sprinkle (optional)
PREAPARATION
Start by sauté 400g of spinach, fresh (to soften the leaves) or frozen (until it melts completely and looses all the excess water), with 1 tbsp of olive oil, 1 pressed garlic clove and a pinch of salt and pepper, for a few minutes on a medium heat.
In a mixing bowl crumble finely (with a fork) both tofu and smoked tofu. Add oat cream, dill, lemon juice, turmeric, nutritional yeast, salt and pepper as well as the sautéd spinach and combine everything together to make a nice creamy filling.
Mix 2-3 tbsp of olive oil with around 80ml of tepid water in a cup, you will use it to brush your filo pastry sheets. You will need 2 filo pastry sheets to make 1 spanakopita roll.
Grease your round baking tray (mine is 30 cm of diameter) and preheat the oven to 200°C.
Spread 1 filo pastry sheet, brush it with a mix of oil and water and cover it with another pastry sheet. Spread 2-3 heaped tbsp of the filling on 2/3 of the double pastry sheet, lengthwise "edge to edge". Roll it starting with the filled edge. Place the roll against the edges of the baking trey.
Repeat the process until you use all the sheets and the filling, placing the rolls one after the other inwardly in a snail-like shape.
Brush the spanakopita "snail" with some olive oil, sprinkle with black sesame grains (golden sesame works too) and bake for about 30 minutes at 200°C. If the filo pastry is golden after 20 minutes, lower the heat to 180°C and let bake another 10-15 minutes to make sure it is baked inside too.
Serve the plant-based spanakopita with some fresh thick Greek style soygurt or with some crispy green salad.

Plant-based gibanica-burek hybrid served with some fresh soygurt.
---
---