Peas, Spinach and Mint Potage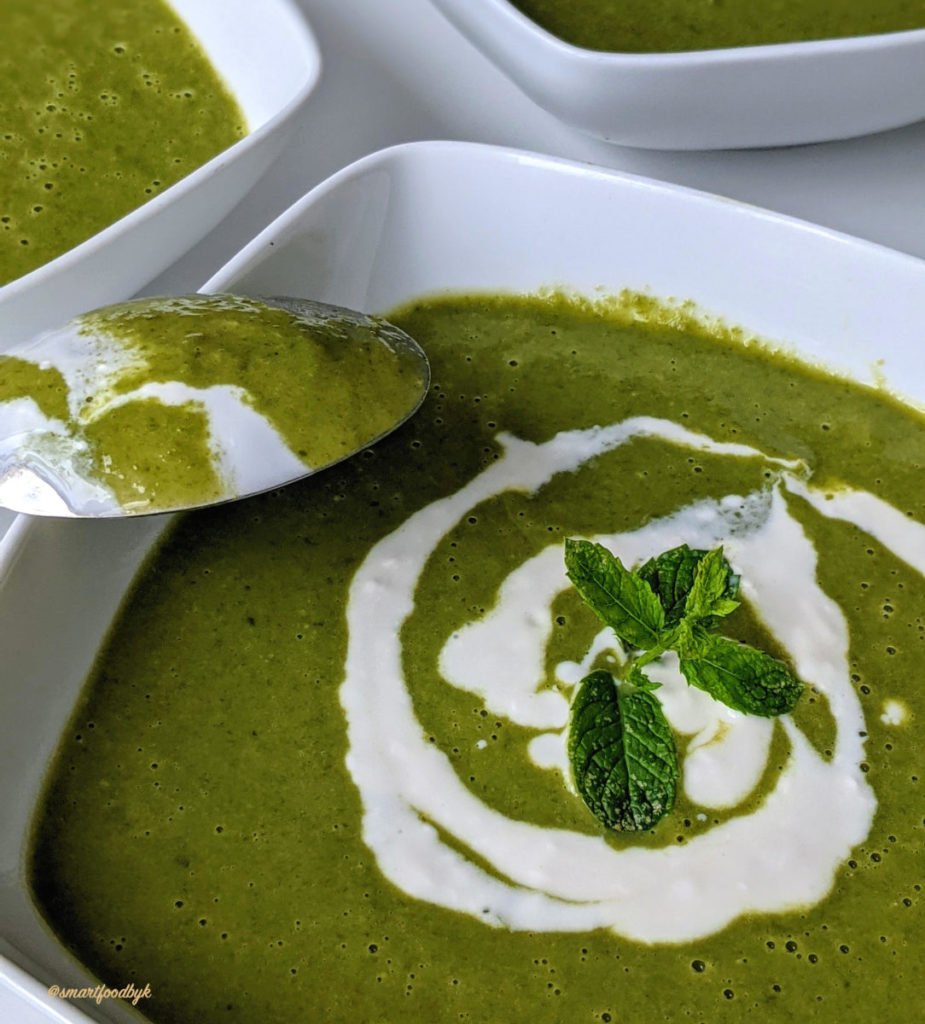 Half an hour of easy cooking will reward you with this incredibly fresh tasting, healthy and creamy yummy potage (French for a thick, blended to smooth soup). Summer is the perfect season for all the ingredients that you will need to make this peas, spinach and mint potage, but you can make it anytime of the year using frozen veggies. Ideally, you already have a pot of your homegrown mint on your balcony or window sill (or maybe you are one of those lucky garden owners). If not, just make sure you buy some fresh mint and not the dried one.
You can serve the potage warm or at a room temperature, as a main meal with some homemade croutons (step 6. under "preparation"), as a lunch or a dinner entrée or as a shot at a party buffet. You'll know when you try it, so let's get started 🙂
Serves: 4 (as main meal). Total time: 30-40 minutes (preparation 10-15 min, cooking 15-20 minutes).
INGREDIENTS (organic and in order of use)
1 medium Onion
2 Garlic Cloves
1 Celery Branch with leaves
2-3 tablespoons of Olive Oil
1-2 generous pinches of Unrefined Salt (sea or Himalayen)
2-3 tours of Pepper from a pepper mill
450g of Peas (fresh or frozen)
300g of Spinach (fresh or frozen)
1 big handful of Fresh Mint (a bit less if you use a Peppermint because it has a stronger flavour)
200ml of Oat Cream
1,5l (approximately) of boiling water (or more, depending on the thickness that you prefer)
PREPARATION
Roughly chop 1 onion, 2 garlic cloves and 1 celery branch and sauté them with 2-3 tbsp of olive oil, salt and pepper, for about 10 minutes on a medium fire.

Sauté onion, garlic and celery with olive oil, salt and pepper.

Add 450g of peas and 300g of spinach and a splash of water and sauté covered for another 5-10 minutes (a bit longer if you are using frozen veggies).
Pour 200ml of oat cream and the rest of the boiling water (1,5l – splash) add a big handful of mint. Cover and cook for about 15-20 minutes (the peas should be cooked).

… fresh mint and water. Green veggies and mint potage is ready to simmer.

Blend everything together with a hand blender or in a food processor and serve warm or cooled to a room temperature.

Delicious, creamy, peas, spinach and mint potage.
---
---