Intense lemon cake with walnuts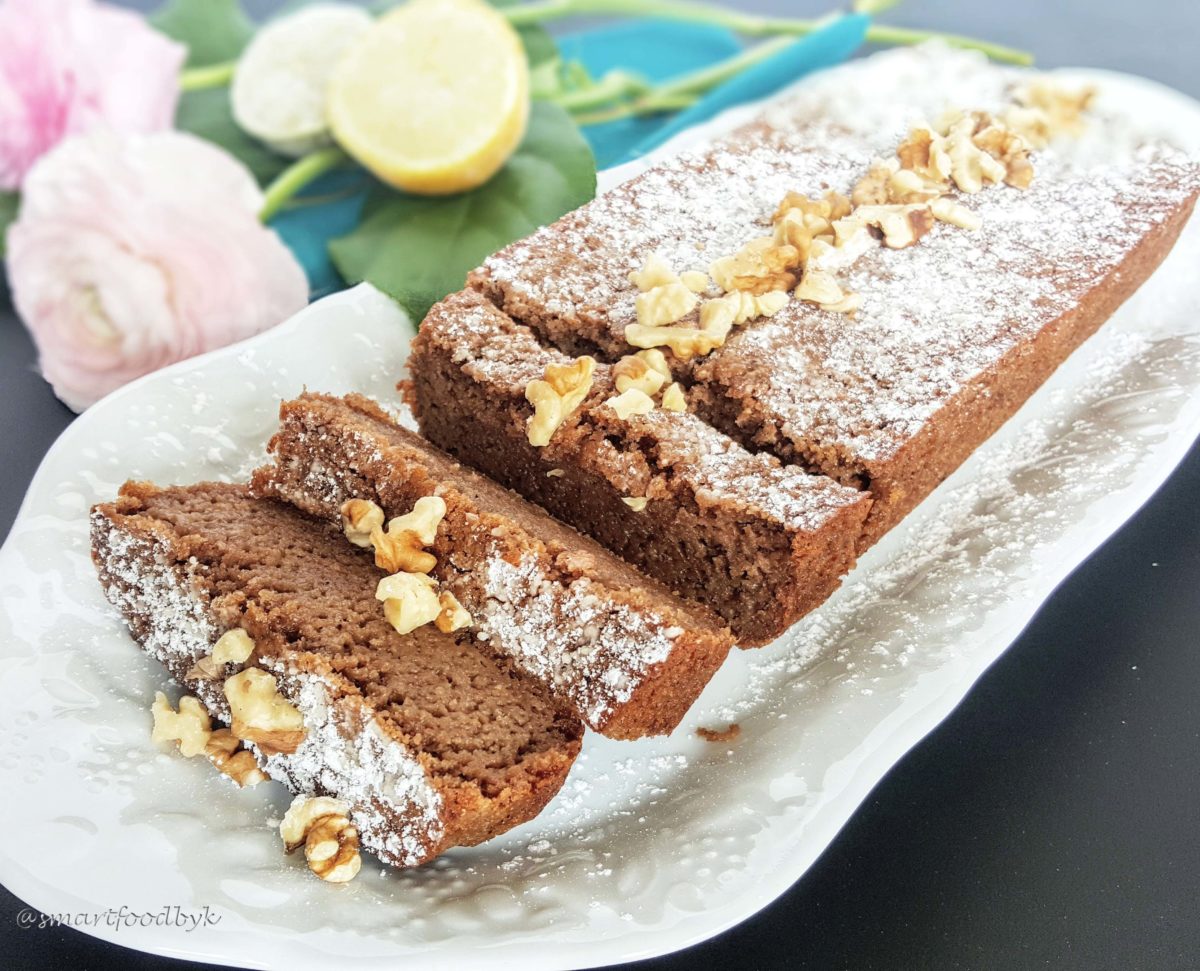 You need a whole lemon for this lemon cake. Yes, the peel too! It gives the cake its intense flavour. The non-refined sugar neutralises its bitterness and the mix with walnuts makes it irresistible 😉 Goes without saying that lemon should be organic in order to spare yourself the poisonous cocktail of pesticides stocked in the peel.
We are used to consuming lemon juice but we often forget the importance of its peel that is bursting with various health benefits. Very rich in vitamin C, citric acid, malic acid, formic acid, essential oil, pectin, it helps eliminate toxines present in our body. It is antiseptic, promotes the alkalinity of the blood, cleanses the liver, boosts the immune system, lowers high blood pressure and even helps fight certain cancers.
I always keep some lemons and limes in my freezer (cut in two) for this cake but also for lemonades, cocktails, salade dressing and cooked dishes seasonings.
Servings: 10 pieces. Total time: 50 min (preparation 10 min, baking 40 min)
INGREDIENTS (organic)
1 small Lemon, fresh or frozen (1/2 big Lemon)
140ml of Water
110g of unrefined Sugar or Coconut sugar
70g of Coconut oil
50g of white Flour
25g of Buckwheat Flour
50g of ground Walnuts (powder)
2 Eggs
1 Baking powder
1 Vanilla sugar
a handful of crushed Walnuts
some Icing sugar
PREPARATION
Preheat your oven at 200°C.
Mix sugar, vanilla sugar and coconut oil manually with a whisk to obtain a smooth paste. Add eggs one by one: 1st egg and whisk, 2nd egg and whisk some more. Add two flours, walnuts and baking powder and mix everything together to a smooth paste without lumps.
Wash throughly a small lemon, cut it in two, take out the seeds and mix it in a blender with 140ml of water. Pour this lemonade into the paste and stir manually to blend everything together.
Grease your cake dish or cover it with baking paper (mine is of a rectangular shape, 26cm x 12cm) and pour in the paste. Bake at 200°C for approximately 40min. The cake should be soft and slightly moist. Let it rest outside the oven for about 15 minutes and then decorate with crushed walnuts and icing sugar before serving.
---
---