Super easy puff pastries, sweet or savoury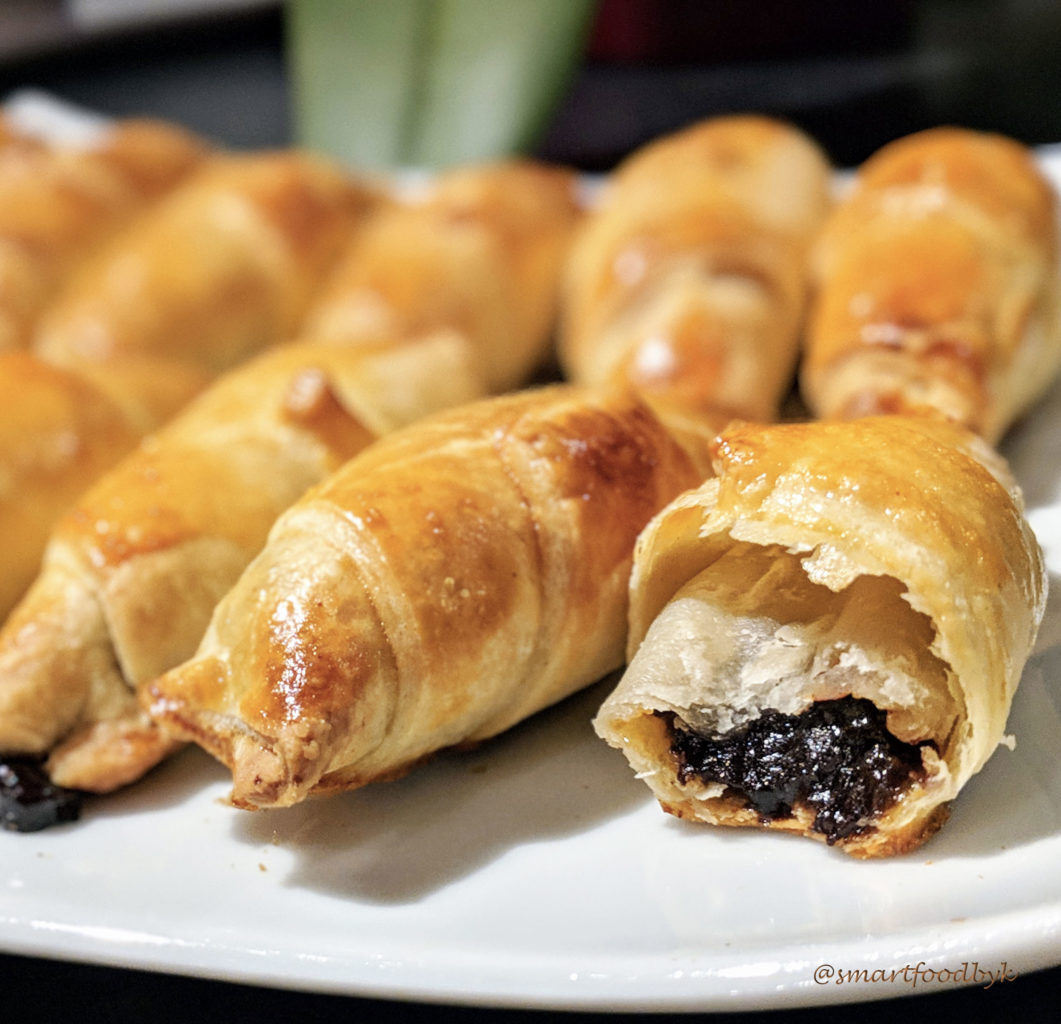 If you have tried to make puff pastry dough yourself, you know how tedious and time-consuming it can be. My mom used to be the champion of puff pastry. She would have prepared a large quantity of which she would have frozen a good part. This preparation always seemed to had taken forever. The only time I tried making it myself, it took me far too much time and effort for a worse result than mom's…
Until I discovered this puff pastry dough recipe "express and for dummies" on 750g website. As promised in the title, it was really easy and quick to make, even if it has a little less "puffs" than that of mom.
I did not use "Petits Suisses" (I cannot find them in Sweden) as indicated in the original recipe but fromage blanc or Greek yoghurt. The fromage blanc works better 😉
Serves: 30 -32 small puff pastries. Total time: 50 minutes (preparation 35 min, baking 15 min)
INGREDIENTS (organic)
For puff pastry dough
240g of Flour
240g of Fromage Blanc
120g of Butter
pinch of Unrefined Salt
Sweet filling (a teaspoon on the base of a dough triangle)
Jam (plum jam in the photo), spread of choice (chocolate, hazelnut, almond, etc.), apple slices coated in unrefined sugar and cinnamon, sour cherries coated in unrefined sugar, etc.
Savoury filling (to spread on a dough triangle)
Cream cheese, olive caviar, aubergine caviar, red pepper caviar, pesto, onion marmalade, etc.
Your imagination is the limit 😉
PREPARATION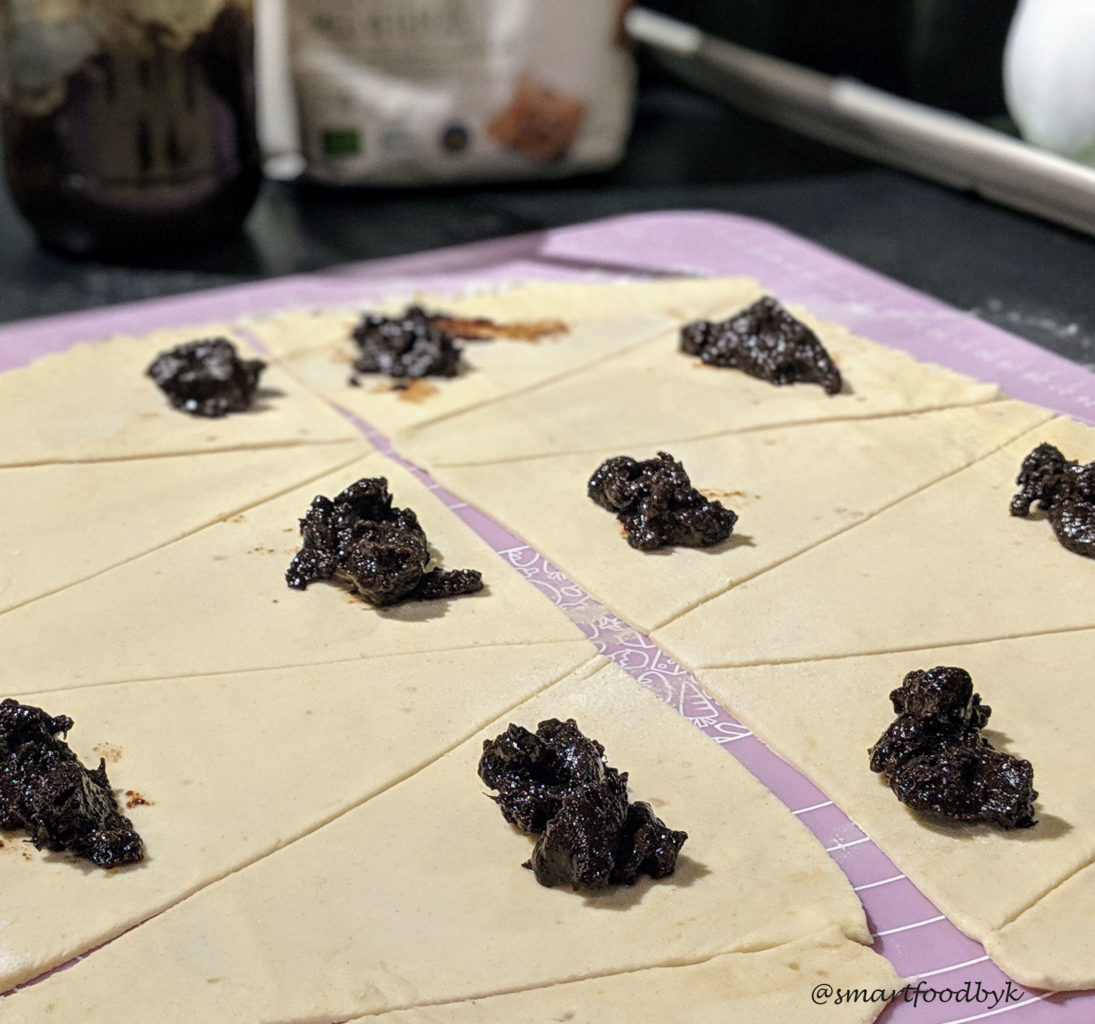 Mix 240g of fromage blanc and 120g of softened butter in a large bowl.
Add 240g of flour and a pinch of salt and mix everything together with a spatula.
Knead the dough manually for 8-10 minutes to obtain a homogeneous ball.
Spread it in a rectangle on a flour dusted surface. Fold the rectangle ends widthwise: left end towards the middle of the rectangle then right end towards the middle. The dough is now folded in three like an envelope.
Turn the dough by 45° then spread again in rectangle. Fold back into an envelope and turn the dough again by 45°. Spread and fold again. The operation must be repeated three times in all.
Cut the dough in half. You can freeze some of it. 1/2 of the dough gives about fifteen small pastries.
Spread the dough into a large rectangle, 3-4mm thick.
Cut it lengthwise then each length into triangles as in the picture above.
Place a teaspoon of jam (or other sweet filling of choice) on the bottom of the triangle and roll each triangle like a croissant.
Place the rolls on a baking tray lined with baking paper and brush with a beaten egg.
Bake at 200°C in an oven preheated at the same temperature (very important) for about fifteen minutes.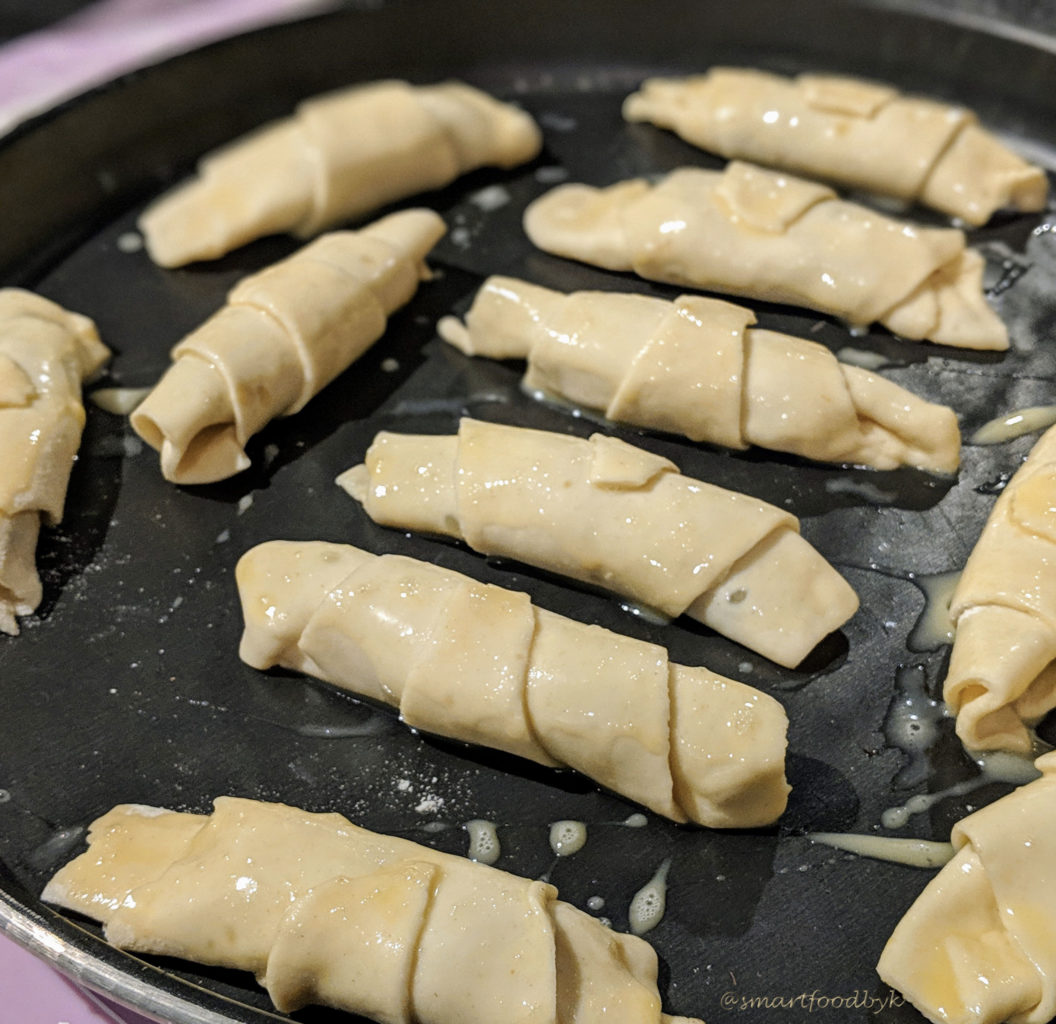 ---
---