Most decadent cheese and garlic bread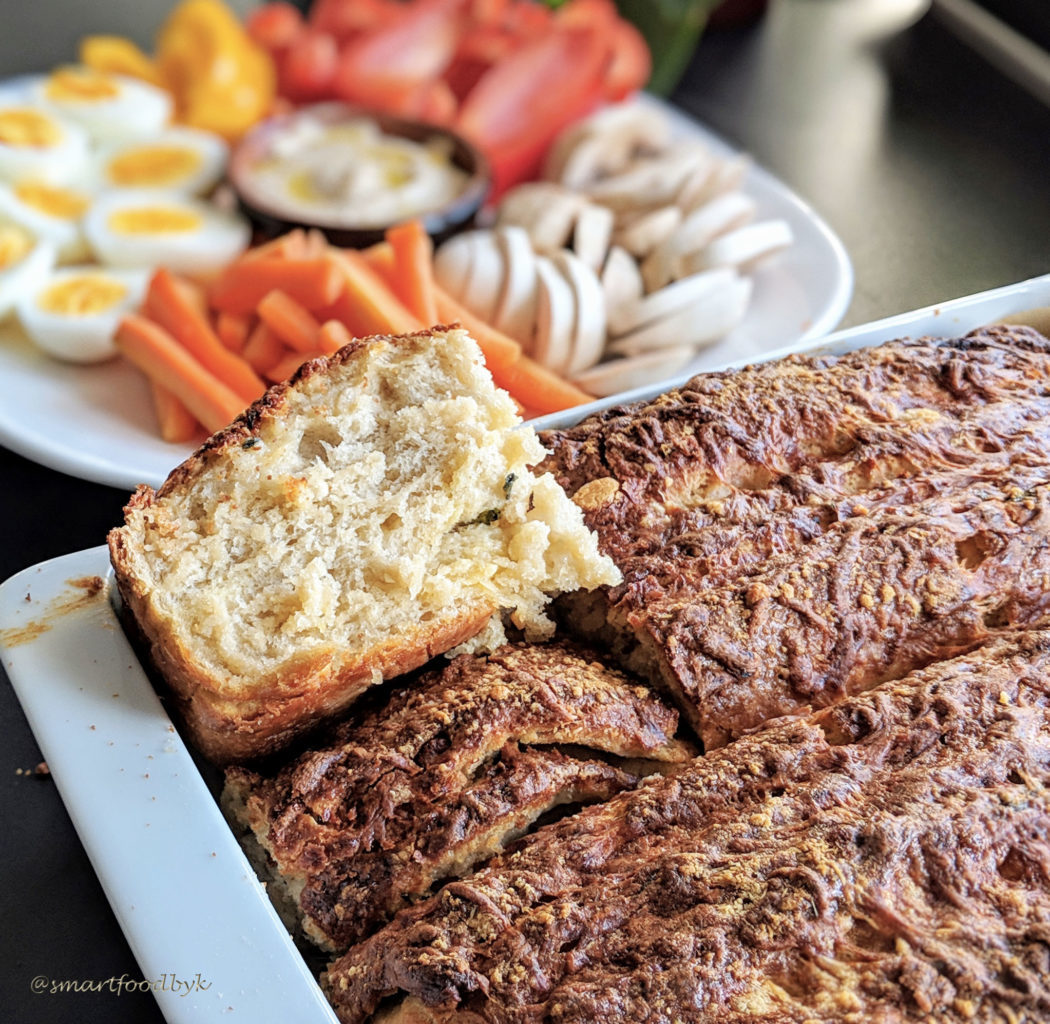 When the star of your lunch is this indecently delicious cheese and garlic bread, I guess you do not need anything else really. If you do, keep it simple, like us today: some fresh vegetables, boiled eggs and homemade hummus.
I found the recipe on famous English chef's, Jamie Oliver's instagram page and adapted it a bit to my liking. When I test other people's recipes I can rarely follow them to the letter. They often inspire me to imagine adaptations that I believe would bring better nutritional value or even more flavour.
Here is what I replaced in this one:
– white wheat flour (gluten free) with a mix of white wheat flour and wholegrain rye flour
– wine vinaigre with cider vinaigre
– fast action yeast with fresh yeast
– refined sugar and salt with their unrefined versions.
One meal, 6 people and it is all gone in record time, that's how good this bread is 😉
Serves: 6. Total time: 2h 45 minutes (preparation 45 min, dough rising 1h 20 min, baking 40 min) 
INGREDIENTS (organic and in order of use)
For garnish/filling
1 Garlic Bulb
80g of Butter
50g of Blue Cheese
120g of Mozzarella
30g of Parmesan
2 tablespoons of Olive Oil
some fresh Basil
For dough
30g of Fresh Yeast
100ml of lukewarm Water
1 teaspoon of fine Unrefined Sea Salt
1 table spoon of Unrefined Sugar
250g of White Wheat Flour + extra for dusting
1 level teaspoon of Baking Powder
200g of Wholegrain Rye Flour
1 Egg
1 Egg White
200ml of room temperature Water
1 tablespoon of Cider Vinegar
PREPARATION
Cut the top from the garlic bulb exposing the cloves a bit, sprinkle with a few drops of olive oil and wrap in baking paper (don't use aluminium foil it is really bad for health). Place in the oven and bake at 200°C for about 35 minutes until cloves become really soft.
Cut 80g of butter and 50g of blue cheese into small pieces and let soften close to a warm spot. Grate 120g of mozzarella (or tear it into small pieces) and 30g of parmesan.
Melt 30g of fresh yeast in 100ml of lukewarm water and let activate while you are preparing dry ingredients.
Mix a 450g of flours, 1 tablespoon of sugar, 1 teaspoon of salt and 1 teaspoon of baking powder in a big bowl and make a little well in the middle.
Stir 1 egg, 1 egg white and 1 tablespoon of cider vinegar in a separate small bowl.
Pour yeast in the flour well and mix it in a bit. Add egg mixture and continue stirring.
Progressively add 200ml (or a bit less) water while continually stirring with a wooden spoon. Stir in all the flour to form a soft ball. It will remain sticky a bit. Sprinkle it with flour and let rise for about 20 minutes.
Mix together 80g of soft butter, 50g of blue cheese and all but a tablespoon of grated mozzarella and parmesane. Squeeze garlic cloves out of the bulb and it to the cheese mixture.
Dust a dry surface with flour, roll the dough out of the bowl on it and divide into 4 equal parts.
As the dough is quite sticky you would need to dust both the surface and each part of the dough before rolling them.
Spread one part into a rectangle of about 25 x 20 cm. Place it aside on a flour dusted trey and spread a third of the cheese mixture all over it. Chop a few leaves of fresh basil and sprinkle on top of cheese. Repeat 3 times very carefully layering the dough rectangles on top of each other to finish with the 4th layer of dough.

Cheese and garlic bread dough layering.

Cut the layered dough widthwise into four, then place the pieces side by side cut-side-up into your baking-paper-layered baking tin.
Let rise in a warm spot for about 1h. The bread will also continue rising while baking.

Cheese and garlic bread ready to bake.

Preheat oven to 200°C. Sprinkle the bread dough with olive oil and the rest of the grated mozzarella and parmesane and place in the oven for about 40 minutes until deep golden brown.
Serve warm 🙂

Cheese and garlic indecently delicious bread.
Jamie's original recipe is here.
---
---