Broccoli & quinoa double veggie burger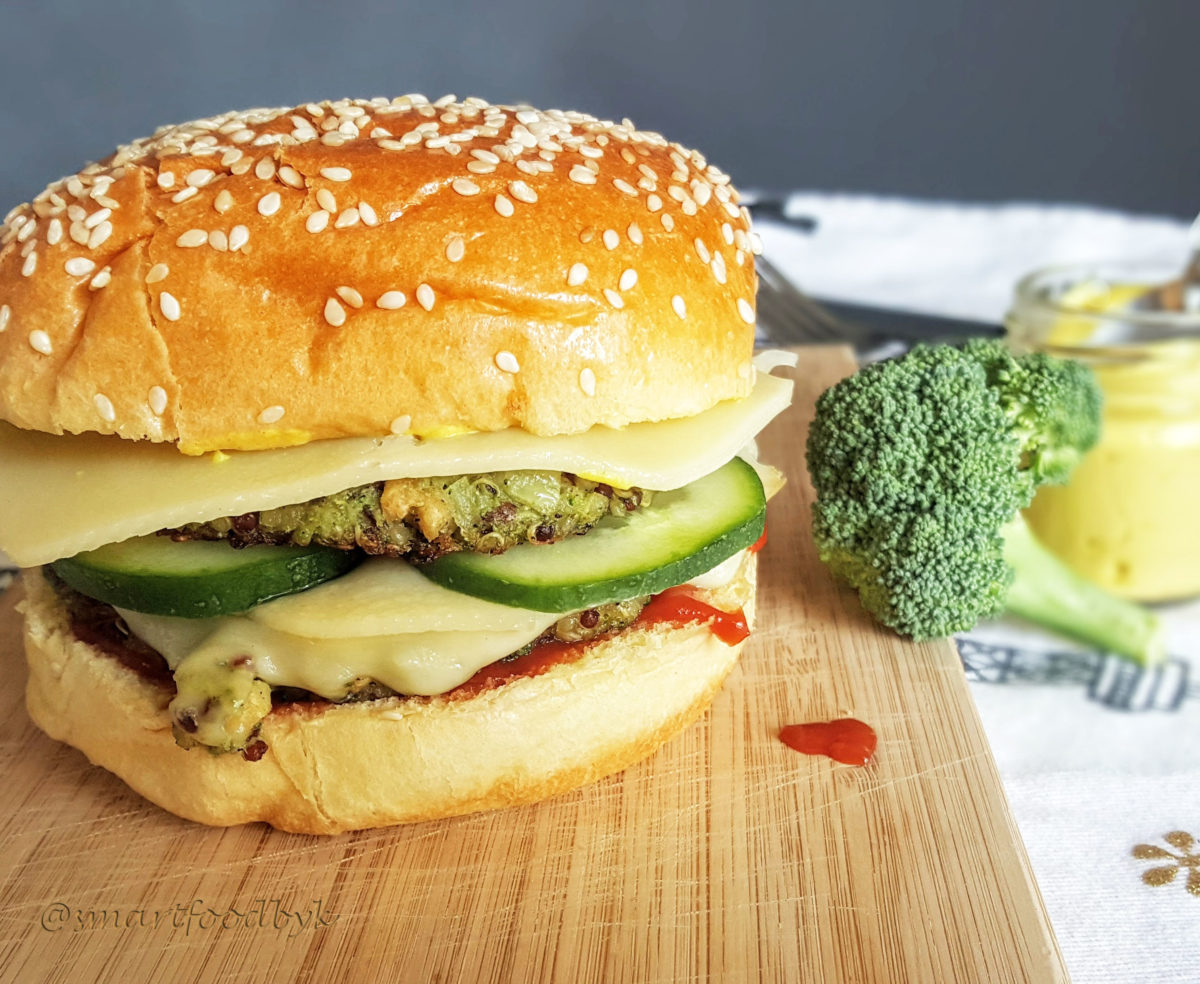 I have tested several veggie burger recipes and I have always found them more or less… stodgy, if you know what I mean. A bit dry and sticky in the mouth. Maybe it is because they are mostly made of cereals and pulses, like corn-starch, oats, chickpeas or beans. I am not sure, but in my opinion, they need more vegetables for a juicier taste. To come up with a new recipe I applied the good old "test & learn" start-up method 😉 Turns out, it works in the kitchen too! Here is a broccoli and quinoa double veggie burger, my best try so far, although I keep experimenting. I will keep you posted as soon as I come up with something even better.
Serves: 4 double burgers (8 veggie patties of about 8-9 cm of diameter and 7-8 mm thick)
Preparation, cooking and assembling time: 45 mins.
INGREDIENTS
For patties (gluten free, lactose free & vegan)
1 Broccoli (small)
70g of Quinoa
40g of Soy protein (in small pieces, not crumbs or powder)
1 Onion (small)
1 Garlic clove (medium)
3 tablespoons of Oil (mix of olive and rapeseed)
2 tablespoons of Buckwheat flour
2-3 pinches of unrefined Sea salt
1/2 teaspoon of Thyme
some ground Black pepper
Fresh coriander (optional)
As broccoli is in season in winter, I suggest you replace it with a courgette (small-medium) for a spring/summer version of the burger. You would need to finely grate the courgette and then leave it to drain some of its liquid. No need to peel it if you buy it organic as I do.
To assemble the 4 burgers
4 Burger buns of your choice
4×2 slices of Cheese (Emmental / Gruyère / Cheddar or your favourite vegan type)
4×4 slices of Cucumber
4 level teaspoons of fine Mustard
some Ketchup
PREPARATION
Put the pieces of soy protein in a bowl of hot water (not boiling) and let it soak while the quinoa is cooking (for about 15 minutes).
Wash a small size broccoli head and cut off its trunk. Cut it into pieces and then reduce it to (an almost) paste with a hand blender (or whatever blending appliance you have).
Finely chop onion and crush garlic with a garlic press. Add them to the broccoli paste and stir them together with a wooden spoon.
Drain the cooked quinoa as well as the soaked soy protein and add them to the vegetable mix together with the oil, salt, pepper and thyme.
Stir the mixture well and then sprinkle it with 2 tablespoons of buckwheat flour. Knead the mixture with a hand like a bread dough, for 1-2 minutes, to bind the ingredients even better together and then form the patties (7-8 mm thick and of 8-9 cm of diameter). They will stick to your hands a bit, it is completely normal 😉
Heat a small amount of olive oil slowly in an non-stick frying pan and then place the patties delicately in. My pan is big enough for 4 patties at a time. Fry the patties for about 12 minutes – each side for about 3 minutes twice. 2 minutes before finishing cooking place a slice of cheese on each patty and let it melt a little.
While the patties are cooking, prepare the other 4 slices of cheese, cut out 16 slices of cucumber and spread 1 level teaspoon of fine mustard on each of the upper halves of the buns and some ketchup on each of the lower halves of the buns.
Place the first set of patties on the lower parts of the buns. Keep them close to the frying pan if possible to maintain their temperature.
Fry the other 4 patties the same way as the first ones without the final cheese slice.
Finish assembling the burgers as soon as the second set of patties are ready. Place 4 slices of cucumber over each first patty with melted cheese, place the second patty on the cucumber and finish with a second cheese slice. (I love adding some fresh coriander between the cucumber and the second patty, but not everybody likes coriander.) Cover the patties with the upper halves of the buns and enjoy the burgers immediately, they get cold quite quickly.
And of course, please tell me if you liked it. Your recipes and tips are always welcome 🙂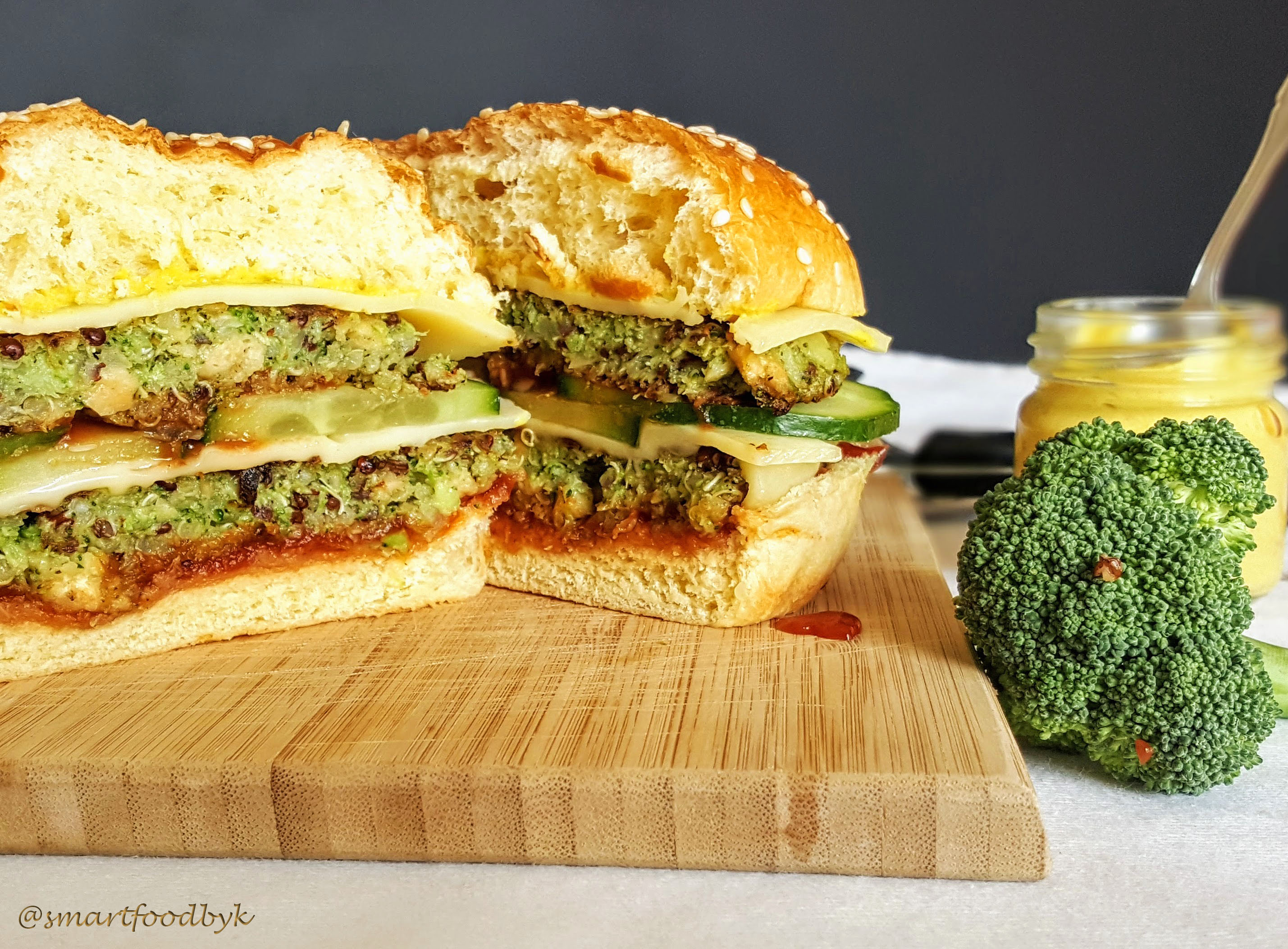 ---
---