Next level apple granola-like crumble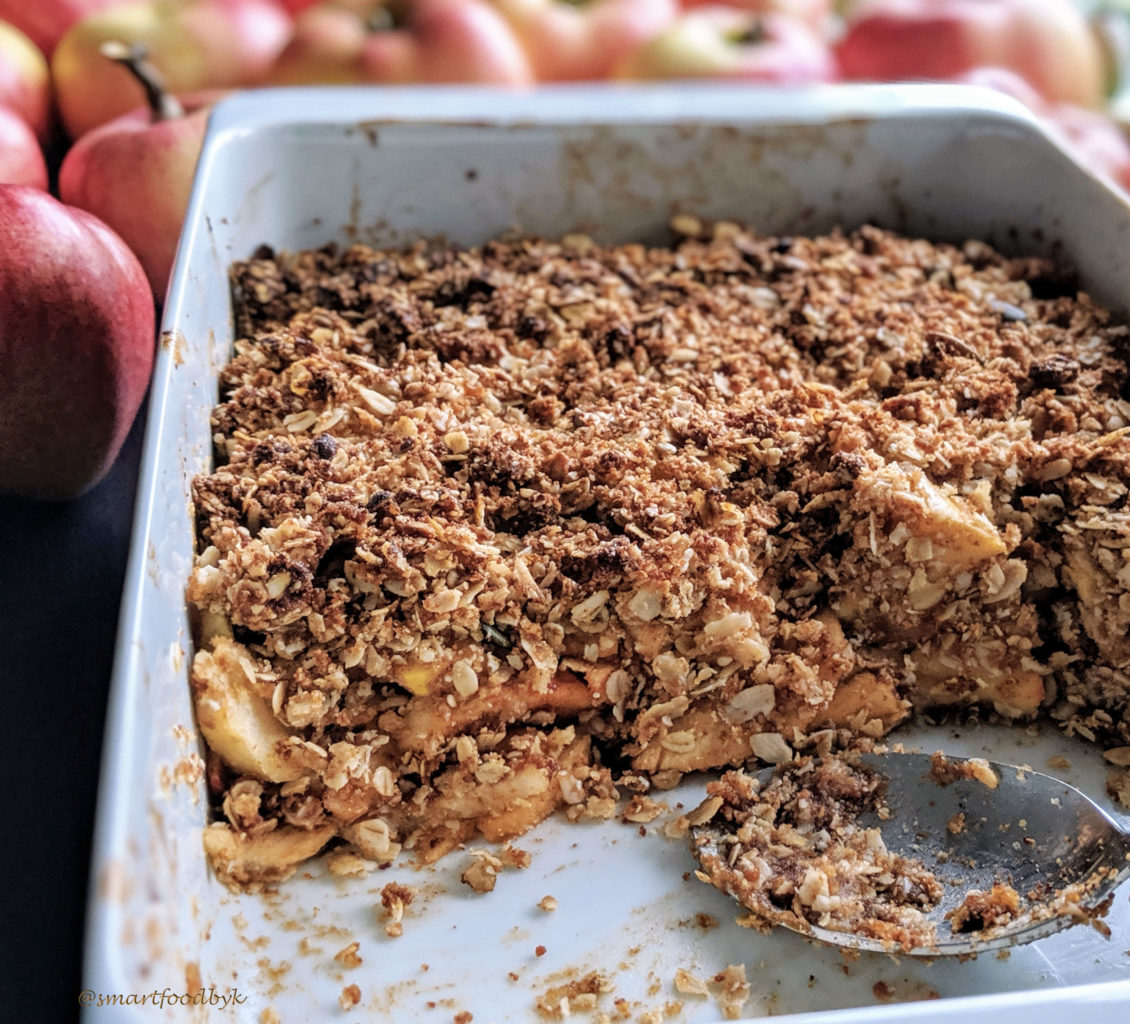 Oh believe me, the crumble could get much more exciting, testier and healthier 😉 Instead of mixing just flour and butter for the crust, let's take it to the next level and make an apple granola-like crumble. It does not take more time or energy it just takes a few more different ingredients. You can also spice up the apples a bit if you dare 😉 Let's get on with it, I promise, you will love it!
Serves: 8. Total time: 1 hour 15 minutes (preparation 30 min, baking 45 min) 
INGREDIENTS (organic and in order of use)
For the crust:
120g of Oatmeal
50g of Coconut flower (or Almond if you prefer)
3 tablespoons of Unrefined Cane Sugar
Zest of 1 Lemon
1 handful of Sunflower seeds
1 handful of Pumpkin seeds
120g of Coconut Oil, solid if possible (or room temperature Butter if you prefer)
1 teaspoon of sesame seeds
pinch of Unrefined salt
For the Apples:
8 medium Apples
Juice of 1 Lemon
3 tablespoons of Unrefined Sugar
3 level tablespoons of Cinnamon
1 teaspoon of ground Ginger (to spice up the crumble but it is optional)
PREPARATION
Start with a mix for the crust. Put all the ingredients in a bowl and mix them with your hands into tiny lumps. Reserve for later.
Wash and peel the apples. Halve them, take the seedy part out and cut them in slices (3-4 mm thick).
Put the slices in a baking dish. Cover them with 3 tablespoons of sugar, 3 tablespoons of cinnamon, 1 teaspoon of ground ginger (optional), juice of 1 lemon. Mix with your hands so that all apple slices get well covered and even the surface.

Apple granola-like crumble: apples covered in the mix of unrefined sugar, cinnamon, ginger and lemon juice.

Cover the apples with the crust mix evenly and bake at 180°C for about 45 minutes. Apples should be soft and melting and the crust golden and crunchy.
Let cool the apple granola-like crumble a bit before serving as is (like I do) or with a scoop of ice-cream.
---
---