Quick and yummy chocolate chip cookies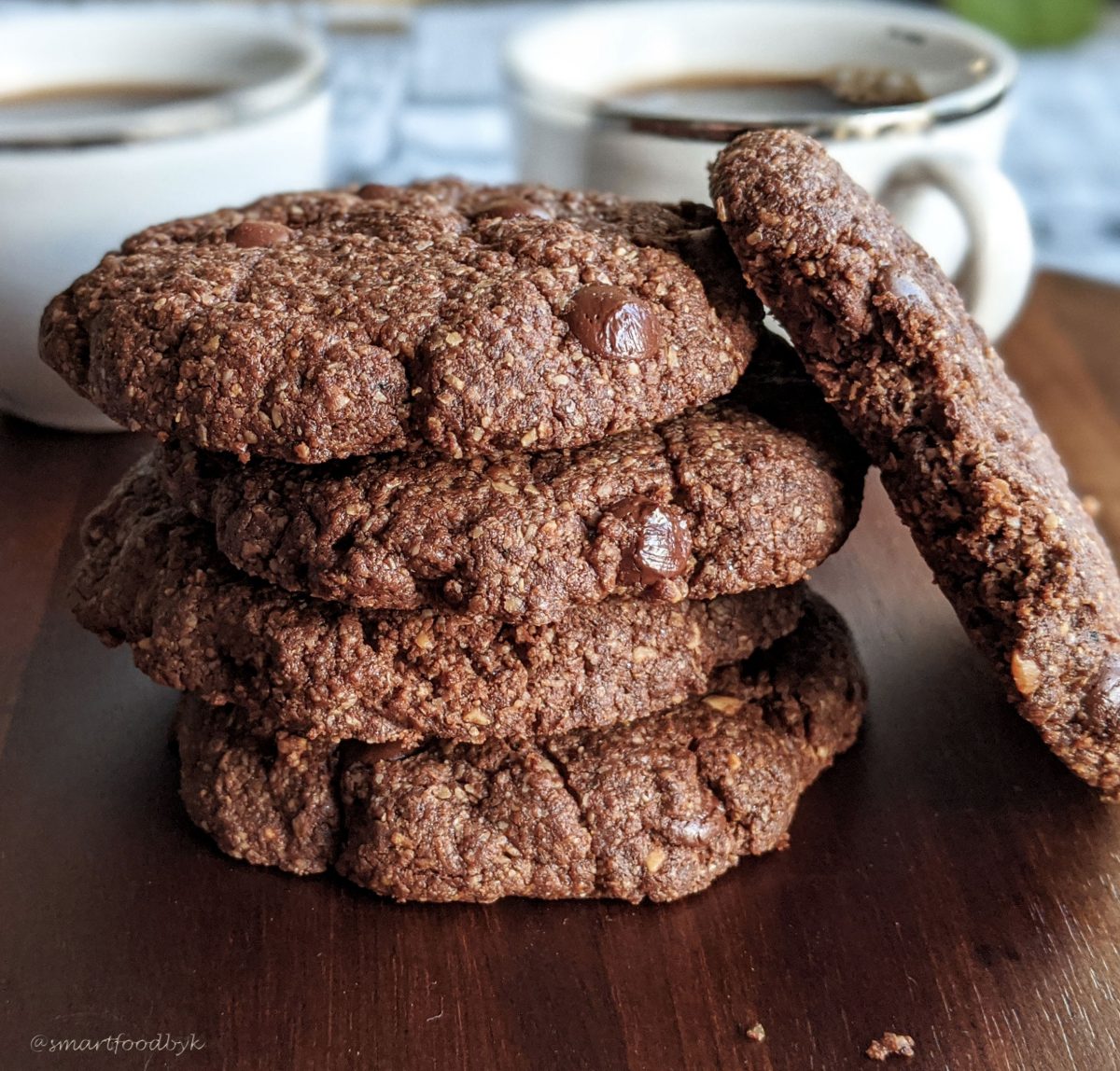 I am not a big cookie expert but these chocolate chip cookies really do not need you to be one. My kids ask for the cookies regularly and I tend to buy them but then again I also want them to eat a healthier and more nourishing version. I tested these a few times and I guess I now have the right recipe that you will like. Approved and tested by my boys of course!
I have to admit that hubby and I love them too and find them irresistible with our coffee, for a lazy fika* afternoon 😉
Serves: 12-14 cookies. Total time: 30 min (preparation 18 min, baking 12 min) 
INGREDIENTS (organic and in order of use)
1 Flax "egg" (flax meal + water)
200g of Oatmeal (rolled oats)
3 tbsp of pure Cocoa powder
1/2 tsp of Salt
1/3 tsp of Baking Soda
1 level tsp of Baking Powder
70g of Crunchy Peanut Butter
70g of Coconut Sugar or Unrefined Sugar
60g of melted Coconut Oil
1 tsp of liquid Vanilla extract (or 1/2 tsp of Vanilla powder)
3-4 tbsp of Almond or Coconut Milk
30-40g of Dark Chocolate chips
PREPARATION
Start with the flax "egg": stir 1 tbsp of flax meal (ground flax seed) with 2 tbsp of water and let sit to thicken while you are preparing the rest.
Mix 200g of oatmeal in your blender or food processor to obtain flour like consistance.
Combine all the dry ingredients together in a bowl: 200g of mixed oatmeal, 3 tbsp of pure cocoa powder, 1/2 tsp of salt, 1/3 tsp of baking soda, 1 level tsp of baking powder.
Combine all the wet ingredients in a separate bowl:  70g of crunchy peanut butter, 70g of coconut sugar or unrefined cane sugar, 60g of melted coconut oil and 1 tsp of liquid vanilla extract (or 1/2 tsp of vanilla powder) and the flax egg. Whip or stir until very smooth.
Add the wet ingredients to the dry ones and combine everything together. The dough should be thick and quite dry but still wet enough so you can form cookie balls. If it is too dry, add 2-3 or maybe 4 tbsp of plant milk of your choice.

Chocolate chip cookie dough. A bit dry, needs a tbsp or 2 of plant milk.

Add 30g – 40g of chocolat chips and combine them in the the dough.
Prepare a baking sheet lined with baking paper preheat the oven at 180°C.
Form the cookie balls and then flatten them with a spoon or your fingers. If the dough cracks a bit, it is normal just patch it back together with your fingers.
Bake the cookies at 180°C for about 10-12 minutes. Do not leave them longer as they may get too dry.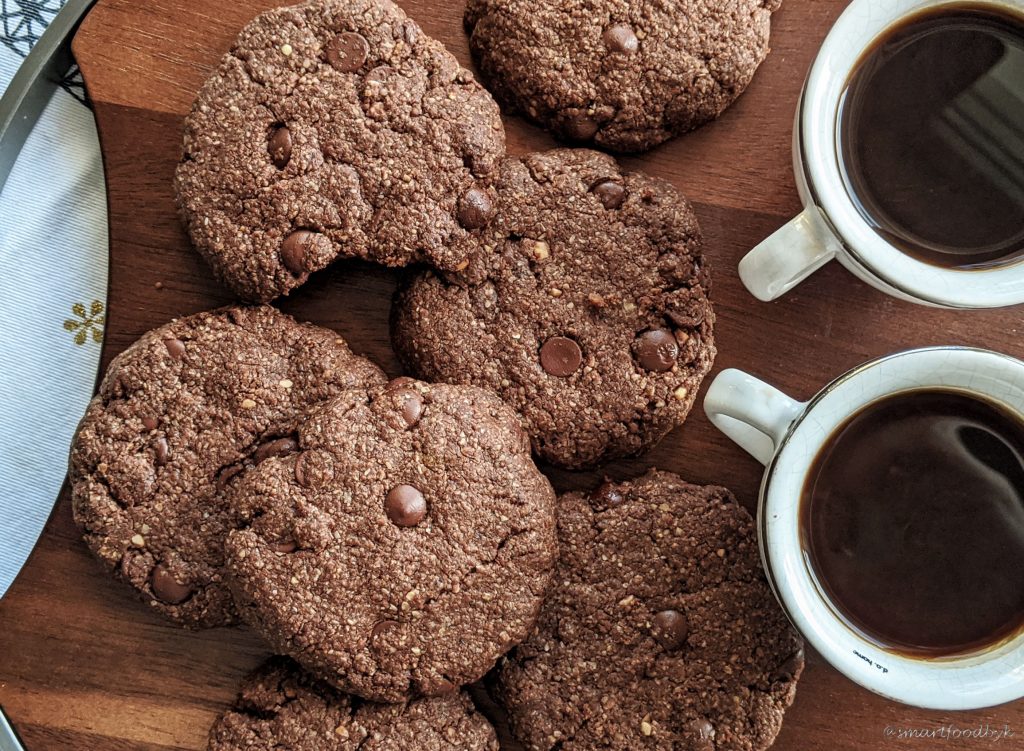 *Fika is a lovely Swedish custom of having a coffee and a cake in the afternoon. 
---
---