My best veggie broth on a veggie rainbow plate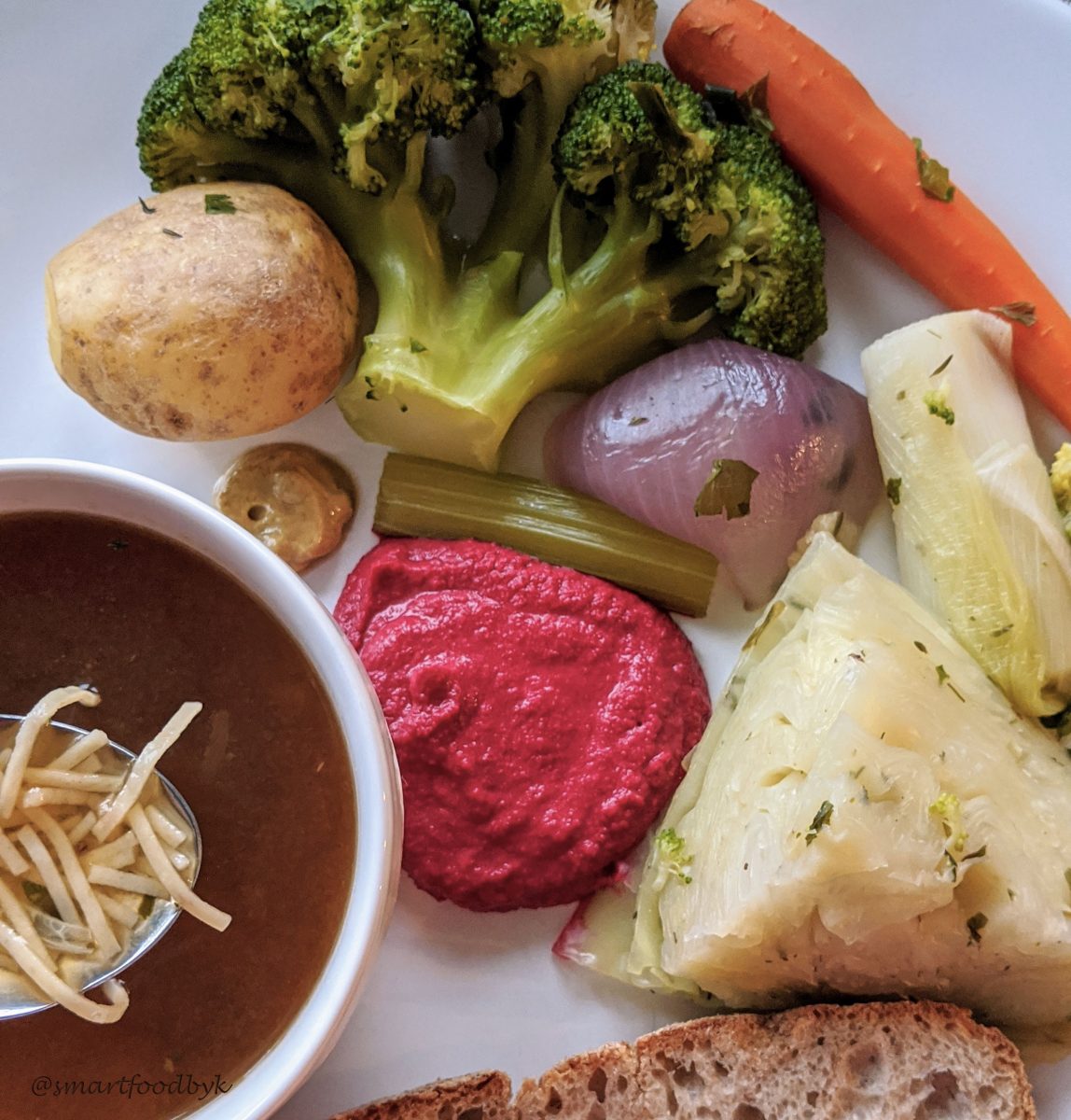 This veggie broth is a reminiscence of my mum's Sunday's broth (we call it rinflajs* in the Serbian region of Vojvodina where I come from), one of my dearest childhood memories. Back in those days there were less veggies and more meat in the plate I have to admit 😉 In France this kind of broth is called pot-au-feu and it is one the classics of the French cuisine.
The update version that I am about to propose to you is of course meatless, packed with flavours and nutrients and quicker to prepare. It is composed of 5 to 10 different veggies and as many herbs and spices. They are added one after the other to a simmering broth gradually building on the broth's deliciously comforting taste.
You can serve the clear broth (veggies taken out) with some "cheveux d'ange" (a very short kind of vermicelli pasta) as a starter to a plate of cooked veggies accompanied by a spoon or two of homemade hummus and some Dijon mustard (as in the picture). Or you can enjoy the broth as a starter to another meal and blend the leftover veggies, herbs and broth into a delicious potage for supper or lunch the day after.
Serves: 4-5. Total time 1h 10 minutes: (preparation 25 min, cooking 45 min).
INGREDIENTS (organic and in order of use)
1 Onion, red or yellow
2 small Shallots
3 Garlic cloves
3cm of fresh Ginger
1 Celery branch with leaves
5-6 medium Carrots
1/3 of a Cabbage (white or red)
6 Black Pepper grains
1 tbsp of dried Parsley
1/2 tbsp pf dried Dill
1 tsp of dried Thyme
4-5 Cloves
1 Bay leaf
2 generous pinches of Unrefined Coarse Salt
5-6 small Potatoes (ideally new Potatoes with thin skin)
1 Leek
1 Broccoli
5-6 Shiitake
1 level tbsp of Wakame Algae (optional)
1 tbsp of brown Miso paste
120g of short Vermicelli (cheveux d'ange)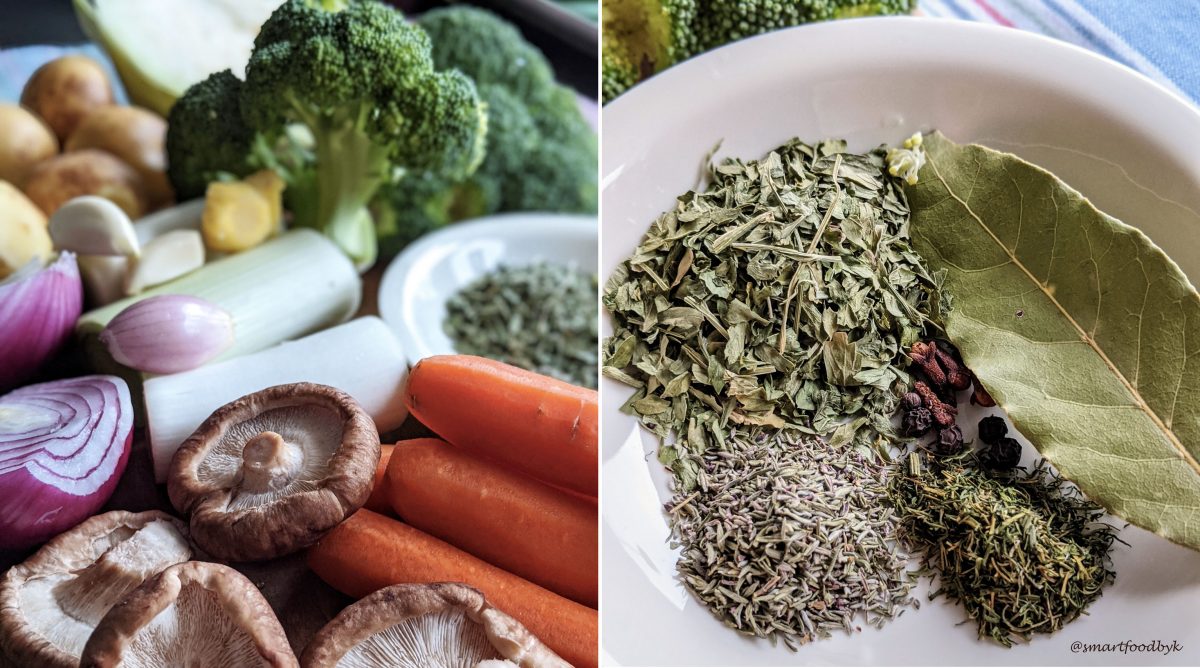 PREPARATION
My mum would always start by halving the onion and roasting it on the bare bottom of the broth casserole (she would use a pressure cooker, I prefer a Dutch oven). It gives the broth a special round flavour. You should roast it on a medium heat and very shortly, just to brown it and not let it burn. It will naturally stick to the bottom. When it gets slightly brown on the edges, pour 1 glass of water (300ml). Some of it will evaporate immediately and the rest will boil and unstick the onion.

Start the veggie broth by roasting the onion.

You will then add veggies in a particular order depending on the time each needs to be cooked just enough to release the flavour into the broth but at the same time to preserve a nice tiny bit firm consistance and its unique taste.
Add 5-6 whole carrots (no need to peel if organic, just clean thoroughly), 1 branch of celery cut in 4 cm long sticks, 2 small shallots halved, 3 whole garlic cloves and 3 cm of peeled ginger. Cover and let cook for about 10 minutes.
Clean and cut 1/3 of red or white cabbage. Halve the 1/3 and add it to the casserole. Also add 2,5l of water, 6 black pepper grains, 1 tbsp of dried parsley, 1/2 tbsp pf dried dill, 1 tsp of dried thyme, 4-5 cloves, 1 bay leaf, 2 generous pinches of coarse unrefined salt. Cover and keep cooking for another 10 minutes.

Step 4: adding ingredients one after the other.

Now add 5-6 thoroughly washed new potatoes (no need to peel if new and organic) and 1 leek cut in 4 and keep cooking covered for another 10 minutes.
Cut off the hard (a bit dried) lower part of the broccoli stem. Wash the broccoli and cut it in 3-4 big parts. Clean 5-6 shiitake mushrooms and take off the stems. Add both veggies to the broth and keep cooking for the final 10 minutes.
You can add a tbsp of Wakame algae 5 minutes before the end of cooking if you like (I very much do) but this is completely optional.

Step 7: Veggie broth almost ready, only miso is missing.

Take the veggies out of the broth (drain them a bit under the broth casserole) and store them in another casserole that you can cover with a lid to keep warm.
Dilute 1 tbsp of white or brown miso paste (both work beautifully) in 100ml of warm water, add it to the broth and stir vigorously to combine. Being a fermented ingredient miso paste is rather thermo sensitive and does not need cooking.
 Cook 120g of cheveux d'ange (it takes 2-3 minutes in a boiling water) and add it directly to the bowls with the broth.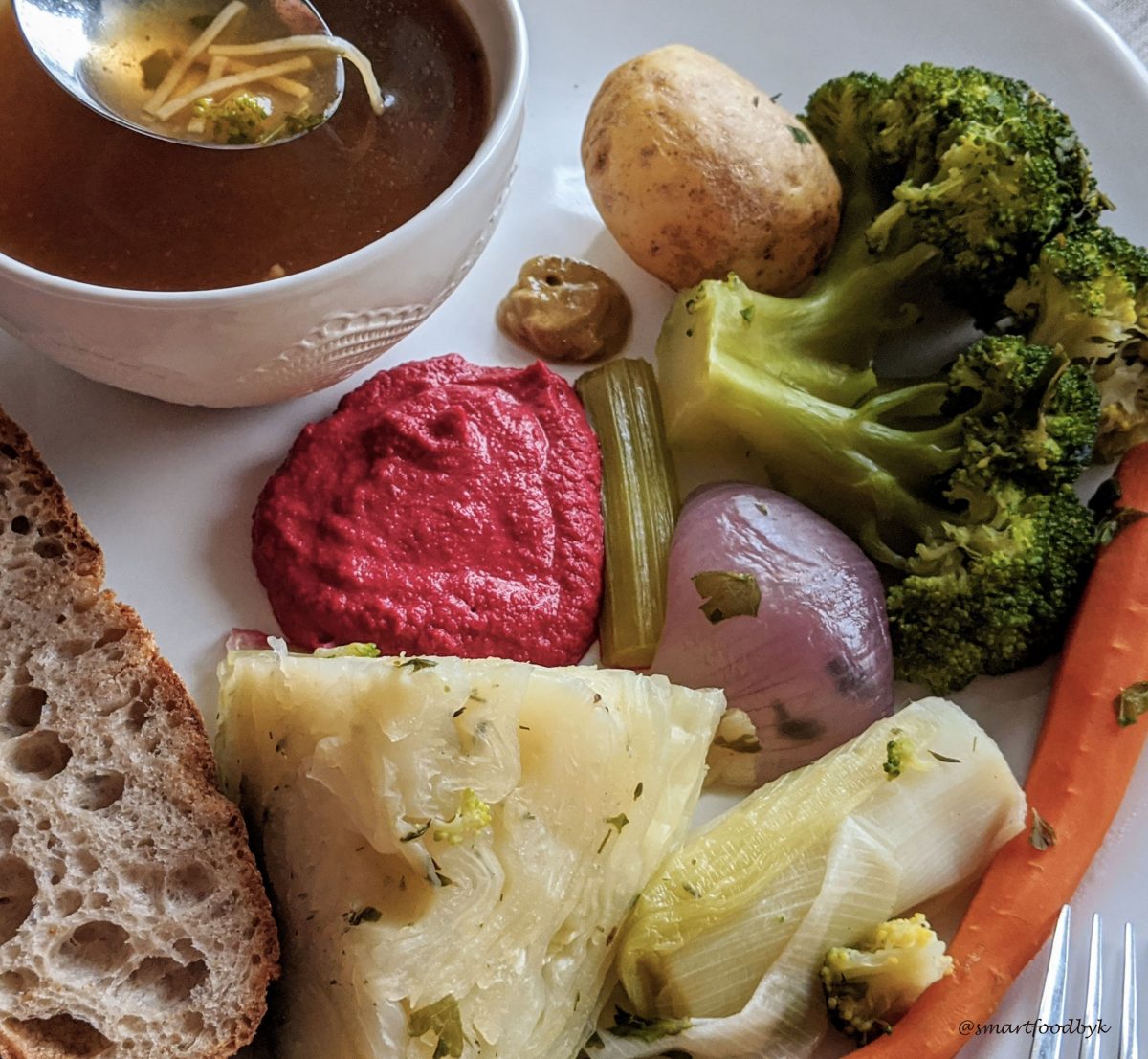 You can of course vary the veggies according to taste and season. For example cauliflower, or courgette (zucchini), their cooking time is the same as for broccoli. Or turnip and parsnip, same cooking time as new potatoes.
*From the German word "rindfleisch" which means "boiled meat".
---
---