Ratatouille, the summer veggie queen :)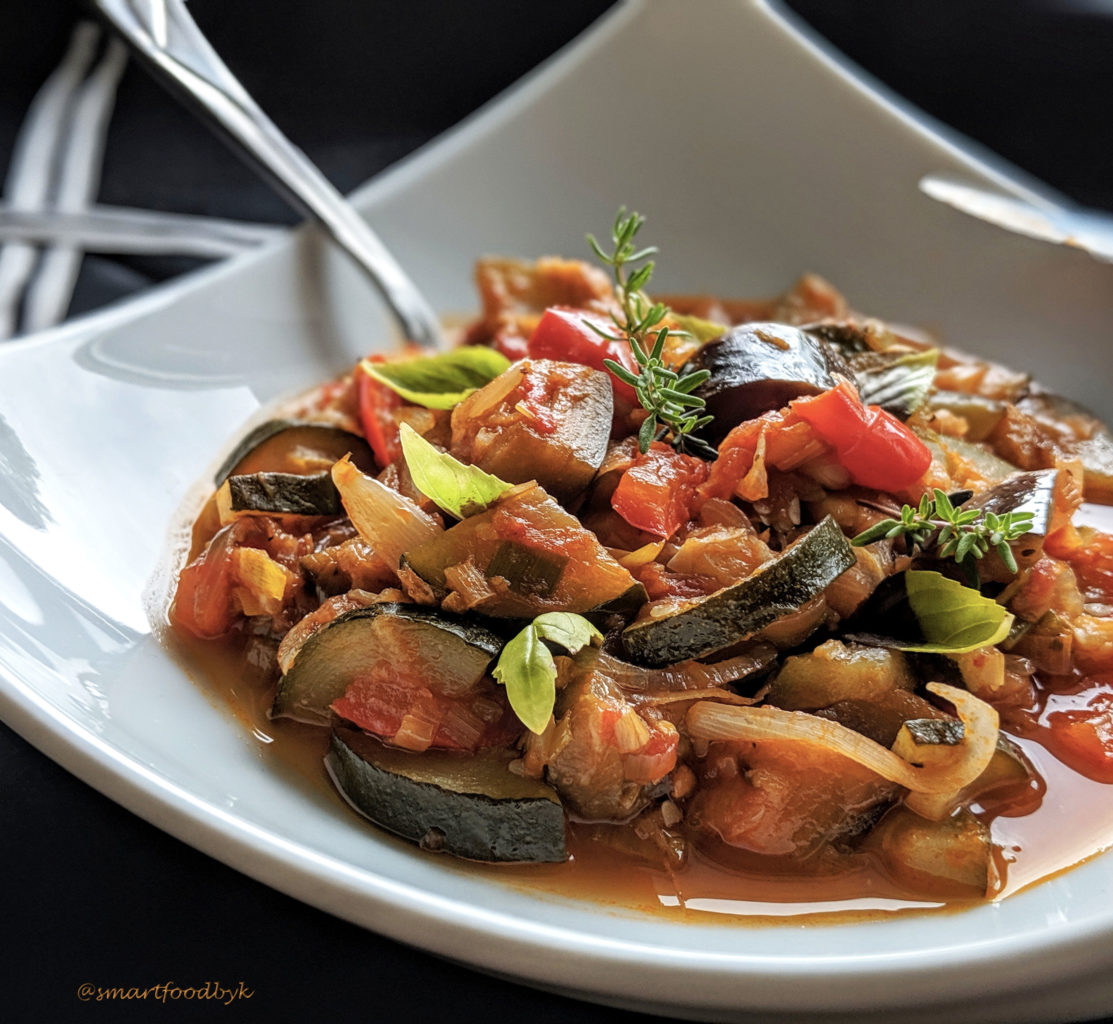 The ratatouille, a French classic! Or Serbian, maybe, because we have the same dish that we call "Bećar paprikaš" ❤️ I say "we" both when I talk about Serbians and French because I am both. And I adopt, slowly but surely, Sweden too where I have lived for a year now. Long live Europe 😉
But back to the ratatouille made of fresh organic summer vegetables! Veggies are added one after another to the casserole pan, depending on the cooking time that each requires to give the best of itself, and cooked over medium-low heat with love and patience 👌👌
Serves: 4. Total time : 1h 25min (preparation 40min, cooking 45min)
INGREDIENTS (organic and in order of use)
4-5 table spoons of Olive Oil
2 big Onions
4-5 Garlic Cloves
2-3 pinches of corse Unrefined Salt
1 big Aubergine (Egg Plant)
1 Leek (with the green part)
2 Bell Peppers (yellow and red)
1 big Courgette (Zucchini)
2 big ripe fleshy Tomates
or 400g of canned crushed Tomates
1 level teaspoon of fresh Thym (or dried)
1 level teaspoon of fresh Oregano (or dried)
2-3 rounds of pepper mill
1 dry Bay leaf
PREPARATION
Start by peeling and finely chopping 2 onions and 4-5 cloves of garlic. Cook them in a casserole pan with 4-5 tablespoon of olive oil and 2-3 pinches of unrefined sea salt on medium/low heat to soften them (about 10 minutes).
Add 1 aubergine cut into pieces of about 1cm x 1cm and 1 leek cut into thin rings. Continue to simmer for about ten minutes.

Ratatouille, steps 1 and 2.

Add the bell peppers cut into stripes of about 0.5cm x 2cm, then simmer for another 10 minutes.
Finally, add 1 courgette chopped into 1/4 of slices (3-4mm thick), 2 large tomatoes roughly diced with their juice, 1 teaspoon of fresh thyme (or dried), 1 teaspoon of fresh oregano (or dried), 2-3 rounds of pepper mill, 1 dried bay leaf.

Ratatouille, steps 3 and 4.

Simmer on medium-low heat for another 45 minutes. Taste in the meantime to adjust the seasoning.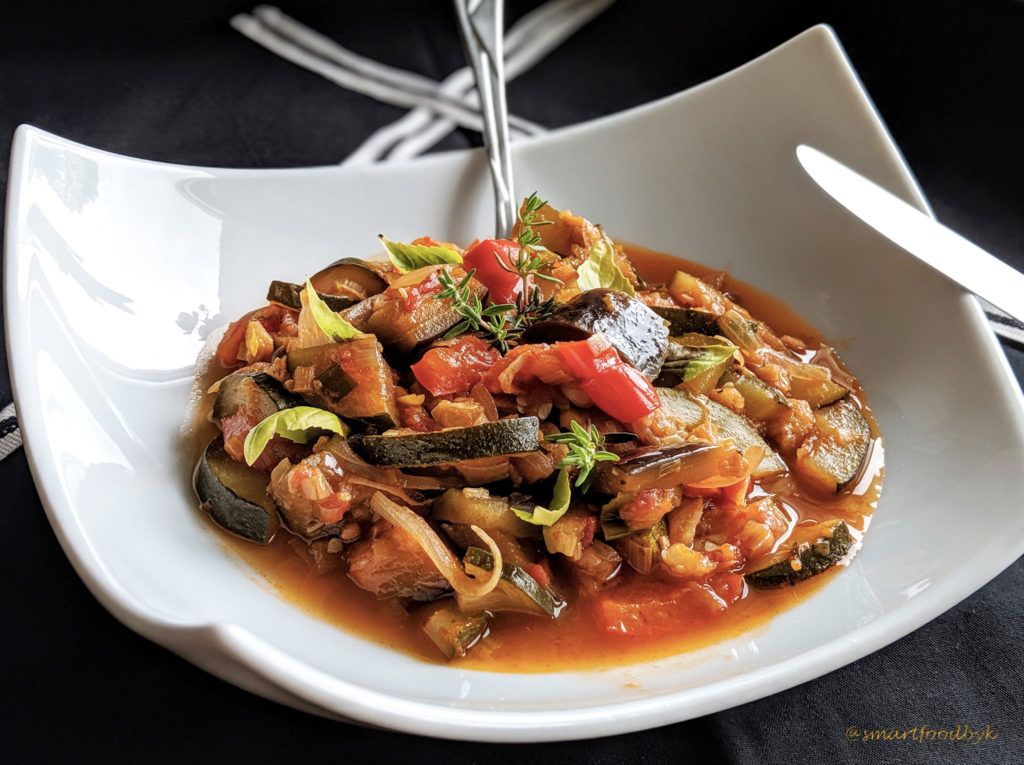 ---
---