Mustard and tomato summer tart
Tomatoes and cherry tomatoes, spring onions, bell peppers, courgettes, radish, all sorts of salades and many others, the beautiful season of veggies (and fruit) has begun. The great thing about them is that you do not even need to cook them. If you take them organic, they are perfect as they are. At home, theses days, we eat a lot of different salades and tarts, the easier and simpler, the better. Here is one of our favourite tarts – mustard and tomato summer tart.
You can make the puffy pastry needed yourself (and here is a recipe for an easy one) or you can simply buy one.
Serves: 8 pieces (4 people). Total time (without the crust) 30-40 minutes (preparation 15-20 min, baking 15-20 min) 
INGREDIENTS (organic and in order of use)
1 medium Onion
3-4 pinches of Unrefined Sea-Salt
1 tablespoon of Honey (or Maple Sirup)
1 tablespoon of Olive Oil
some fresh Thyme leaves
3 big Ripe Tomatoes
4-5 Cherry Tomatoes (optional)
1 roll of Puffy Pastry
1 heaped tablespoon of Mustard
a few pinches of Sesame seeds (optional)
a few drizzles of Olive Oil
small handful of fresh Basil leaves
PREPARATION
Start by peeling and washing the onion. Halve it and then slice thinly. Sauté it in a pan with a tablespoon of olive oil, 2 pinches of unrefined salt and a tablespoon of honey for about 10 minutes on a medium heat until it gets translucide and slightly golden. Reserve for later.
Cut the tomatoes in about 1 cm thick slices and cherry tomatoes in halves.
Preheat your oven to 200°C.
Spread the puff pastry in a baking-paper-lined baking tray.
Spread evenly one heaped tablespoon of mustard all over the pastry.
Sprinkle the caramelised onions all over the pastry too
Line the tomato slices and halves on top of onions in whatever pattern you prefer.
Drizzle with olive oil and sprinkle with some unrefined salt and sesame.
Bake at 200°C for about 15-20 minutes until the pastry gets golden.
You can serve it warm or cold with some fresh basil leaves on top.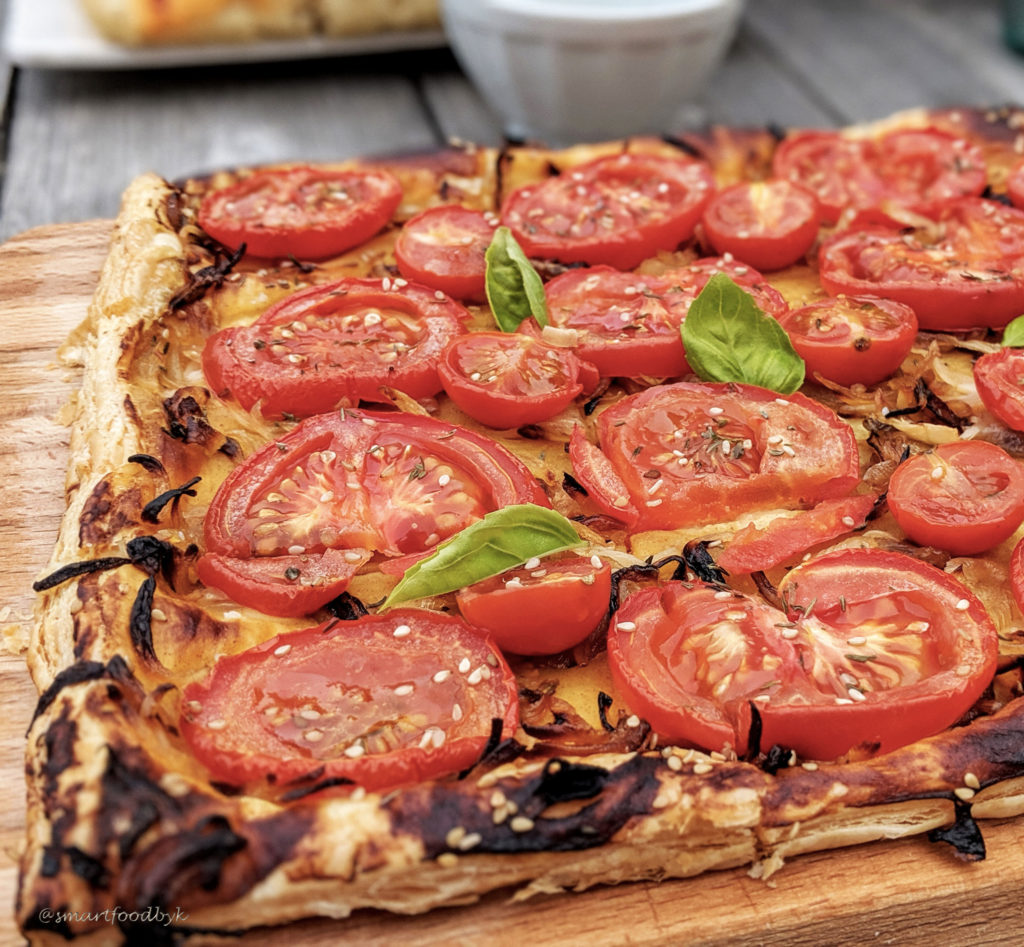 ---
---