Savoury brioche with thyme, rosemary, sesame & flaxseeds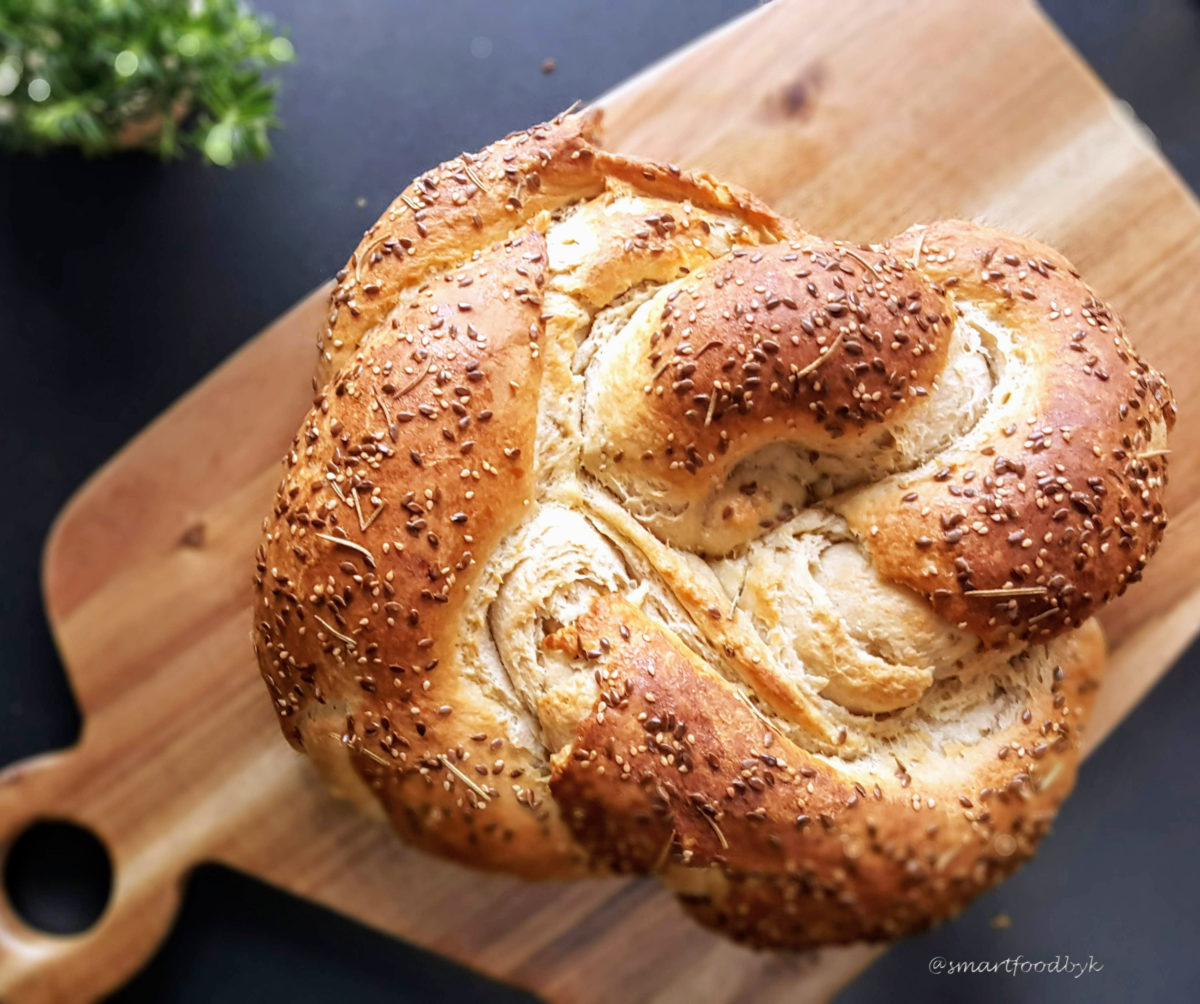 We have a lot of varieties of savoury brioche in Serbia. We call them "pogaca" and I think that every person who loves to cook has his/her own recipe. Probably transmitted by his/her mother …
Pogaca is part of Serbian gastronomic culture and it is even the central element of the custom of welcoming a guest at home. As soon as a guest passes the front door, the pogaca is offered to welcome him/her. It comes with a small saucer of salt and he/she is supposed to take a piece of this big savoury bun, dip it in the salt and eat it. It is a way for the host to say "welcome to my home", you'll be safe and you'll have everything you need. This custom is not a part of our daily life anymore but it is still practiced sometimes during major religious holidays or state ceremonies.
The recipe that I'll show you today comes from my mum but I made some arrangements, as usually 😉 I replaced cow milk (we stopped drinking it years ago) by plant based milk and sunflower oil with olive oil. I added thyme and rosemary to boost it with that Mediterranean flavor that I love so much. The rye flour is also a new element to the recipe because I like to mix flours to bring in more nutrients and even more flavour 😉
Serves: brioche of 25 – 30cm of diameter. Total time: 2h 40 min (preparation 30 min, dough proving 1h 30 min minimum, oven baking 35-40 minutes)
INGREDIENTS (organic and in order of use)
50g of Fresh Yeast
1 teaspoon of Unrefined Sugar
250ml of Plant based Milk
320g of Wheat Flour
320g of Rye Flour
1 teaspoonful of Unrefined Salt
1/2 teaspoon of fresh Thyme leaves (or dry if you do not have fresh thyme)
120ml of Yogurt (I use Sheep Yogurt)
120ml of Olive Oil
80g of soft Butter (at room temperature)
1 Egg
1 tablespoon of Sesame and Flaxseeds mix
large pinch of Rosemary leaves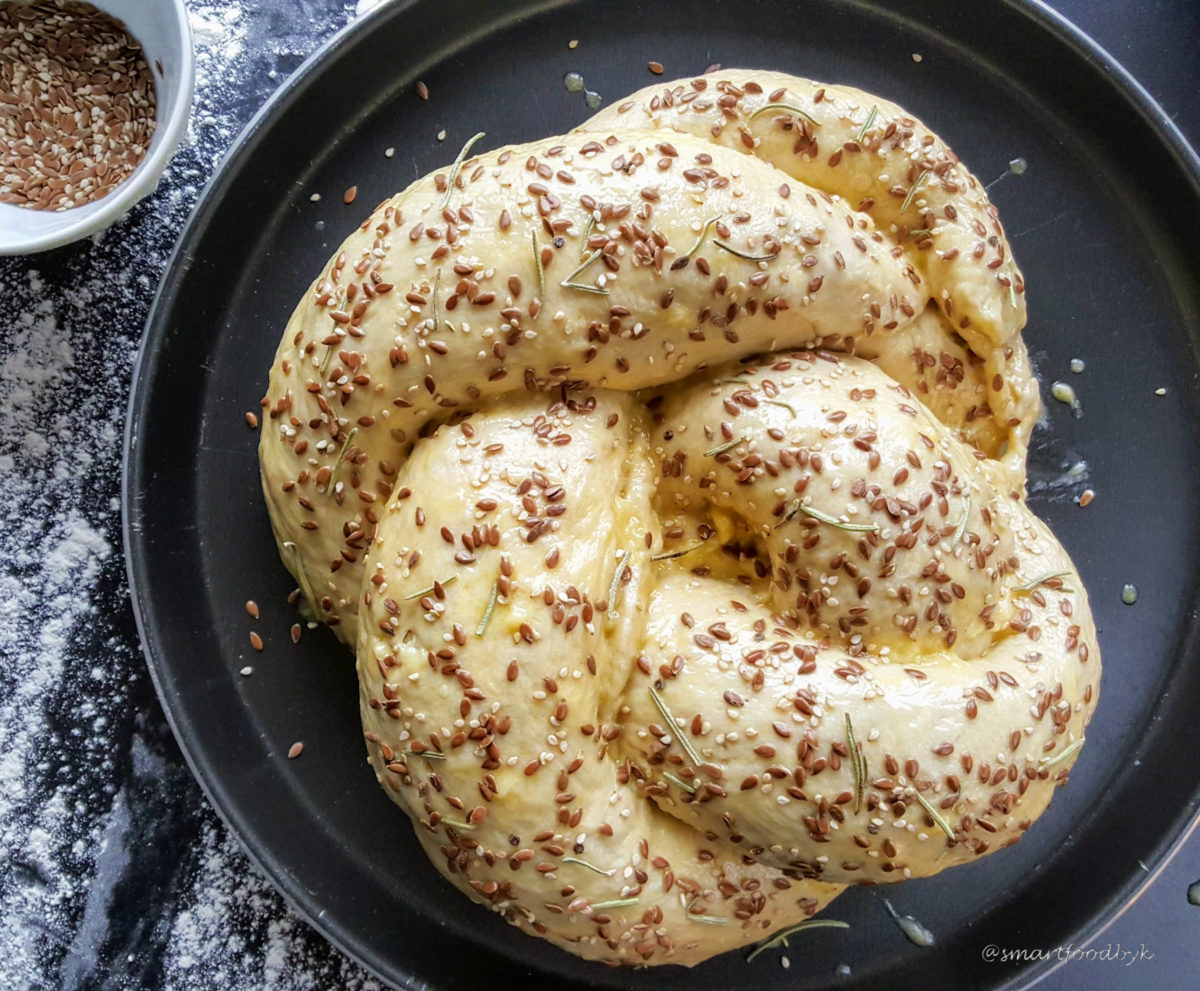 PREPARATION
Crumble the yeast in a some lukewarm vegetable milk with a small teaspoon of sugar and leave to activate for about 10 minutes.
In the meantime put dry ingredients together in a big bowl: the 2 flours, salt and thyme, and make a well in the middle. Pour in the yeast, the rest of the milk, the yogurt and the oil. Stir the ingredients together bringing in the flour from the outside as you go to form a rough dough.
Transfer to a flour-dusted surface and knead for about 5-7 minutes, or until smooth and springy. Here is a very good dough kneading tutorial (in French but videos are self explanatory).
Place the dough in a bowl, cover with a damp kitchen towel and prove in a warm place for about 45 minutes, or until doubled in size.
When the dough is ready, split it in two, knead a bit more each half and shape them in balls. Spread each ball to a 1 cm thick rectangle.
Spread 40g of soft butter on each rectangle and roll them in tubes lengthwise. Entwine them to form a braid and fold the braid to a snail shape on a buttered oven dish.
Leave to prove for another 45 minutes minimum or until doubled in volume.
Preheat oven to 250°C, the brioche needs a very hot oven. This little heat boost at the very beginning of baking is very important.
When the brioche is ready to bake, whisk an egg and brush it generously. Sprinkle with the mixture of flexseeds, sesame and rosemary leaves.
Lower the temperature to 200°C and bake the brioche for about 35-40 minutes. If in the middle of baking it already gets golden brown place it to a lower level in the oven.
---
---