Kanelbullar – traditional Swedish cinnamon rolls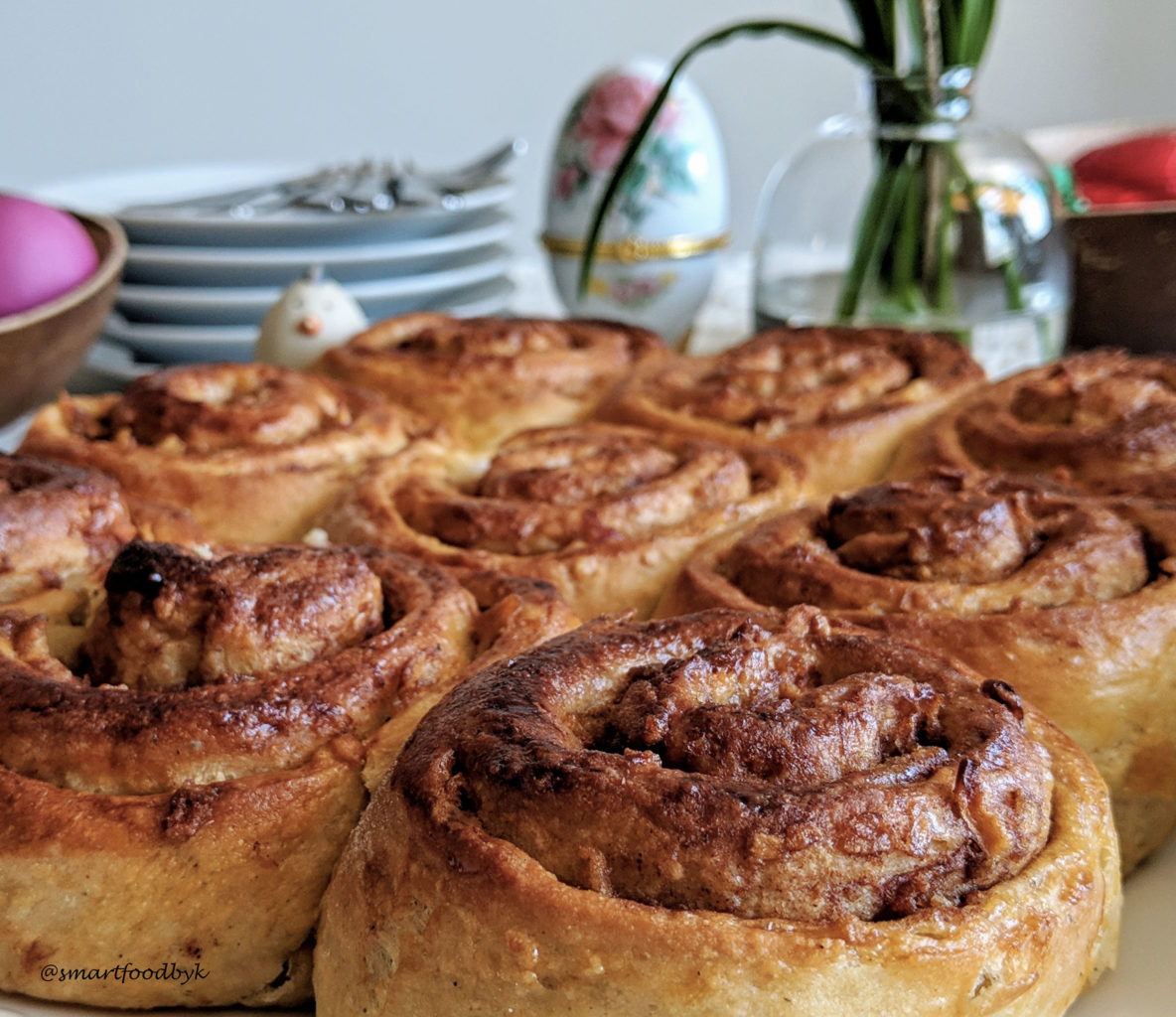 Hej (it's "hi" in Swedish) everyone! It's done, we are finally settled in our new home in Stockholm 😉 Impatient to discover Swedish cuisine, I dared to start with traditional cinnamon rolls – kanelbullar! I followed the traditional recipe (almost) to the letter changing the proportions just a bit to make them a bit softer and less dense.
The Swedes have a sweet tooth and this little pastry is most often served with coffee in the afternoon coffee break called "fika". The custom I will most definitively religiously respect, hihi.
My kanelbullar turned out to be "higher" than they should be originally but it did not impact their deliciousness at all 😉 So let's see:
Servings: around 25 (quite big) rolls. Total time: 2 hours (preparation: 20 min, dough rise: 1 hour 30 min, baking: 10 min)
INGREDIENTS (organic and in order of use)
35g of Fresh Yeast
300ml of Milk (I use Plant Milk, Oat Milk for this recipe)
700g of Flour
1 level tsp of Non-refined fine Sea Salt
1 level tbs of Ground Cardamom
100g  of Non-refined Cane Sugar
1Egg
120g of Butter
Filling:
80g of Butter
50g of Non-refined Cane Sugar
2 level tbs of Cinnamon
Glaze:
1 Egg
2 tbs of Water
Pearl Sugar or (better) sliced Almonds
PREPARATION
Crumble the fresh yeast in a cup with a few tablespoons of room temperature plant milk.
Put a mix of flower, sugar, sel and cardamom in a bowl that will serve to knead dough. Make a hole, pour in the yeast and mix it in the flour on the surface.
Add the melted butter, whisked egg and the rest of the plant milk and knead the dough manually (as I do) or in a dough mixer for about 10 minutes to make it smooth and even.
Cover it and let rise at room temperature for 30 minutes.
Roll out the dough to a square shape of about 3mm thick and 30cm x 30cm in size appx.
Spread the room-temperature butter on top.
Mix sugar and cinnamon together and sprinkle it evenly all over the dough.
Roll the dough and cut the rolls into about 25 slices (of about 1,5cm wide).
Place them on a baking tray covered in baking paper and let rise covered by a kitchen towel for about 1h or until the buns have doubled in size.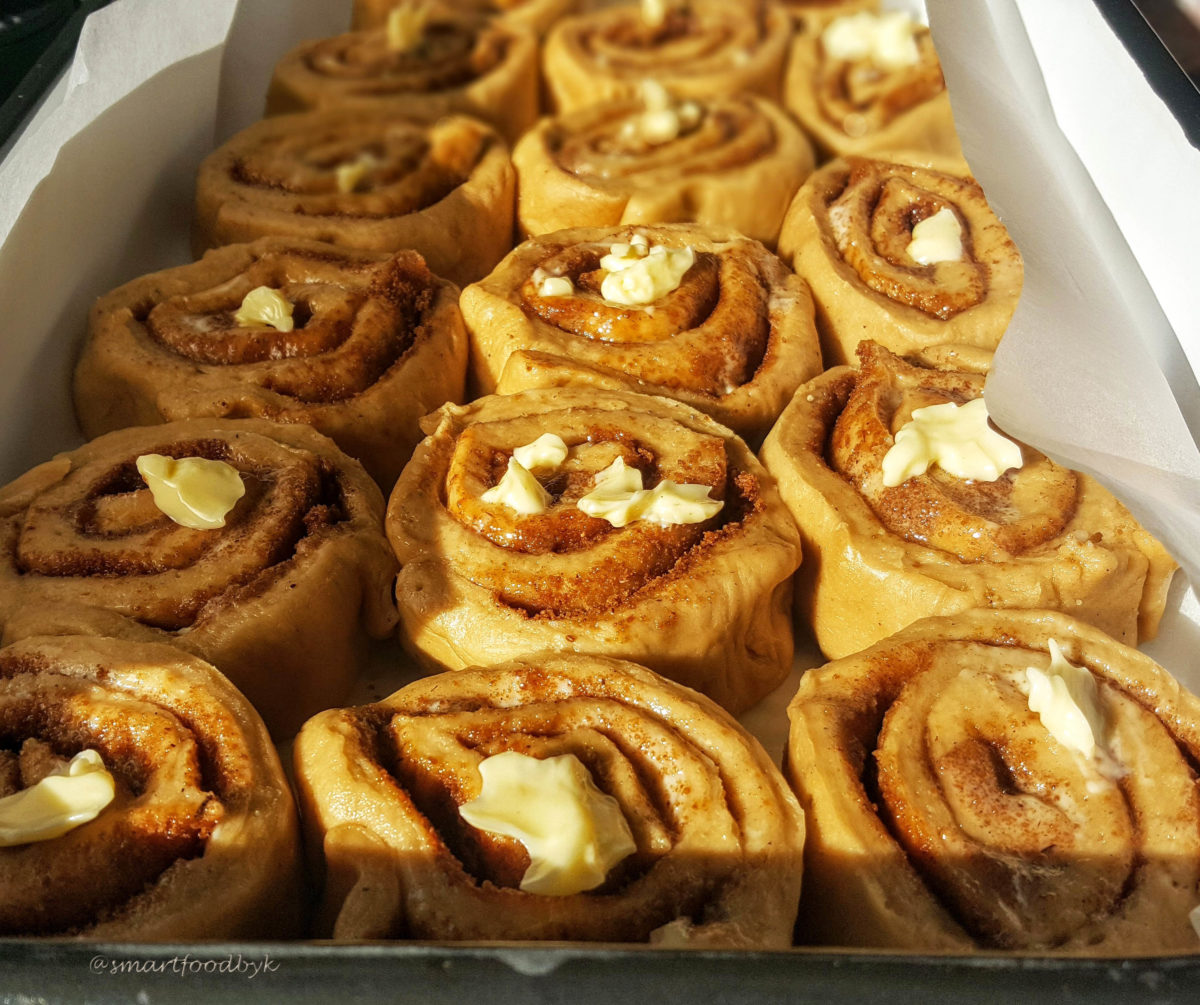 For perfectly shaped rolls you should place each in a separate paper mould before placing them on a baking tray. I did not have any so they stuck together after doubling in size.
10. Whisk together egg and water, brush the mixture carefully on the buns and sprinkle pearl sugar or sliced almonds on top.
11. Bake them in a preheated oven at 220°C (425°F) for about 10 minutes.
Allow to cool on a rack make yourself a nice cup of coffee and indulge in a Swedish delish 😉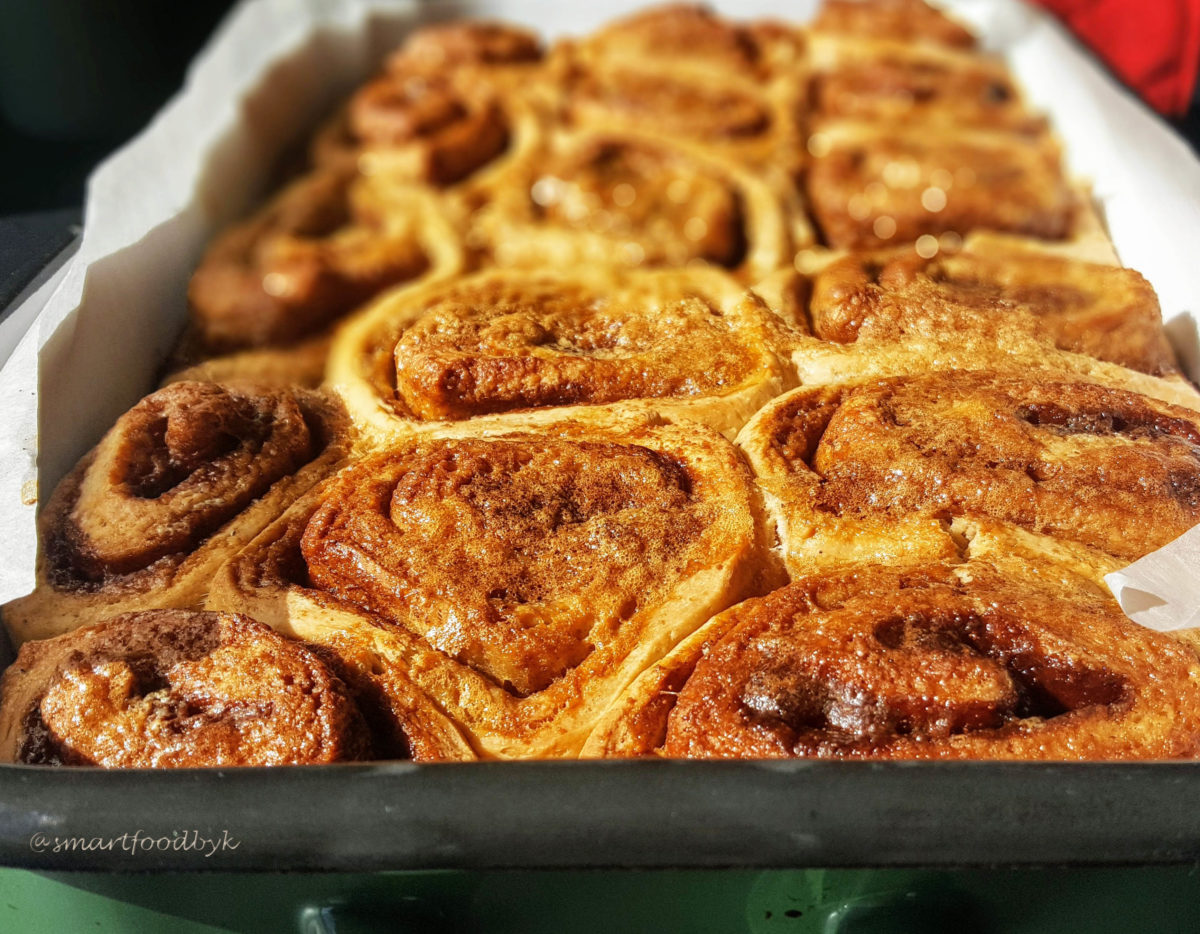 BONUS: Kanelbullar with apples and salted butter caramel
With the apples now ripe in our garden, I have prepared this version of kannelbullar several times and everyone loves it. The recipe is the same as the above with the addition of two grated apples in the filling.
In an even more gourmand version, I bake them on a bed of salted butter caramel and crushed nuts. Decadent!
Salted butter caramel is quite easy to make. Cook 40g of non-refined sugar with 50g of salted butter and 2 drops of vanilla essence on a medium-low heat for about 10 minutes. When it is ready pour it into your baking dish to cover the bottom completely and sprinkle with crushed nuts. Place your rolls gently next to each other (barely touching). The rise and cooking time of the rolls is the same.
Serve them upside down (turned over on a platter after cooking).
---
---