Broccoli quiche with Roquefort and walnuts
Tarts and quiches are simple, easy, complete French meals, similar to what pizza is to Italians. There are probably as many different recipes as there are dinner tables in France. Here is the one from my own repertoire – broccoli quiche with Roquefort and walnuts 😉
Roquefort is a sheep milk cheese from the south of France, and together with Bleu d'Auvergne, Stilton, and Gorgonzola it is one of the world's best known blue cheeses. It is quite creamy, slightly moist, tangy and a bit stronger in flavour than Gorgonzola for example. It compliments beautifully broccoli and cauliflower and is often complimented itself by walnuts in the French cuisine. If you cannot find Roquefort, you can use any stronger blue cheese.
Serves: 4. Total time: 50-60 min (preparation: 20 min, baking: 30-40 min)
INGREDIENTS (organic and in order of use)
1 Leek (medium)
1 Broccoli or Cauliflower (medium) whichever you prefer
2-3 tablespoons of Olive oil
1 teaspoon of dry Thyme
1 pinch of coarse unrefined Sea salt (you do not need much because the cheese is quite salty)
4 Eggs
200ml of Oat Cream (you can also use Spelt or Soy cream)
1 roll of Short Pastry
80g of Roquefort
1 handful of Walnuts
PREPARATION
Chop the leek in 2-3 mm wide rings (together with its green part) and cook it with olive oil on a low temperature in a frying pan.
Cut the main thick trunk off broccoli, we cannot use it for this quiche. We can however use all the other smaller trunks that keep the broccoli flowers tied together. Cut them in thin slices, add them to the leek and keep cooking for approximately 10 more minutes on a medium temperature.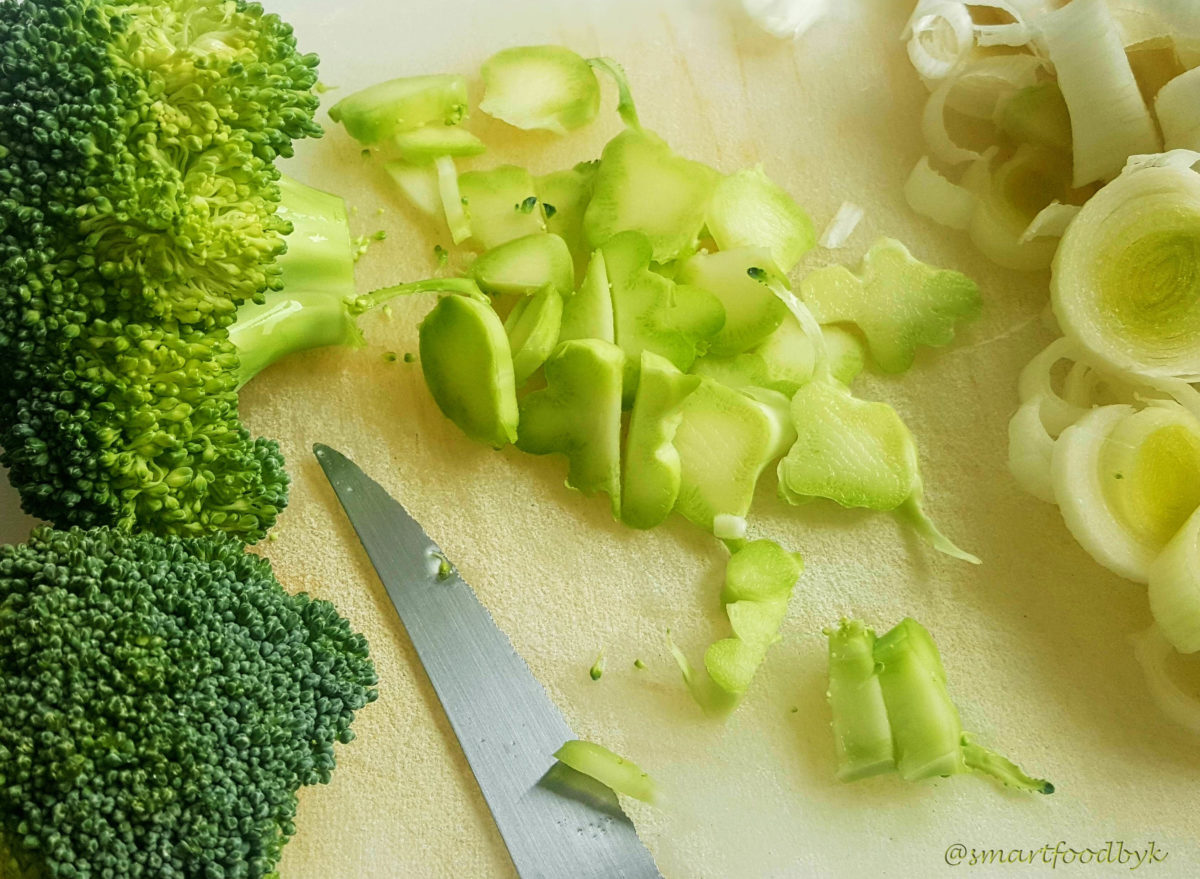 Cut the broccoli flowers roughly into 1-2 cm pieces and add them to the leek too.
Sprinkle with thyme and a pinch of salt, cover with a lid (keeps some vitamines from evaporating and saves energy) and keep cooking to soften the broccoli, for about 10 more minutes. Broccoli should not be cooked (just softened), let alone burned.
Preheat oven at 200°C.
Whisk 4 eggs in a bowl for a few minutes to make them a bit foamy. Add a non-dairy cream and whisk a bit longer.
Spread a roll of short pastry in your greased (or baking paper covered) quiche dish (mine is of 23cm of diameter) and crumble Roquefort directly on the pastry.
Take the vegetables off the heat and spread them (like Roquefort) directly on the pastry.
Pour the whisked eggs with cream over the vegetables and garnish with crushed walnuts.
Place into the oven and bake at 200°C for about 30-40 minutes.
Serve warm 🙂
---
---