Apple cake with almond flakes topped with caramel sauce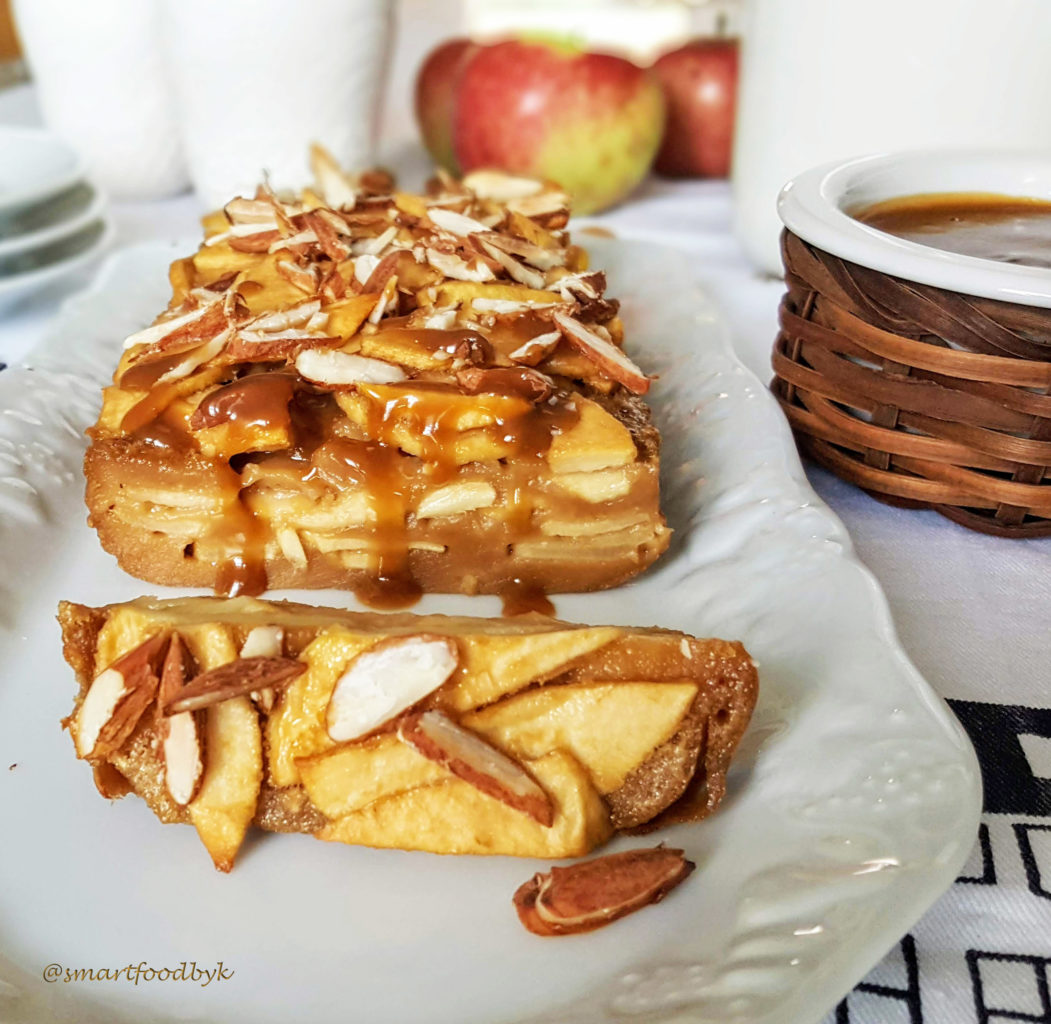 Juicy soft apple slices wrapped in moist vanilla scented cake topped with crispy almond flakes and creamy caramel sauce! This apple cake is sooo yummy and super easy to make. No cooking skills necessary 😉
Serves: 8 pieces. Total time: 1 hour 5 minutes (preparation: 15 min, baking 50 min)
INGREDIENTS (organic, in order of use)
4 Apples
2 Eggs
100ml of Oat Milk
20g of Butter
80g of unrefined Cane Sugar
80g of Flour
3-4 drops of Vanilla extract
100g of Almond flakes
For the Caramel Sauce
60g of unrefined Cane Sugar
20g of Butter
100ml of Fresh Cream
For lactose-free version replace butter with your favourite neutral plant oil and the cream with oat, soy or almond cream.
PREPARATION
Wash and peel apples, cut them in halves, get rid of the seeds and hard parts in the middle and cut the halves in thin slices, 2-3 mm wide.
Manually whisk two eggs in a (big enough) bowl and than add: oat milk, 20g of melted butter, 80g of unrefined sugar, 80g of flour and a few vanilla drops. Whisk everything together to make a smooth liquid paste.
Add the apples slices and mix everything together so the apples get well soaked.
Pour the mixture in your cake mould covered in baking paper (mine is of a rectangular shape, 26cm x 12cm). Sprinkle with almond flakes and bake in 180°C preheated oven for 50minutes.
While the cake is baking, melt 20g of butter with 60g of unrefined sugar on a low temperature. It takes about 10 minutes to transform it in a a smooth and thick but still quite liquid paste. Add fresh cream and keep cooking for 2-3 minutes more while continually mixing with a whisk. You should obtain an even and creamy sauce.
When the cake is ready, let it cool and than pour the caramel sauce over the cake before serving.
---
---