Vegetables au Gratin, gourmand and so simple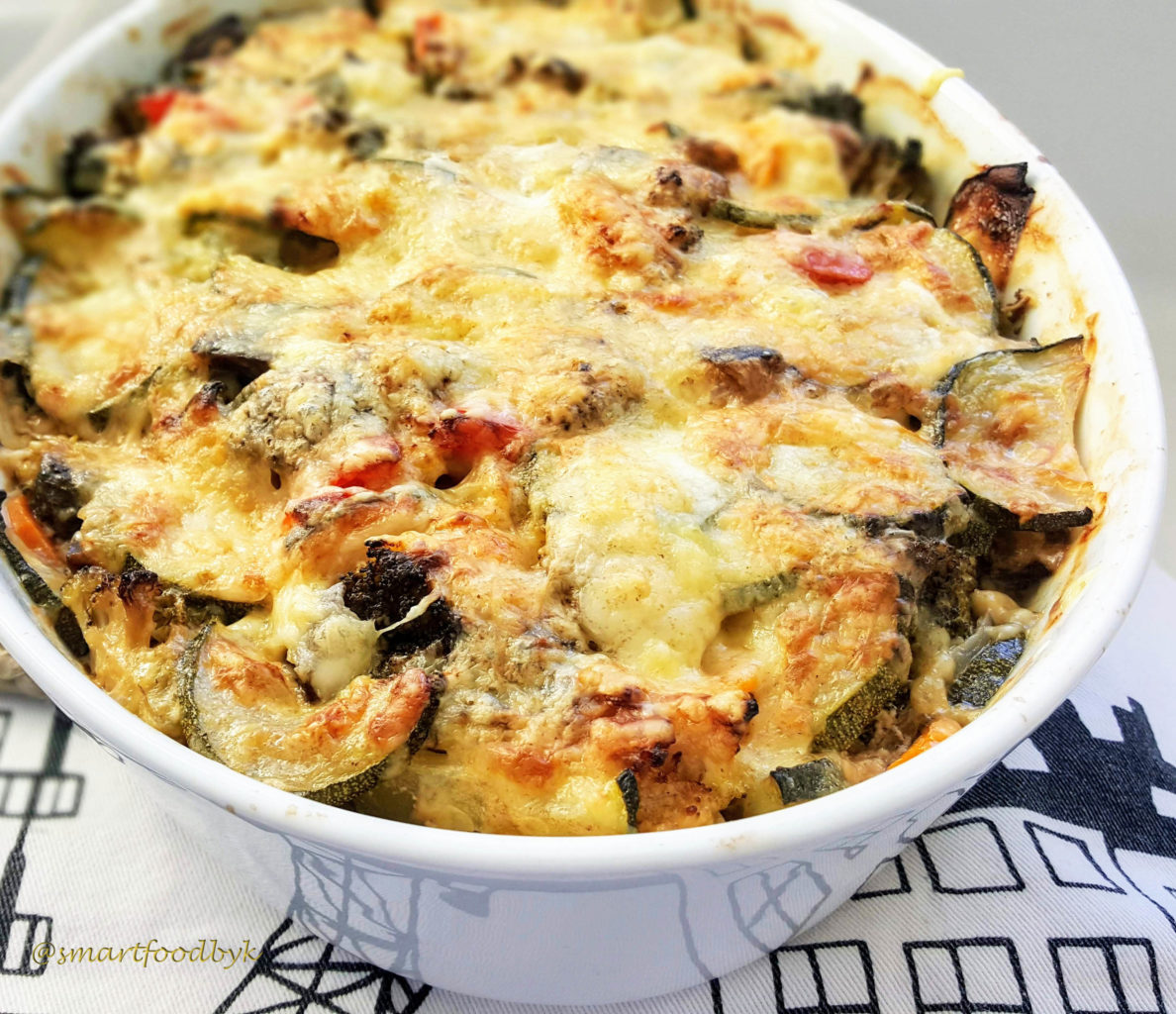 The most difficult part in this vegetables au gratin is cutting the vegetables. This is to tell you how easy it is to enjoy delicious healthy food 😉 It is obviously essential to have good vegetables, preferably local, organic (or not, if your favorite producer does not use pesticides) and in-season! The choice of vegetables for this dish is not fixed, use whatever you can find in-season in your local market or shops.
Just be careful not to put too many "acidic" vegetables. For example, for this summer version of the dish I did not use tomato, because it is a little too acidic and very "liquid". I opted for red pepper instead. If you prefer tomato, use just its flesh without the juice.
This dish becomes easily vegan friendly and lactose-free if you replace the grated cheese with its vegan version 🙂
Serves 4-5. Total time: 1 hour 45 min (preparation: 20 min, oven cooking: 85 min)
INGREDIENTS (organic & in order of use)
1 Onion (big)
1 Broccoli (medium)
2 Carrots (medium)
1 Aubergine (eggplant ,medium)
3 Garlic cloves (medium)
4 tablespoons of Olive Oil
1 teaspoon of Fresh or Dry Thyme
2-3 large pinches of Unrefined Salt
1 Courgette (zucchini, big)
1 Red Pepper (big)
250ml of Oat Cream (or spelt or soy)
150g of Mozzarella
100g of Grated Emmental (or any other of your choice)
some fresh Basil leaves for the presentation and the touch of freshness
PREPARATION
Wash and cut vegetables in the following order:
– onion in thin stripes
– carrots in thin slices
– eggplant in 2-3cm dice
– cloves of garlic roughly in 3-4 pieces each
– remove the main "trunk" of the broccoli then cut in thin slices all the other small "trunks" which hold the broccoli flowers together (nothing, or almost, is wasted 😉 ) It is better not to peel organic vegetables (except those with a non-edible peel, like onion or garlic) because the vitamins are mainly situated just under the thin layer of skin.
Put the chopped vegetables in your gratin oven dish and mix them with 2-3 generous pinches of salt (according to your taste), thyme and olive oil. Cover with baking paper and bake at 225°C for about 30 minutes.
Now cut out the remaining vegetables that require shorter cooking time:
– broccoli in "flowers" of about 2cm
– courgette in thin slices
– red bell pepper in small strips about 5mm wide.
I prefer to cut them just before cooking because some vitamins tend to oxidise when exposed to air.
Take the dish out of the oven, add the rest of the vegetables and stir everything with 150ml of oat cream. Bake it covered for about 50 more minutes, still at 225°C.
Final step after 50 minutes of cooking: cover the vegetables with thin slices of mozzarella, sprinkle with grated cheese and drizzle with the remaining vegetable cream. Bake for another 15 minutes to golden brown the dish.
Let cool a bit before serving and add fresh basil leaves for extra flavour and a touch of freshness.
---
---