Apple roses with honey and cinnamon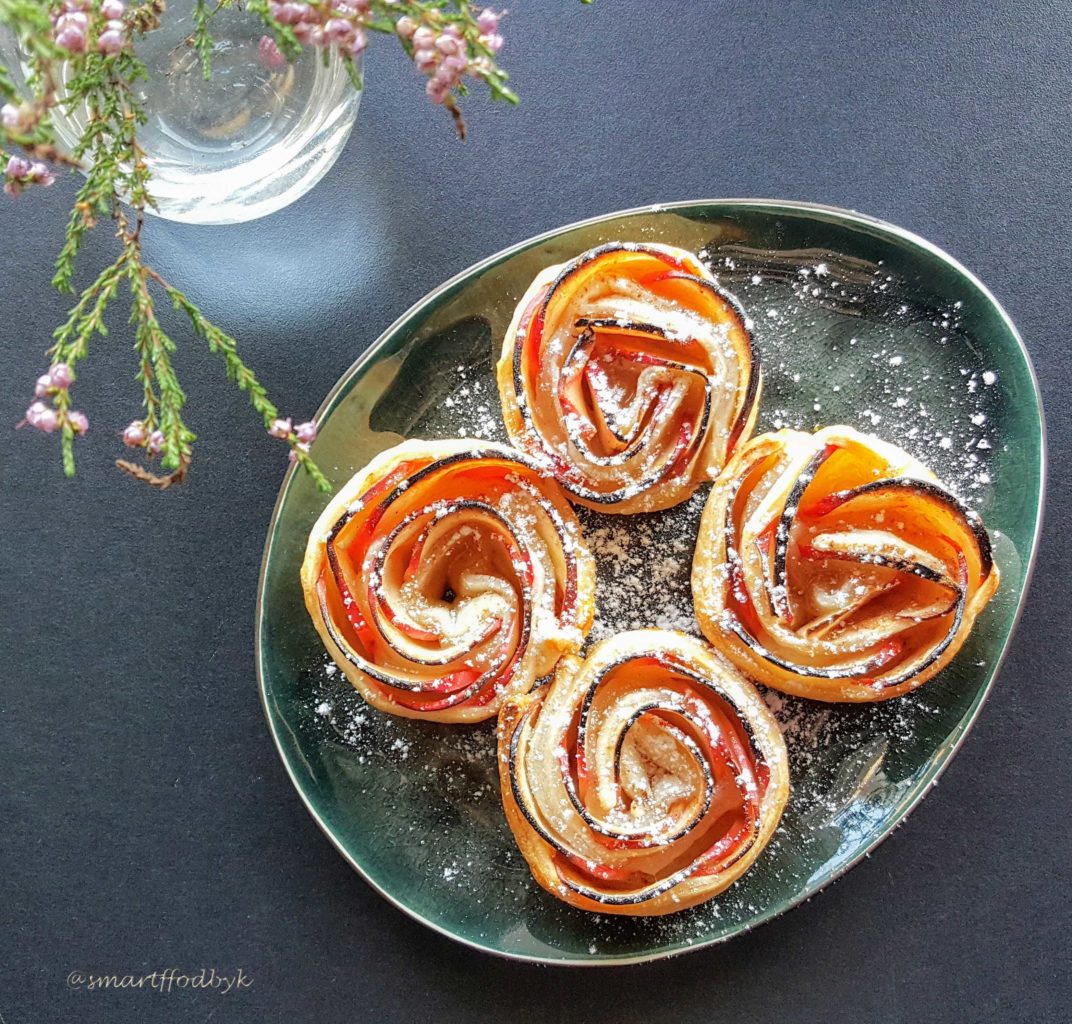 There is no easier dessert to make with a bigger "wow" effect when served! By the look of these delicious apple roses people always think that you put a lot of time and effort in them. Compliments are guaranteed 😉 More importantly they are all natural and made with only five ingredients, the four of which are super healthy: apples, honey, cinnamon, lime.
Serves: 9 roses. Total time: 55 min (preparation 20 min, baking 35 min)
INGREDIENTS (organic and in order of use)
1 roll of Puff Pastry
2 Red Apples
1/2 of Lime or Lemon
1 tablespoon of Creamy Honey (not a liquid one)
1 heaped teaspoon of Cinnamon
some Icing Sugar to sprinkle before serving (optional)
PREPARATION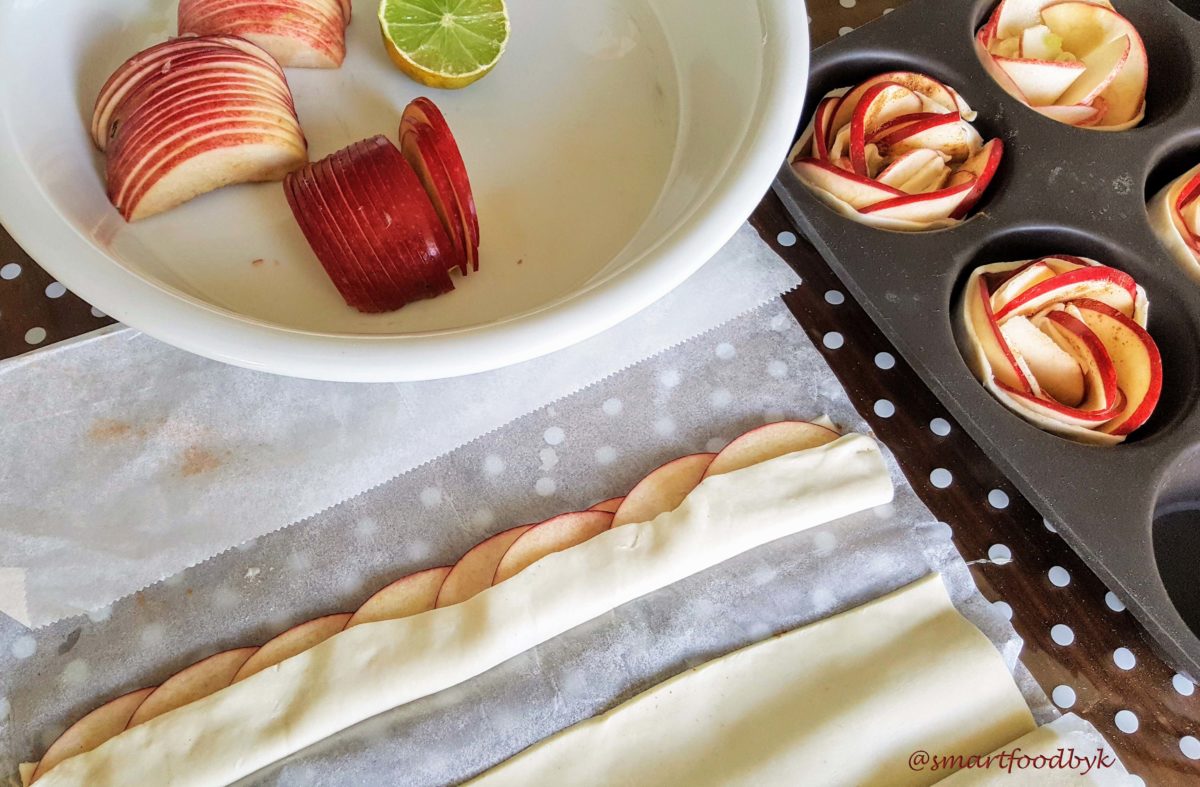 Start by halving the apples and removing the seeds. Do not peel them, it is the skin that gives the roses the beautiful coloured rim. Cut each half in very thin slices, approx 2mm large. You would definitively need a sharp knife to do it right.
Sprinkle the apple slices with a few drops of lime juice. It will prevent them from getting dark too quickly and soften them just enough so you can easily roll them into roses.
Cut your puff pastry into stripes of about 25 cm long and 3 cm large.
The roses are actually quite easy to make:
– spread a thin layer of creamy honey on each stripe and sprinkle them with cinnamon
– place the apple slices on the upper half of a stripe making them overlap for about 1/3 (like in the picture above)
– fold the lower half of the pastry stripe to cover the slices in part (as in the image above) and roll it delicately into a rose trying not to break the future rose petals
– place the roses in a muffin/cupcake mould as you make them.
Bake them for about 35 minutes in a 180°C preheated oven.
When ready wait until they cool down before taking them out of the mould to make sure they keep their rose shape.
You can sprinkle them with icing sugar before serving to enhance the visual effect. You definitively do not need it to enhance the taste.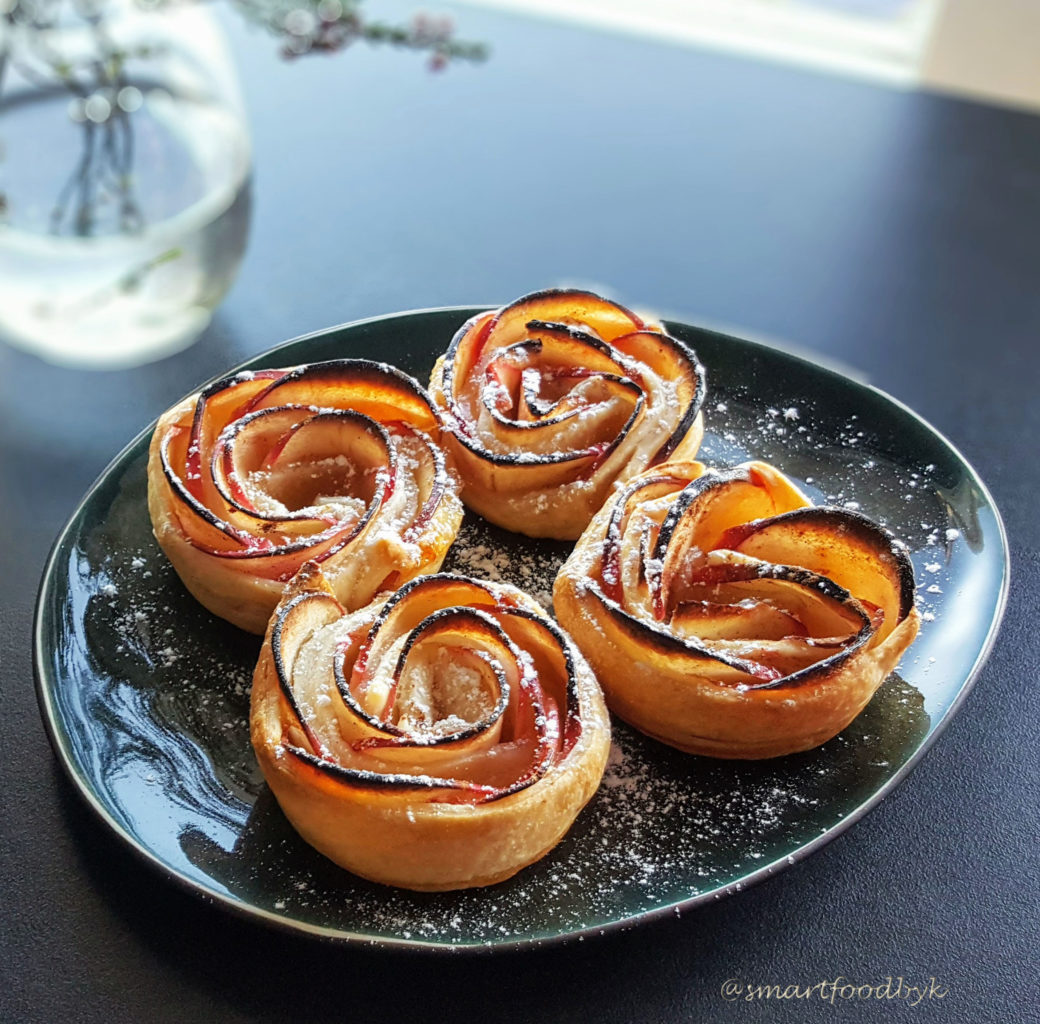 ---
---