Gibanica – savoury millefeuille with cheese and spinach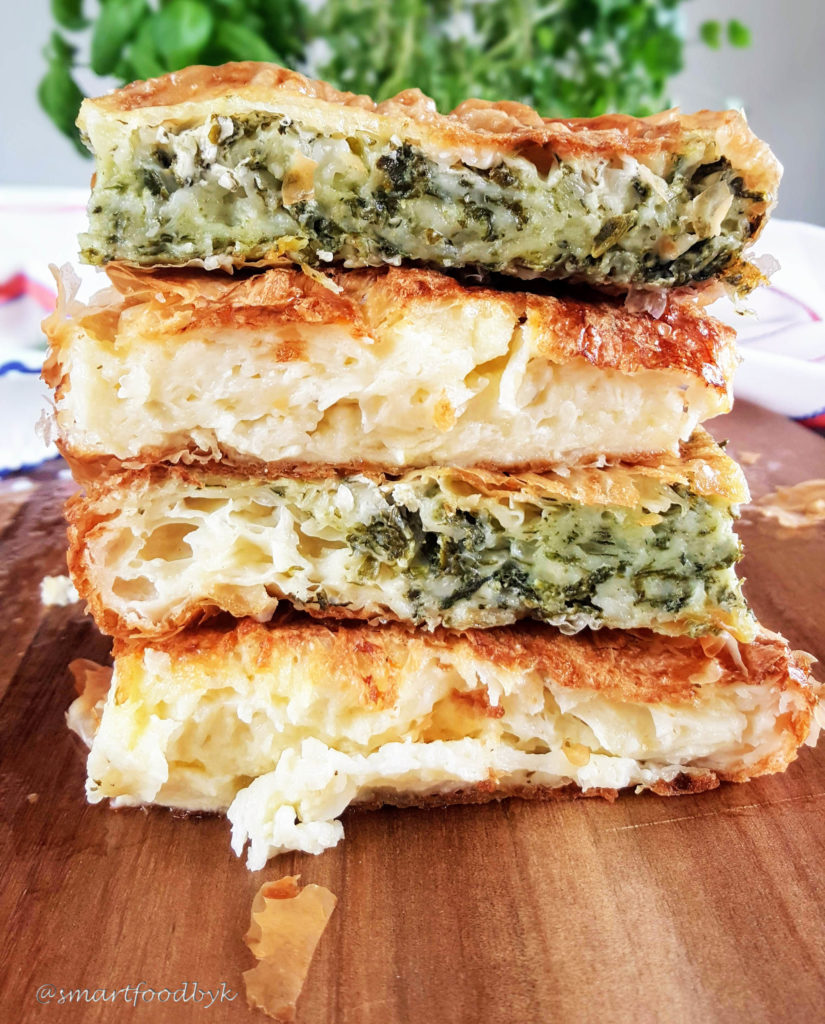 Gibanica is a traditional Serbian dish. Very popular, this savoury millefeuille is most frequently eaten at breakfast but it is also a must have course in a typical popular or religious holiday menu. The best is obviously that of my mother's, hihi. I believe that's a praise you could hear from any of my Serbian compatriots 😉 Except that their mum is not necessarily a Chef like mine!
Gibanica is most often made with Serbian cottage cheese, but can also be made with spinach, meat or potatoes and onions. My favorite version: the cheese and spinach mix. The basis of the recipe is the same as for the cheese gibanica but with some added spinach 🙂
At mom's we would have it for breakfast with a glass of natural yoghurt, a delish!
Serves:  8 (generous pieces). Total time 1 hour 15 min (preparation 30 min, baking 45 min)
INGREDIENTS (organic, in order of use)
200g of Spinach
6 tablespoons of Olive or Sunflower Oil
(I am an unconditional fan of olive oil but traditionally in Serbia we use sunflower oil because it is grown locally)
5 Eggs
1 Greek yoghurt (about 150g)
(in Serbia we use "kajmak", a dairy specialty halfway between fresh cheese and butter, or "pavlaka", a kind of thick cream)
400g of Cottage Cheese or equivalent
150g of Feta or equivalent
(in Serbia we use an equivalent of feta, a curd, salty, white cheese)
1 teaspoon of dried or fresh Thyme
200ml of Sparkling Water
1 small clove of Garlic
1 teaspoon of Unrefined Salt (or more depending on taste or variety of cheese used, that can be more or less salty)
500g of Filo Pastry
(In Serbia we make several types of Filo Pastry, more or less thick, wholegrain and even made from buckwheat)
PREPARATION
Wash and slice the spinach leaves. Stir them with 1 pressed garlic clove and 1 tablespoon of olive oil over medium heat, for about ten minutes.
While cooking spinach, break 4 eggs in a large enough bowl and whisk them with salt to make them slightly foamy. Add cottage cheese, crumbled feta cheese, Greek yogurt, sparkling water, thyme and 2 tablespoons of olive oil. Mix well, add the spinach and mix again.
Grease a large baking dish with 2 tablespoons of olive oil and spread two sheets of filo pastry to cover the entire bottom. Put aside two sheets for later.
Preheat the oven at 220°C.
Take the filo sheets one by one and dip them in the cheese/spinach mixture to soak them well. Crumple them to form like balls of paper (not too tight) that one wants to throw away. Place them delicately one beside the other without squeezing them (they would rise and spread a bit while baking). There could easily be enough filo pastry "balls" for two floors depending on the size of your dish. It is perfectly fine as long as you do not squeeze them.
When all the filo sheets are placed in the dish, pour the rest of the preparation over them and even the surface.
Cover the top with the two filo sheets that were reserved at the beginning so as to cover the whole surface.
Pre-cut the gibanica into large squares. Preferably with a sharp knife and holding delicately with your fingers the sheets on top.
Whisk briefly with a fork 1 egg with a tablespoon of olive oil. Pour the mixture on top and spread all over with a baking brush.
Bake at 220° for about 45 minutes.
When the gibanica is ready, serve it rather warm with, for example, a nice green salad seasoned with some herbs or, as we did in my childhood, with a glass of natural yogurt.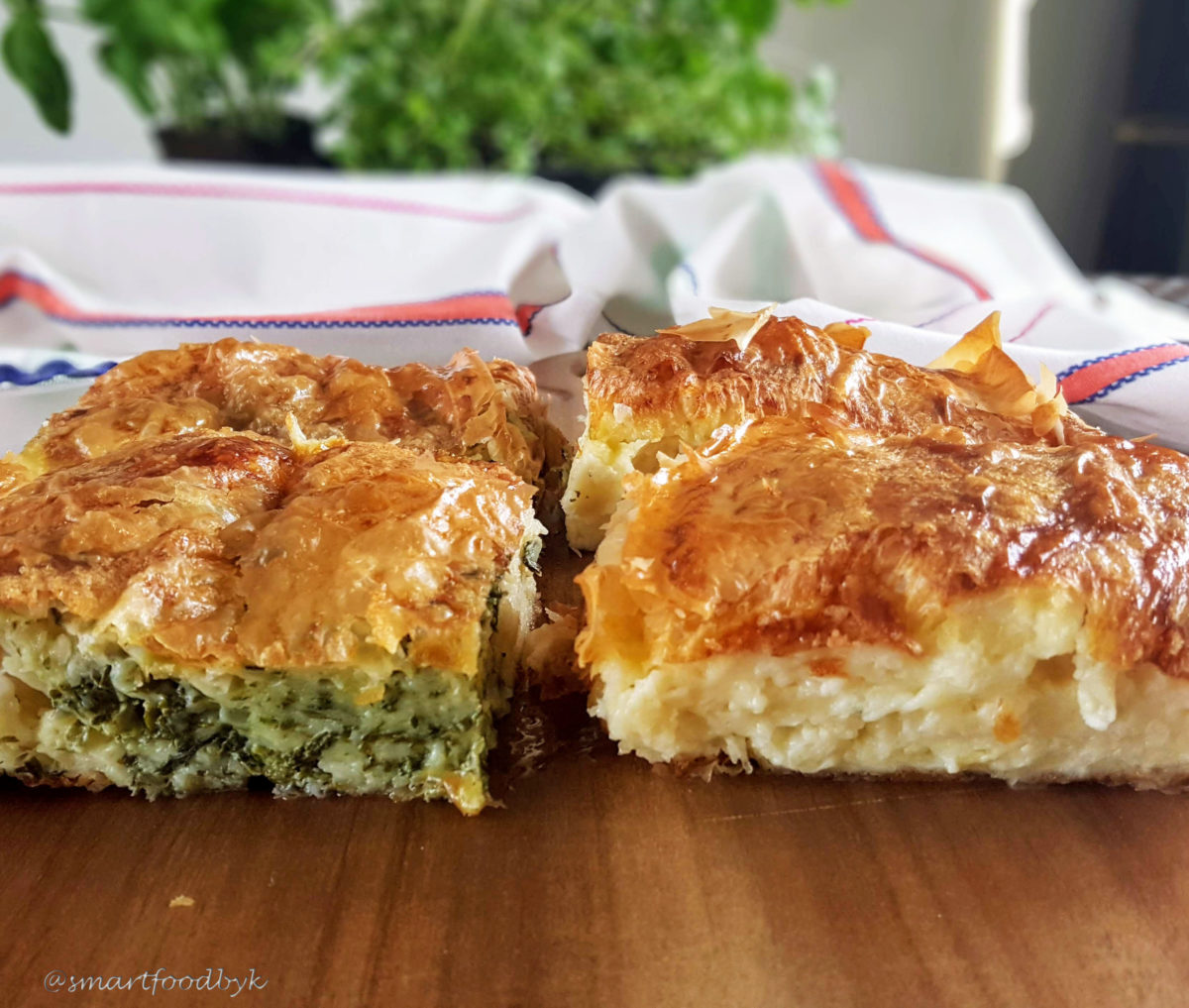 ---
---