Stuffed "cheese pumpkin" roast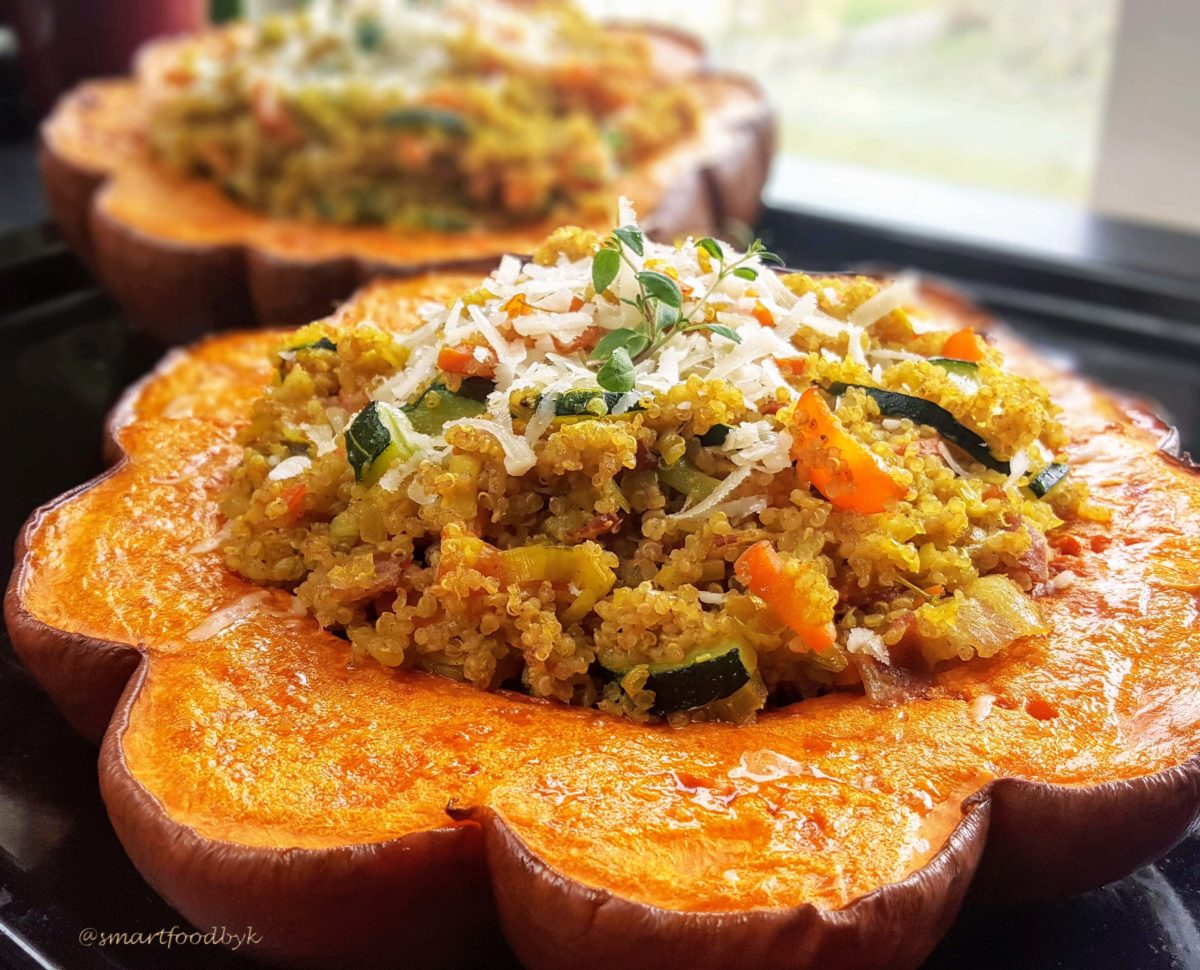 What an amazing gift of nature are all these different types of winter squash and pumpkins! Bursting with antioxidants and vitamins (beta-carotene, A, B2, B5, B6, B9, C, K), they are very generous in the kitchen too.  You can use them to make delicious desserts as well as savory gourmet dishes.
On the menu today a stuffed "cheese pumpkin" roast, a beautiful flower like comfort dish. The creamy, slightly sweet roasted pumpkin compliments deliciously the savoury stuffing made of vegetables simmered with herbs, spices and quinoa. You can of course add meat to it (minced meat or smoked bacon) but try the veggie version first, it will surely make you forget all about it 😉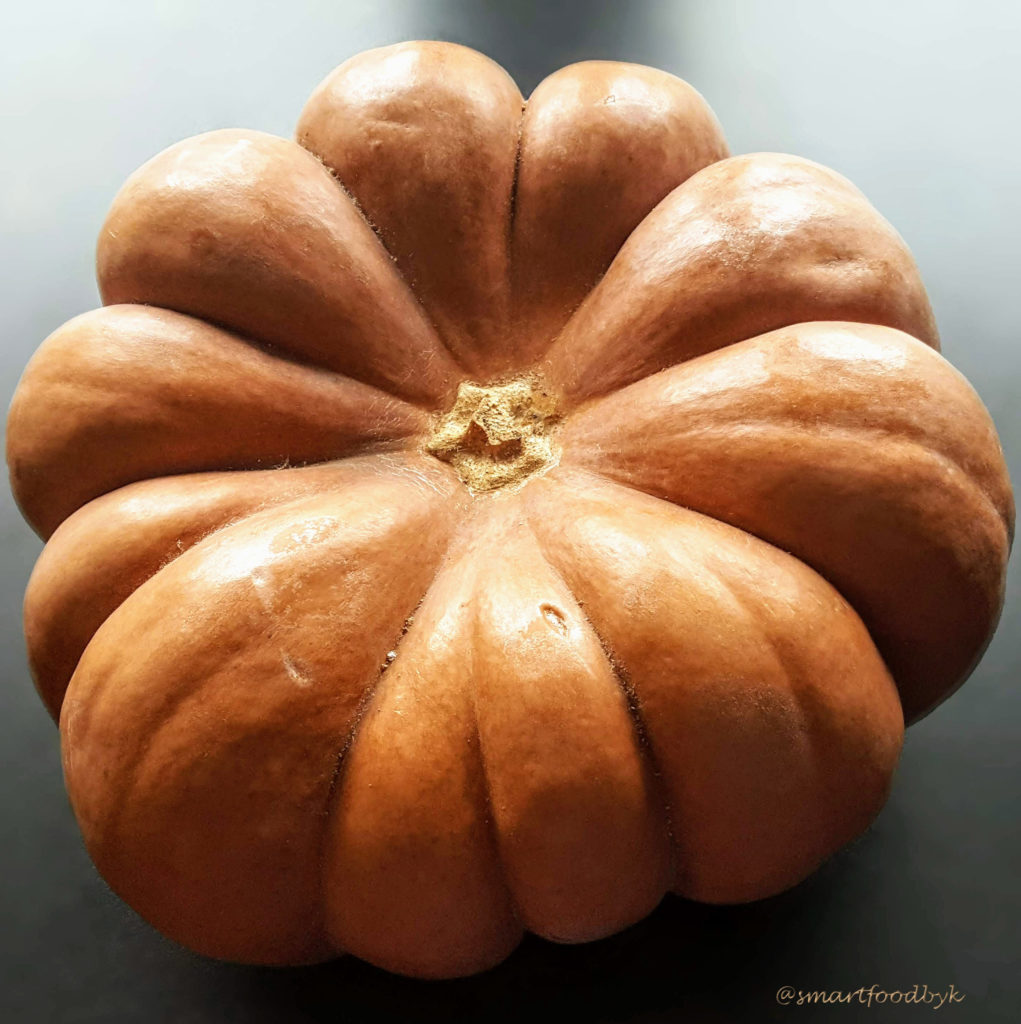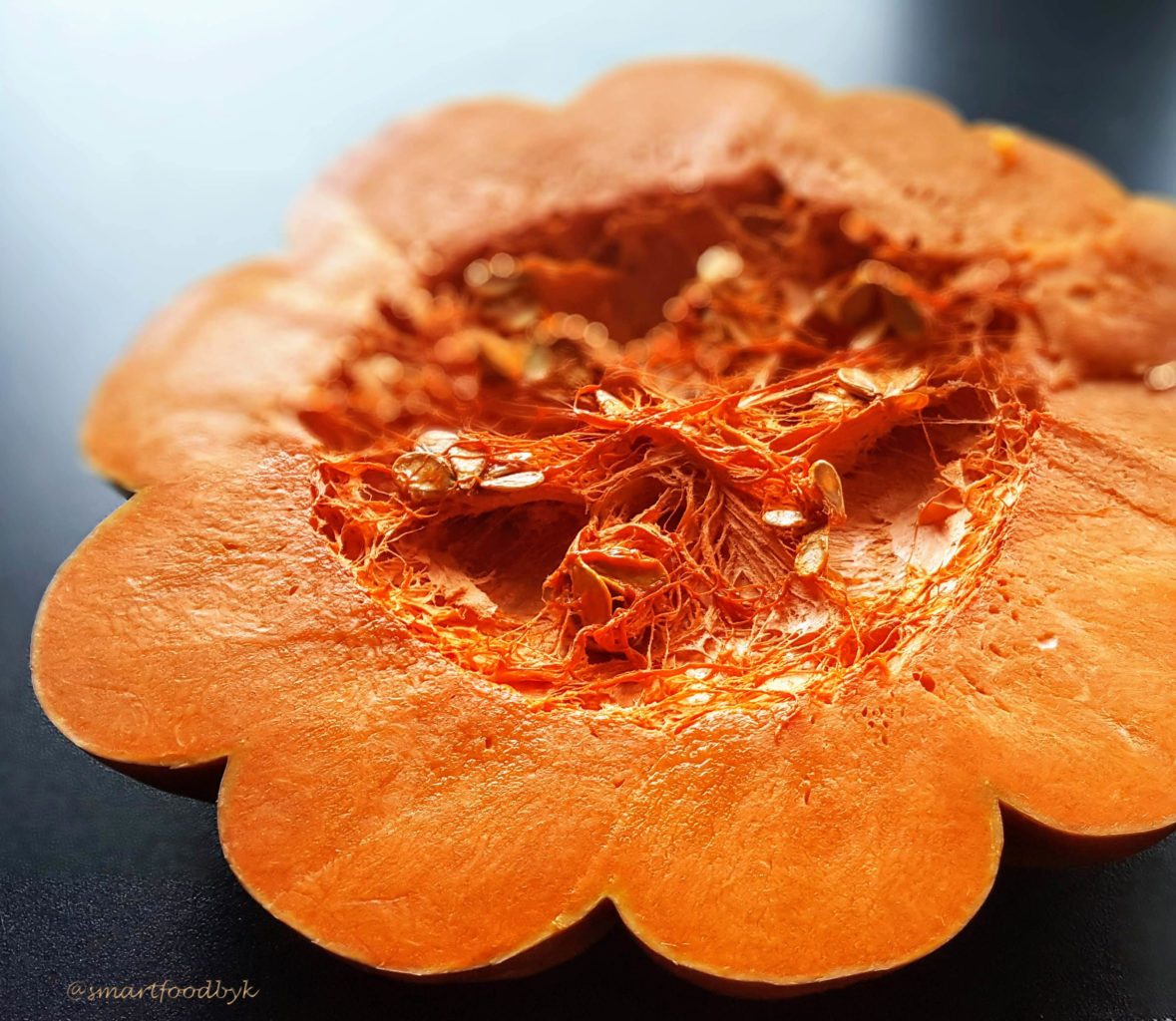 Serves : 7-8. Total time 1h 30 minutes (pumpkin preparation 5 min, pumpkin roasting 1h 25 minutes, vegetables preparation and cooking 35 min, quinoa cooking 15 min)
INGREDIENTS (organic and in order of use)
1 Cheese Pumpkin (the one in the photo makes 28 cm in diameter)
7-8 tablespoons of Olive Oil
2 Garlic cloves
1 big Onion
2 branches of Celery with leaves
1 Leek
2 big Carrots
2-3 generous pinches of Unrefined Salt (according to your taste)
1 level tablespoon of Turmeric
1 big Courgette (Zucchini)
2-3 tours of Pepper mill
1 tablespoon of dry Parsley (or a small handful of fresh Parsley)
1 tea spoon of dry Thyme
200 – 250 g of Quinoa
a few strands of fresh Thyme
some grated Parmesan (optional)
PREPARATION
Wash and half the cheese pumpkin horizontally. Remove seeds, sprinkle with 2-3 tablespoons of olive oil and bake at 180°C for 1 hour.
While the pumpkin is baking prepare the vegetables in the following order (first vegetables that require a longer cooking time):
– Slice garlic and onion finely and stir with 3-4 tablespoons olive oil over medium heat for about 10 minutes. Onion should soften a bit and become slightly translucent.
– Finely cut celery, leek (in fine rings) and carrots (thin half-circles), add them to onion/garlic. Add salt and turmeric and cook for another 15 minutes covered. Pour in a bit of water if the vegetables start to stick to the pan.
– Slice the courgette finely then quarter the slices and add them to the saucepan with dried thyme, parsley and pepper. Continue cooking for another 10 minutes still covered.
Cook the quinoa in twice its volume of boiling salted water, for about 15 minutes. You can also use rice or bulgur if you prefer.
Quinoa is rich in proteins that provide the essential amino acids, that's why it is perfect for veggie dishes. It also contains magnesium, iron, vitamins B, C and E and lots of fiber. Better yet is to associate it with a cereal, such as rice or bulgur 😉 A combination of pulses (even though quinoa is not a true pulse) and cereals provides you with all the essential amino acids.
When quinoa is ready, add it to the vegetables and stir everything together.
After an hour of roasting take the pumpkin out of the oven and poke the flesh with a fork to make sure it is soft.
Fill the hollow of each pumpkin half with the mix of quinoa and vegetables, sprinkle with a spoon of olive oil and bake another 20-25 minutes in the oven at 180 ° C.
Top the stuffed squash with grated Parmesan (optional) and fresh thyme sprigs before serving.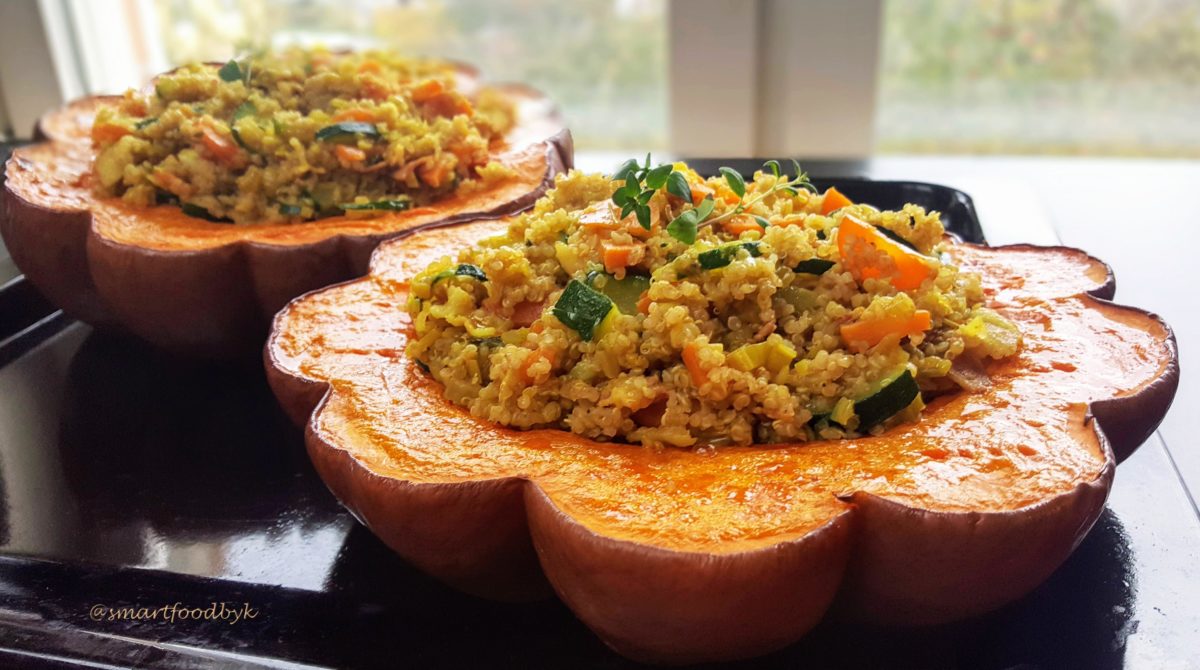 ---
---