Coconut cream and broccoli potage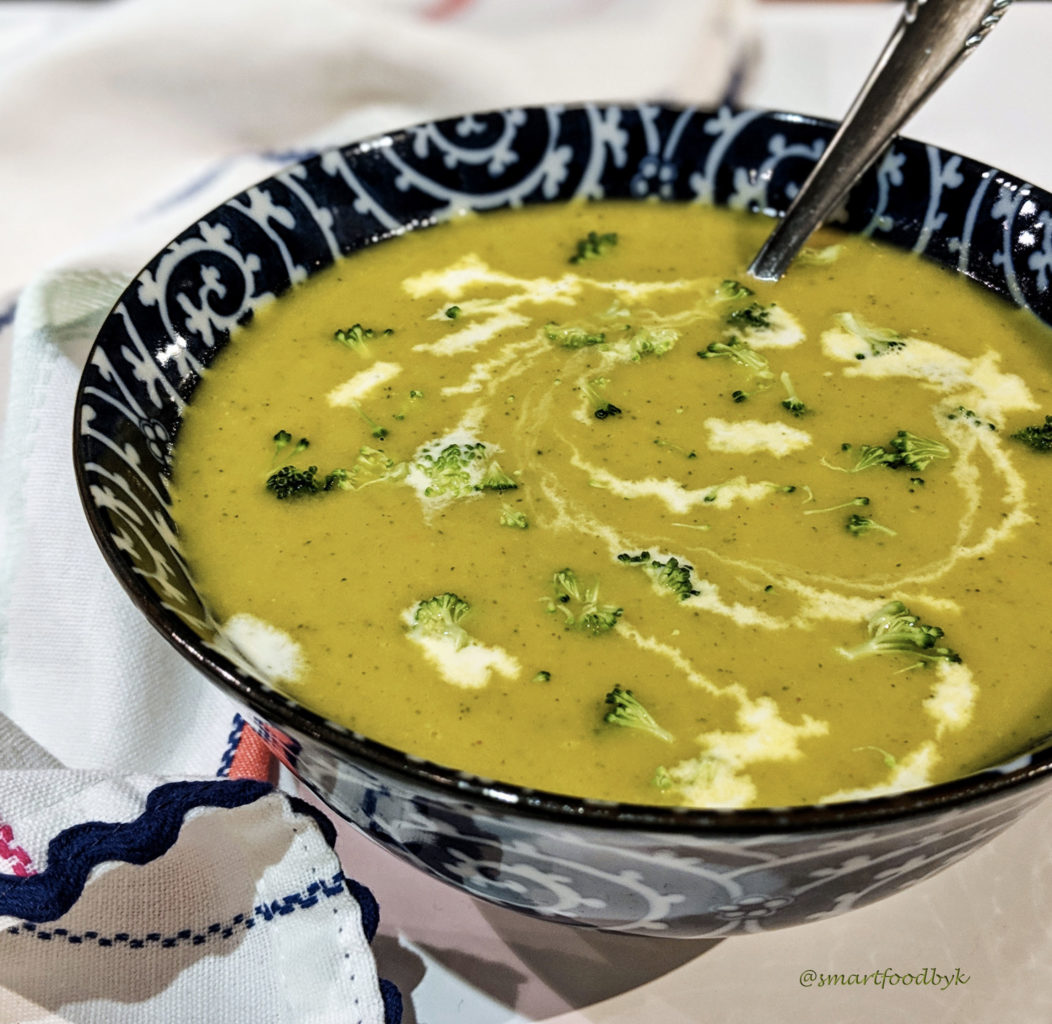 This broccoli potage is a pure product of this beautiful white season! Yes, broccoli is a winter vegetable 😉
Here in Stockholm, winter is white, icy and very active. Cross-country skiing, ice skating on various ice rinks and frozen lakes, sledging and even mountain biking, for the Suedes "there is no bad weather, there are just bad clothes".
There is nothing better than a good soup to warm us up from the inside out after all these snowy activities. This broccoli potage with coconut, is easy to make, super creamy and full of vitamins.
Serves: 4-5. Total time: 1h 5 minutes (preparation 20 min, cooking 45 min)
INGREDIENTS (organic and in the order of use)
3 tablespoons of Olive Oil
1 small Onion
1 Leek white
2 Cloves of Garlic
3-4 Potatoes
2 Carrots
1 teaspoon Ginger Powder
1 teaspoon of Curry
2 large pinches of Unrefined Salt
1,5l of Water
1 Vegetable Broth cube
300g of Broccoli
300ml of Coconut Cream
PREPARATION
Cut 1 onion, 2 garlic cloves and 1 leek's white and cook in a soup casserole pan with 3 tablespoons of olive oil, over medium heat, for 5 minutes, covered.
Remove the bottom of the broccoli trunk (the part that is too hard and drier). Chop in thin slices the rest of the trunk and the stems of broccoli and add them to the pot.
Peel and chop 3 potatoes and 2 carrots. Add them to the pan with 1 teaspoon of ginger powder, 1 teaspoon of curry and 2 large pinches of unrefined salt. Continue cooking for another 10 minutes, covered.
Add 1.5 liters of boiling water and 1 cube of vegetable broth and continue cooking for about 20 minutes.
Finally add the broccoli flowers and 300ml of coconut cream and cook for another 20 minutes.
Mix it all with a hand blender and serve hot but not burning.
---
---