Savoury pancakes with salmon, cucumber, avocado & pomegranate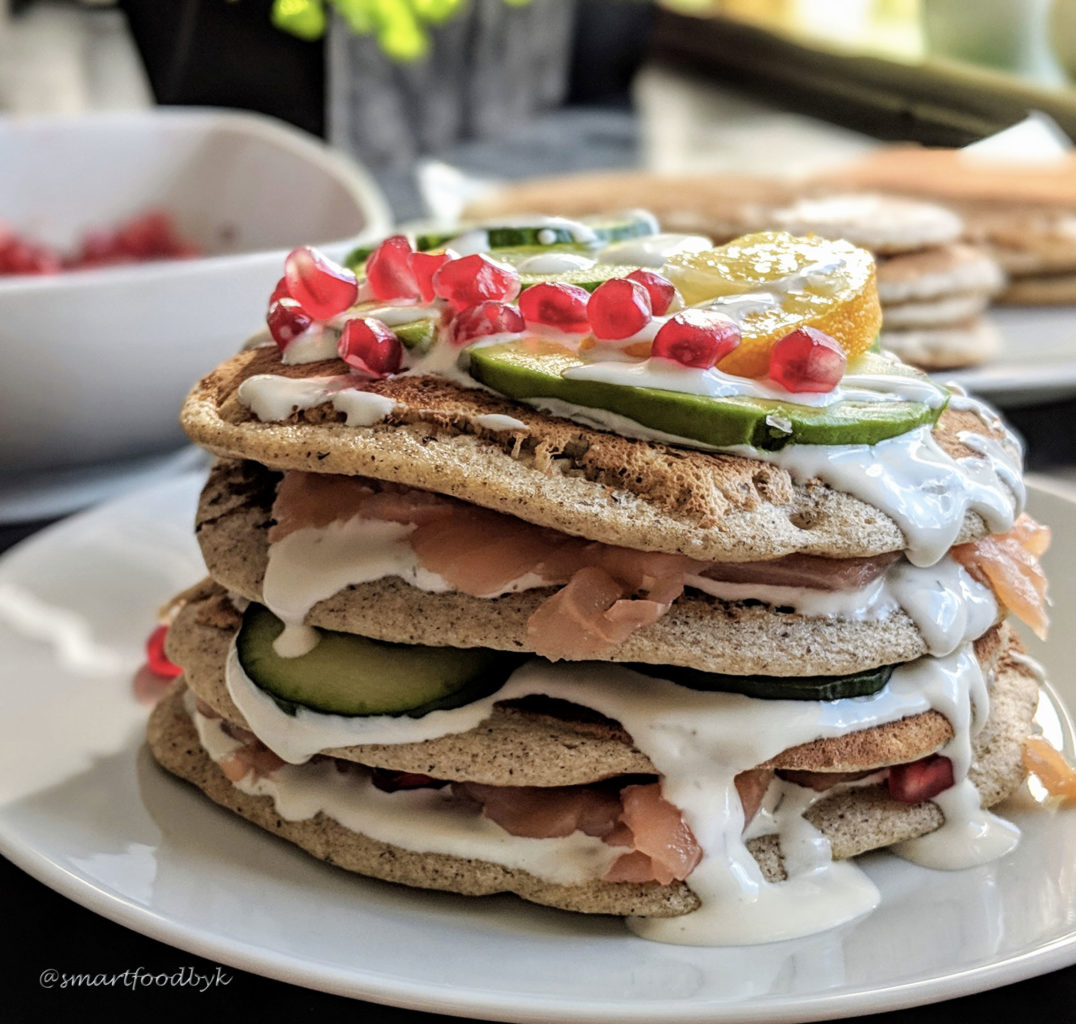 We loooove pancakes at home! Crèpes or pancakes, sweet and savoury, they are often on our weekends' brunch menu. Most of the time I make them "neutral" so that they can be garnished as we please, both sweet and savoury. The recipe below is a suggestion for savoury pancakes with salmon, cucumber, avocado and pomegranate.
As many of you cooking lovers out there, I have my fetish, many many brunches-proven recipe for the softest, most delicious healthy pancakes. I use a mix of two flours and a bit of cardamom for flavour and of course I whisk egg yolks and whites separately for the lightest softness ever 😉
Serves: 14 pancakes. Total time: 1h 15 minutes (preparation 10 min, batter resting 20 min, baking 30 min, assembling 15 min)
INGREDIENTS (organic and in order of use)
For pancakes:
100g of White Wheat Flour
100g of Wholegrain Buckwheat Flour
1/2 teaspoon of Baking Powder
1/2 teaspoon of Unrefined Salt
1 level teaspoon of Cardamom
2 Eggs
120ml of Plant based Milk (I use Oat)
30ml of Oil (I use a mix of Rapeseed and Olive)
200ml of Sparkling Water
For sauce:
1 tablespoon of Mayonnaise
2 tablespoons of Greek Yoghurt
1/2 Lemon Juice
1 level teaspoon of dry Dill
For garnish (in quantities that you like):
Smoked Salmon
Cucumber
Avocado
Pomegranate
Lemon
Fresh Coriander or Dill (optional)
PREPARATION
Pancakes
Mix all dry ingredients in a big bowl: 100g of wheat flour, 100g of buckwheat flour, 1/2 teaspoon of baking powder, 1/2 teaspoon of unrefined salt, 1 level teaspoon of cardamom.
Separate 2 egg yolks from whites. Whisk the yolks with 120ml of plant based milk and 30ml of oil.
Add them to the dry ingredients and whisk manually. Add 200 ml of sparkling water progressively while whisking. A minute or two of vigorous whisking and all lumps will disappear.
Let the batter rest for about 20 minutes (the secret of the softest and lightest pancakes 😉 ).
In the meantime, prepare the sauce and cut cucumber and avocado for garnish.
Bake pancakes in a hot pan, no need to grease it if it is non-stick. Turn the other side when little bubbles start appearing on the surface of a pancake.
Sauce
Mix together in a bowl 1 tablespoon of mayonnaise, 2 tablespoons of Greek yoghurt, 1/2 lemon juice and 1 level teaspoon of dry dill.
Reserve until assembling pancakes.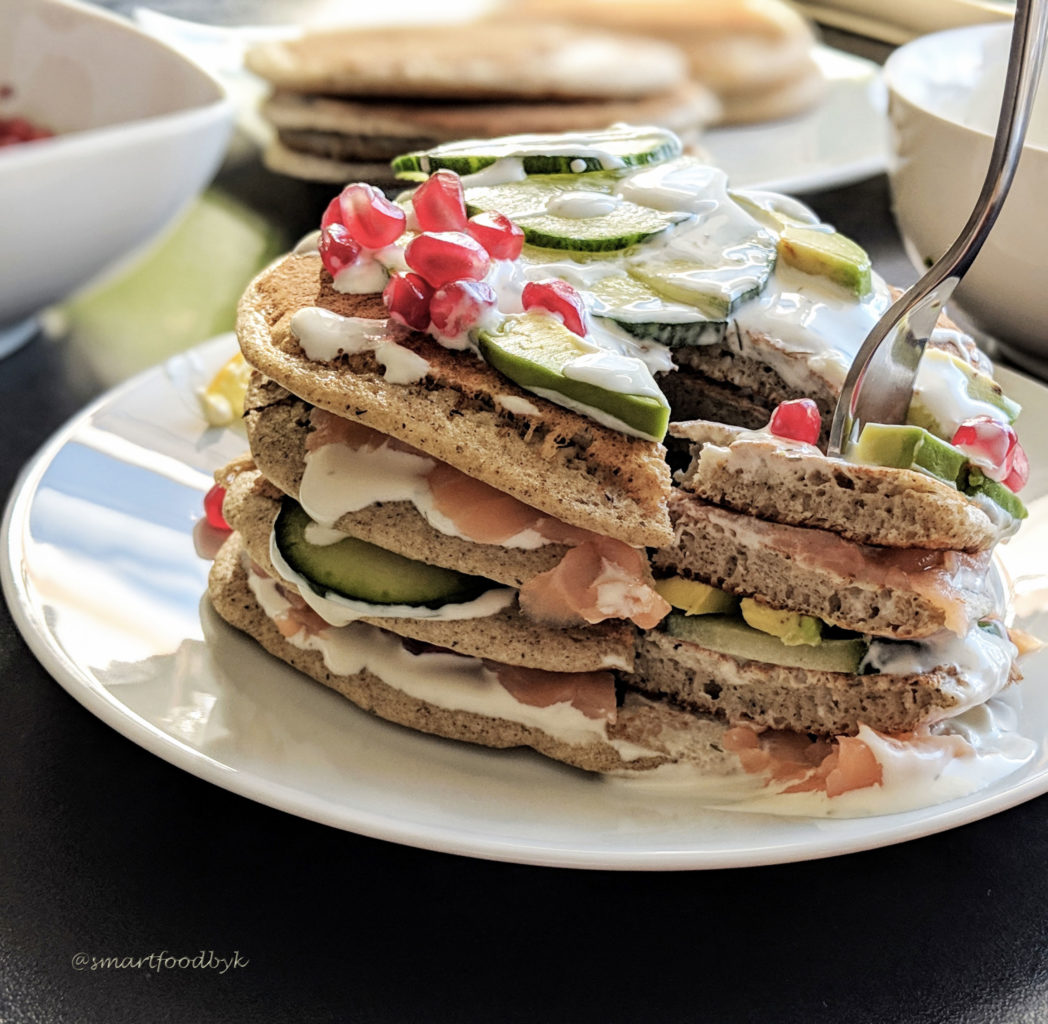 Assembling
Our ideal serving is made of 4 pancakes, garnished as follows (as in the photo above):
1st layer sauce, salmon and pomegranate
2nd layer sauce, fresh dill or coriander, cucumber and avocado slices
3rd layer the same as the 1st
toped with cucumber and avocado slices, lemon slice, pomegranate and drizzles of sauce.
---
---