Mediterranean-style stuffed bell peppers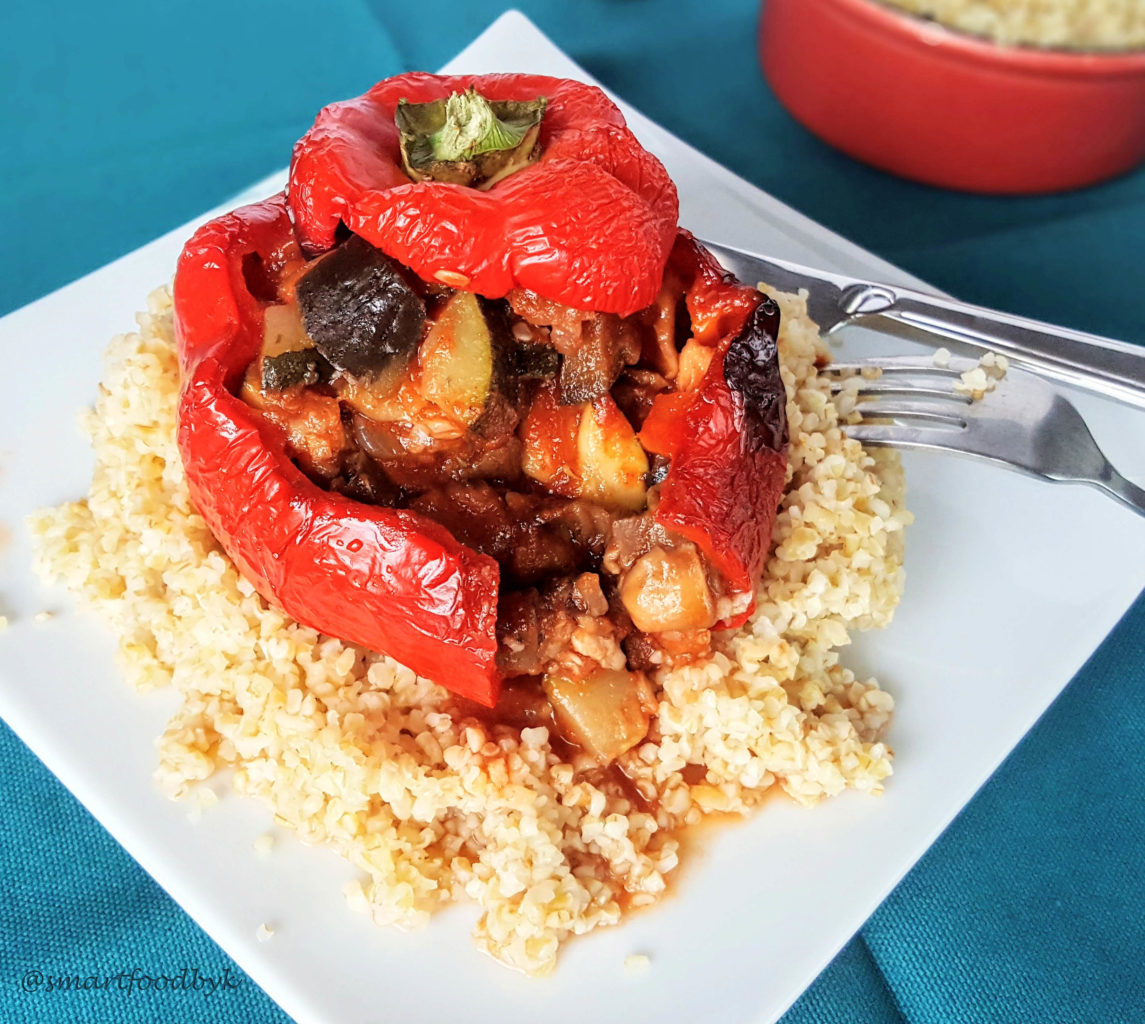 The scent and taste of grilled peppers bring to mind the sun, warm weather and an abundance of fresh ingredients and flavours. For me they are also a little taste of home. They have an important place in Serbian cuisine, part of my heritage. They are an integral part of many recipes just like this one. Of course, I have adapted the traditional "stuffed bell peppers" recipe and created a vegetarian version also tweaking the way peppers are traditionally cooked 😉
Very light in calories (20kcal per 100g) bell peppers are rich in anti-oxydants, like carotenoids and vitamin C, in vitamin B6 and folic acid, helping us fight cholesterol, skin ageing and even certain types of cancer.
When grilled or roasted they become mellow and slightly sweet, thus perfectly complementing other vegetables in this recipe. This is comfort food at its best – it will easily make you forget about meat if you are used to it in this kind of dishes!
Serves: 4. Total time: 1h 20-30 min (preparation : 30 min, oven cooking: 50-60 min)
INGREDIENTS (organic)
4 red Bell Peppers or red and yellow (big)
4 Spring Onions with their long green leaves (or 1 medium size onion)
1 Aubergine (medium)
1 Courgette (medium)
2 ripe Tomatoes (big) pealed and used with their liquid (or 30cl ready made crushed Tomatoes)
6 Brown Button Mushrooms (big)*
2 Garlic cloves
1 cm of Ginger*
3 tablespoons of Olive Oil + a dash for each pepper insides
1 level tablespoon of ground Paprika
unrefined salt
1 small handful of fresh Parsley (or 1 teaspoon of dried Parsley)
Basil or Thym or Coriander or Dill according to your taste
As a side dish
50g per person of bulgur (as in the photo) or rice or quinoa or a mix bulgur/quinoa
*yes, I know, I am getting further away from the Mediterranean but the result is worth the gap 😉 
PREPARATION
Wash bell peppers and cut their tops off (with stems). Clean their insides from seeds and sprinkle the insides with a pinch of salt and a dash of olive oil. Place them vertically in a small oven dish (without the tops), pour some water in the dish just enough to cover the bottom and roast the peppers at 180°C for about 20 minutes.
Wash and chop all the other vegetables:
– spring onions with their long green leaves in 2-3 mm rings
– aubergine, courgette and tomatoes (I prefer peeling tomatoes before) into dice of about 1 cm
– garlic and ginger very thinly
– button mushrooms in half and than in thin slices
Stuffing
Start by cooking spring onion, aubergine, garlic, ginger, olive oil and a big pinch of unrefined salt together in a casserole dish at medium temperature for about 10 minutes. The objective is to soften the aubergine, it is much tastier well cooked. Then add courgette, tomatoes (with their juice), mushrooms and ground paprika and continu cooking for another 10 minutes to soften courgettes a bit. If you are using dried parsley add it now as well. At the end of planned cooking time, take the casserole of the heat and add fresh chopped herbs of your choice and mix them in with a wooden spoon. I never put all 5 mentioned above at the same time. My favourite combinations are parsley/basil or parsley/coriander.
Take the peppers out of the oven. They would release a bit of juice inside, do not empty them, it will give the stuffing extra flavour. Fill in each pepper to the top by pressing down the stuffing with a spoon and cover them with their tops. Add some water to cover the bottom of the plate et put back into the oven at 180°C for about 50-60 minutes. Bell peppers should be mellow at the end of cooking time.
Serve warm but not too hot with a cereal of your choice as a side dish. Or even better with a mix of bulgur and quinoa, my personal favourite!
---
---