Low-calorie dark chocolate cake with coconut cream and strawberries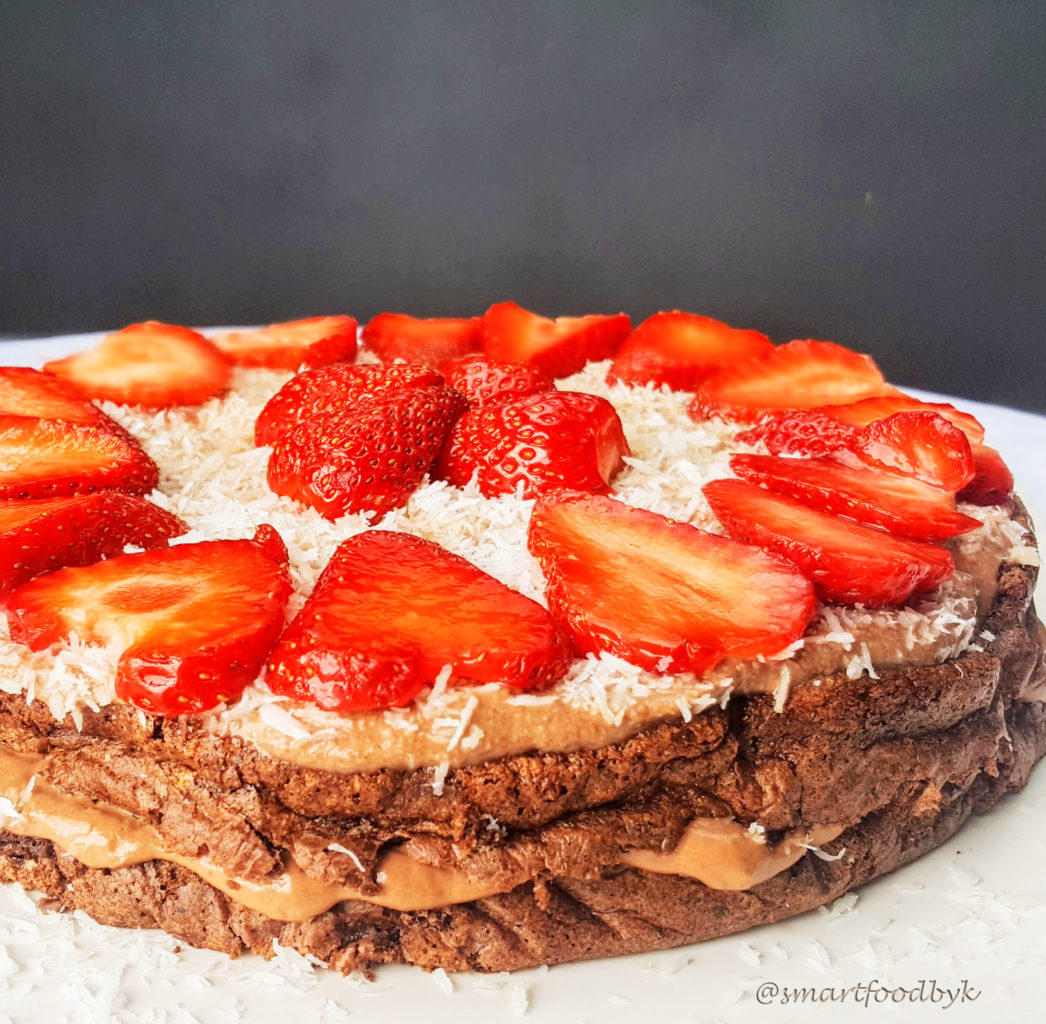 This is one of the most delicious chocolate cakes I have ever tasted. And more importantly, you will not have to find excuses for having that extra slice. In fact, I am encouraging you to indulge your cravings! And you know why? Because this cake contains a healthy low-calorie magic ingredient that replaces butter. Not only does it replace butter, it also complements chocolate beautifully making the cake perfectly moist and tender. So what's the brilliant twist? It's courgette! Yes, it is actually a vegetable that does wonders to this dark chocolate cake. And nobody will ever notice if you don't tell them 😉
You can enjoy this delicious cake without any garnish. But if you add some coconut cream, a sprinkle of grated coconut and a handful of strawberries you are in for a wow effect 😉
Serves: 8. Total time: 1h (preparation: 30 min, baking: 30 min)
INGREDIENTS (organic)
200g of Dark Chocolate (at least 60% Cocoa)
20g of Cocoa
30g of Coconut Flour (or Corn Starch)
50g of coconut sugar (or 50g of unrefined cane sugar or 30g of stevia)
4 eggs
1 courgette (medium)
For cream:
100g of Dark Chocolate (at least 60% Cocoa)
200 ml of coconut cream
For garnish:
20-30g of grated Coconut
8-10 Strawberries cut in slices
PREPARATION
Chocolate/Coconut Cream
Start by preparing chocolate/coconut cream so it can cool and get firm in the refrigerator while you are making the cake.
Melt 100g of dark chocolate over a water bath (not micro-wave, it is very unhealthy).
Whisk 200ml of coconut cream (not milk) for a few minutes until it gets a bit thicker. It will not get as thick as whipped milk cream would but don't worry it will get firm enough after cooling.
Add melted chocolate into the coconut cream and mix manually to obtain a smooth cream.
Put in the refrigerator to cool and get firm.
Cake
Wash, peel and grate a courgette very thinly to obtain about 200g of it. Do not drain it, we need the juice too.
Melt 200g of dark chocolat over a water bath.
Whisk egg yolks with sugar until the yolks become light yellow (I use a mixer). Add cocoa and coconut flour and mix a bit more to obtain a smooth thick paste.
Add the melted chocolate and the grated courgette and mix it in manually.
Pre-heat the oven to 180°C.
Finally beat the egg whites into a firm peak (here I use mixer again) with a pinch of salt and incorporate them delicately making slow circular moves to preserve the air bubbles that will make the cake soft and light.
Pour the cake batter into a mould (mine is of 23cm of diameter) and bake for about 30 minutes at 180°C.
When the cake is ready, take it out of the oven and let it cool completely.
Unmould it and cut in twohorizontally.
Spread half of the chocolate/coconut cream on one half of the cake and cover with the other as in a sandwich. Spread the rest of the cream on top of the cake, sprinkle with grated coconut and decorate with sliced strawberries.
And of course make your friends and family guess the secret ingredient 😉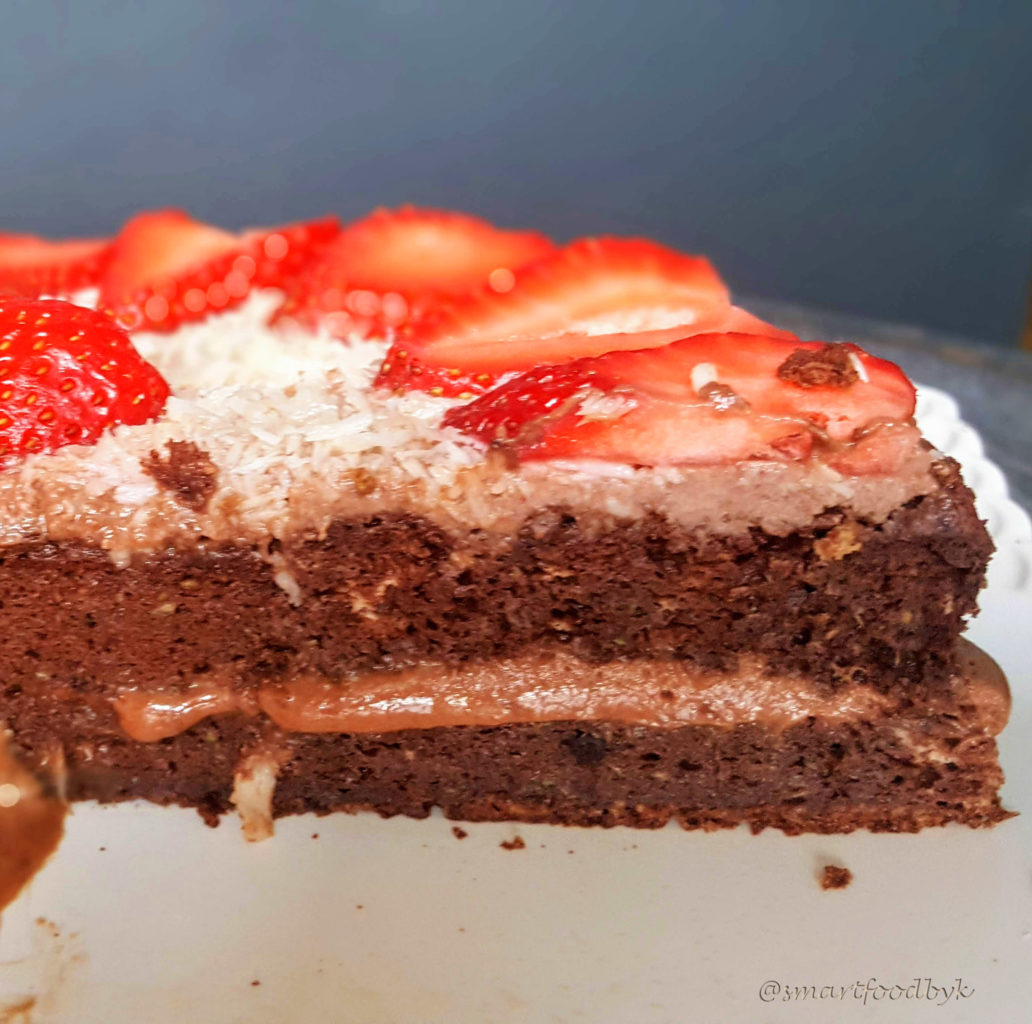 I have adapted this cake from the recipe by Hervé Cuisine (thank you so much!!) that you can see here in French.
---
---