Orange scented poppy seed rolls with raisins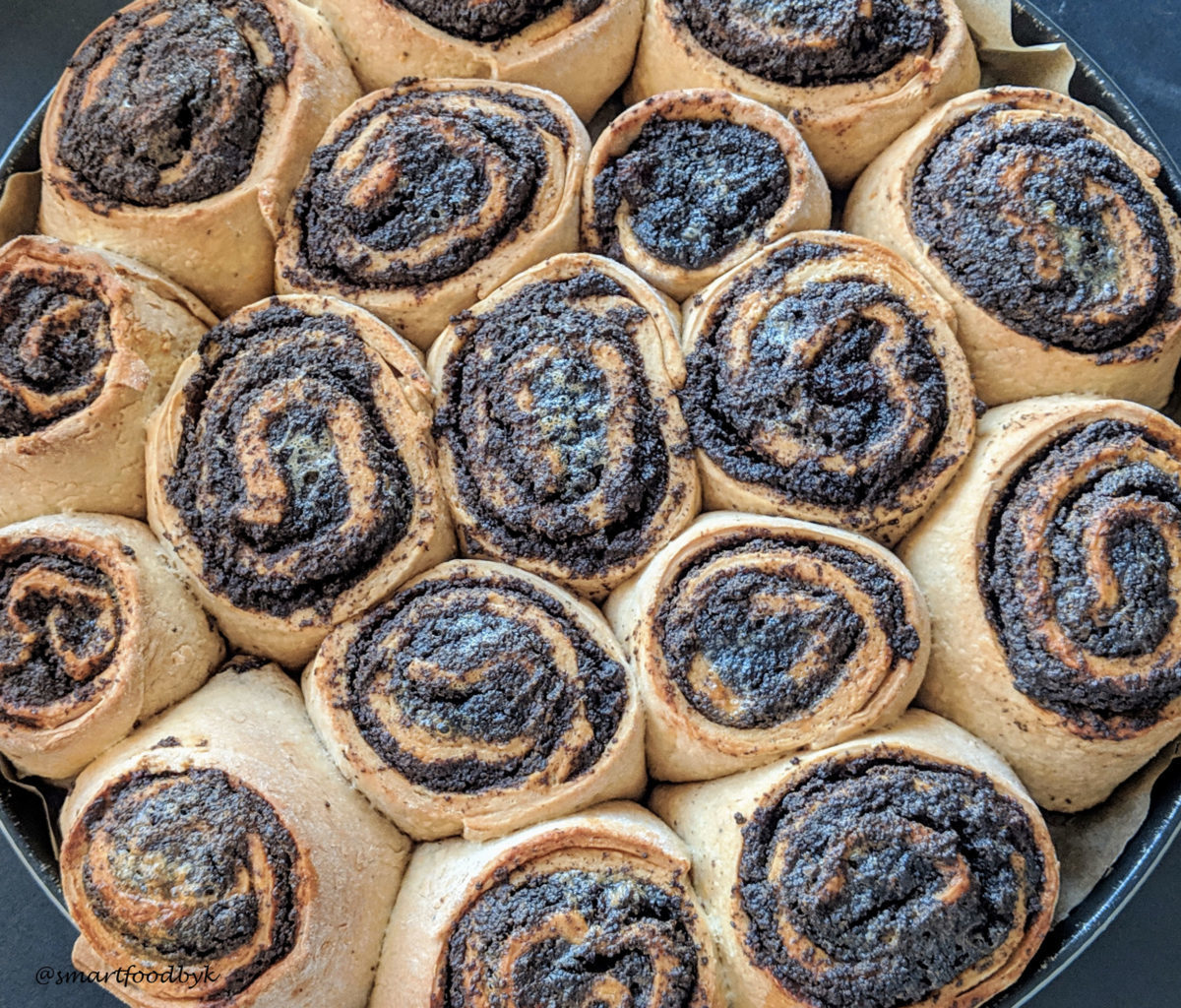 Orange scented poppy seed rolls with raisins evoke childhood memories. My mum used to make us poppy seed pastries. She would cook poppy seeds in milk with sugar and I would steel a spoonful of this delicious filling when she would not watch. Or rather pretend not to watch 😉
This popular soft pastry is a tradition in Central-Eastern Europe, from Denmark to Russia and all the way down to Romania. My mum (in Serbia) used to make it with milk and butter, but the recipe I propose is adapted to our vegan friends and is as every bit delicious as the original one. Thanks mum 🙂
Serves: 18 rolls. Total time: 2h 30 minutes (preparation 40 min, dough proving 1h 30 min, baking 20 min)
INGREDIENTS (organic and in order of use)
Dough
30g of Fresh Yeast
220 – 250ml of Plant based Milk (I use Oat milk)
50g of Unrefined Sugar
500g of Flour
1 teaspoon of Cardamome
1 level teaspoon of Unrefined Salt
zest of 1/2 Orange
4 tablespoons of neutral Oil (Sunflower for example)
or 60g of Butter if you prefer 
Filling
400ml of Plant based Milk (I use Oat milk)
4 tablespoons of neutral Oil (Sunflower for example)
or 60g of Butter if you prefer 
200g of ground Poppy Seeds
70g of Unrefined Sugar
1/2 Orange Juice
1 handful of Raisins
PREPARATION
Dough
Melt 30g of fresh yeast in 100ml lukewarm oat milk. Let sit 10 min for the yeast to start bubbling.
Mix 500g of flour, 1 teaspoon of cardamome and 1 teaspoon of salt in a big bowl. Make a small well in the middle and pour in the yeast. Mix it in on the surface with flour.
Melt 50g of unrefined sugar in 4 tablespoons of oil. Add zest of 1/2 orange to it and pour it into the flour.
Start mixing the ingredients together adding progressively the remaining 120-150ml of plant based milk.
Knead the dough for about 7-8 minutes forming a soft and slightly elastic ball  (or in a mixer for up to 5 minutes)
Cover the bowl with a kitchen cloth and let the dough prove in a warm place for 30 minutes.
Filling
Pour 400ml of plant based milk in a casserole and start heating at a medium temperature.
Add 200g of ground poppy seeds, 70g of unrefined sugar and 4 tablespoons of oil and bring it to boil.
Lower the heat to low, add juice of 1/2 orange and a handful of raisins and let simmer for another 10 minutes. Take off the heat and cool.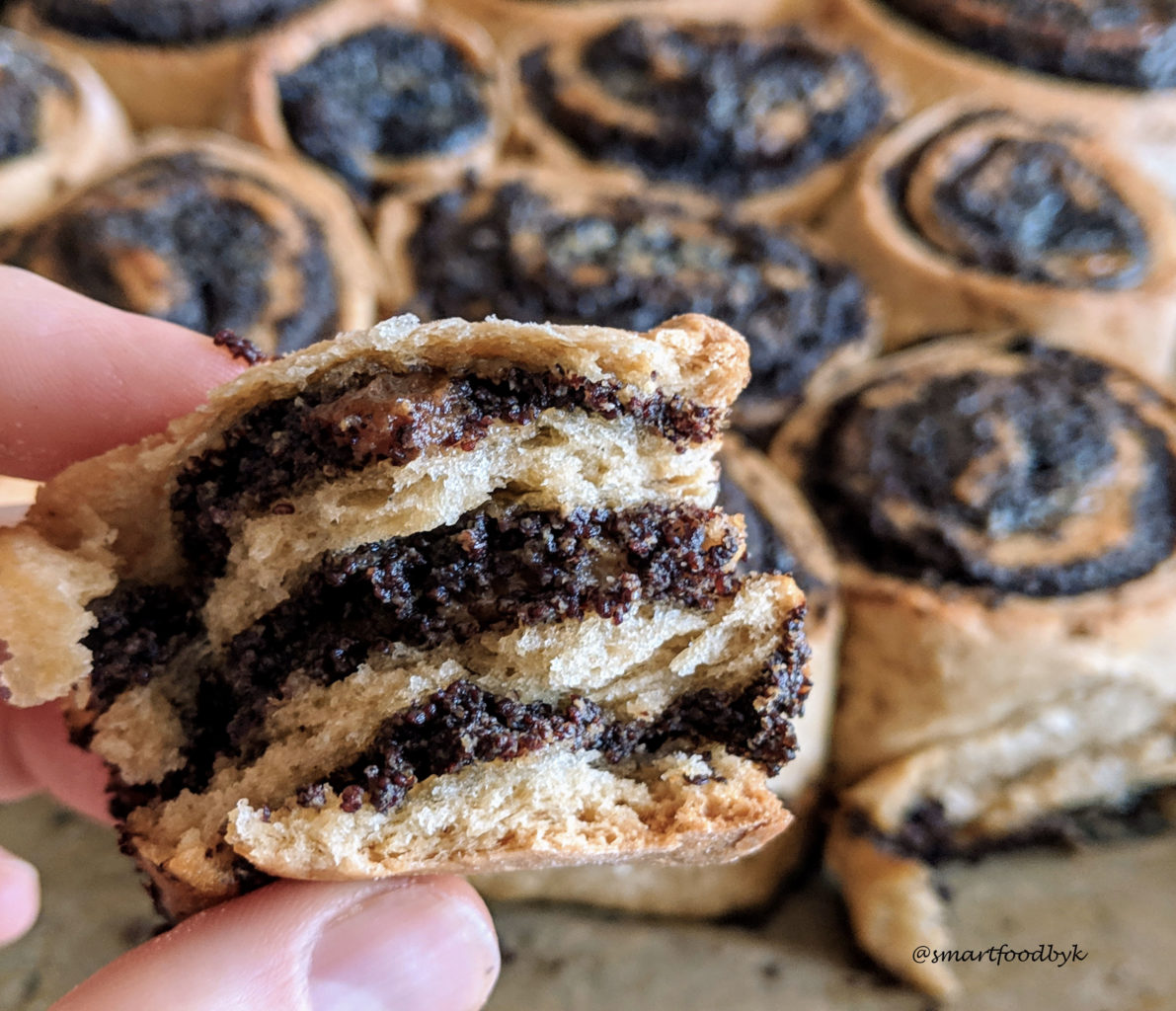 Rolls
After 30 minutes of proving the dough should (almost) double in volume. Take it out on a floured surface and spread with a rolling pin into a rectangle of 40x50cm approx. (about 3-4mml thick).
Spread the poppy seed filling evenly all over the dough and roll it lengthwise.
Cut out 4cm wide rolls and place them in a greased baking dish at about 1cm distance from one another. Cover with a kitchen cloth and again let rise in a warm place for another hour.
Preheat the oven at 200°C.
The rolls will again almost double in volume filling all the space left between them.
Bake them at 200°C for about 20 minutes, until they become golden brown just like in a picture below.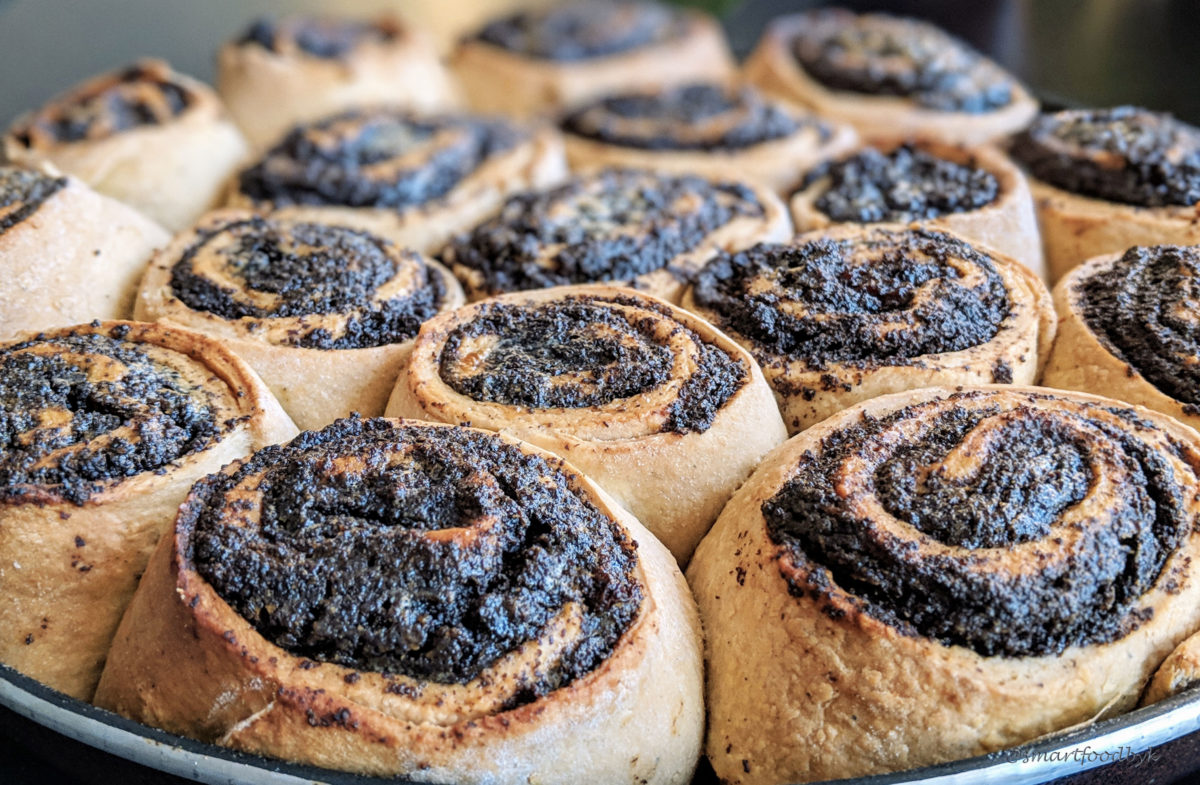 ---
---