Delicately orange scented oven baked donuts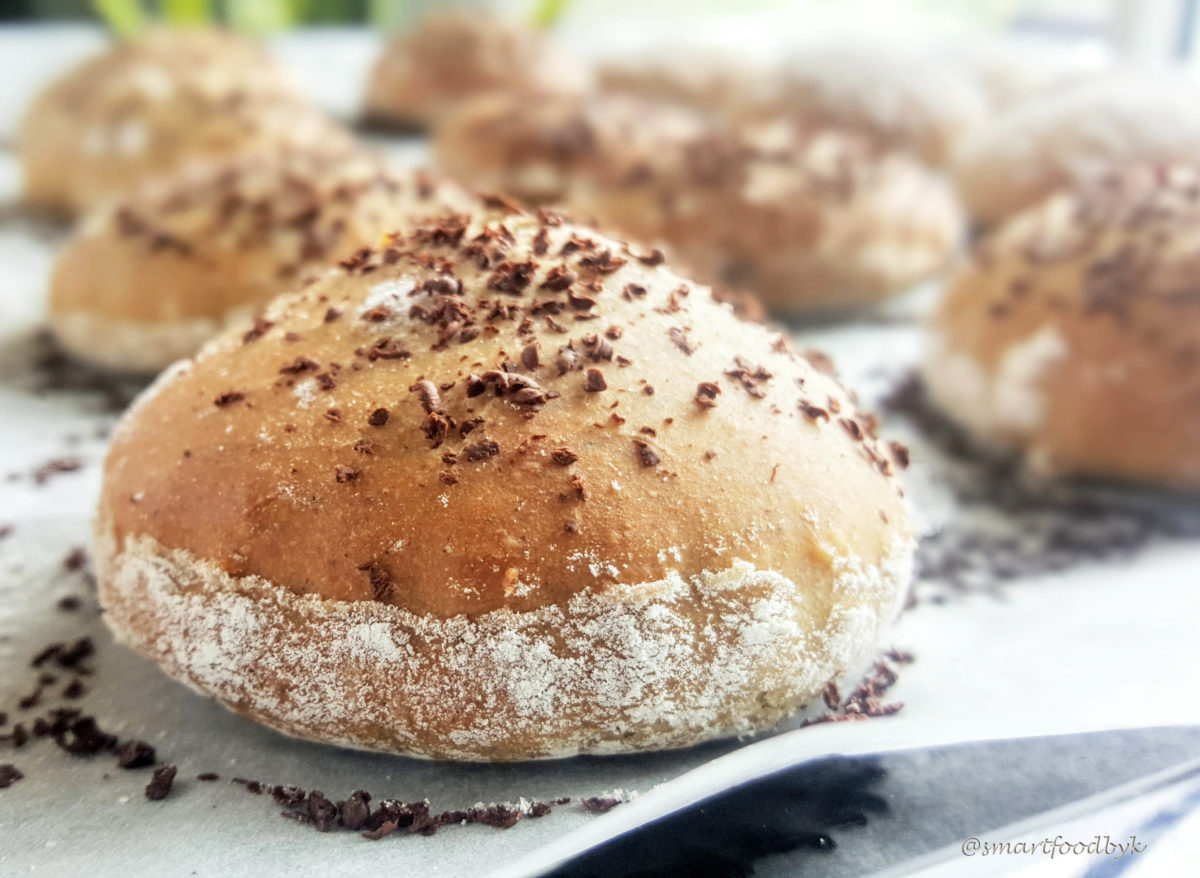 A weekend morning fragrance of freshly fried donuts is one of my most vivid childhood memories. Mum surely knew how to get us out of bed 😉 With some homemade jam and a mug of milk this was my favourite sweet breakfast. Since then I have changed a few eating habits and mum has too. No more frying and no more cow milk but donuts are definitively still on the menu! Here is a recipe of their upgraded version – orange scented oven baked donuts.
Servings: 15 donuts (more or less). Total time: 2h 15min (preparation 20 min, dough rise time 1h 40 min, baking 10-15 min)
INGREDIENTS (organic)
300g of Flour (+ a bit more to help you spread the dough)
30g of Butter or Coconut Oil (deodorised, in order not to diminish the orange flavour)
10cl of oat milk (or soy or spelt)
1 Egg
50g de Unrefined Sugar
2 tablespoons of slightly warm Water
Juice of squeezed half Orange
1 bag of dehydrated Yeast (9g) or 12-14g of fresh Yeast
1 pinch of Unrefined Salt

PREPARATION
Dissolve the yeast in 2 tablespoonfuls of lukewarm water (hot could "kill" the yeast).
Put the flour in a bowl that you will use to knead the dough. Make a little hole in the middle, pour in the yeast and mix it with your fingers on the surface with a little flour. Let it activate for about 10 minutes.
In the meantime, warm the milk, butter (or oil) and sugar in a casserole dish on a low temperature until the butter and sugar melt. Cool the mixture a bit (again it should not be hot, just lukewarm) before adding it to the flour.
Pour in an egg whipped with a pinch of salt and the orange juice too. Mix all the ingredients together with a spatula or a hand whisk and than knead for a few short minutes to make a smooth dough without lumps.
Cover the dough with a clean tissue and let it rise on a room temperature or even better close to a source of warmth (without heating it of course) for at least 1 hour. The dough should double in volume.
When the dough is ready (doubled in volume), take it out delicately on a floured surface big enough to spread it. Form a ball of soft dough with your floured hands and sprinkle it(if needed) with flour to avoid sticking to your rolling pin.
Spread it to 1cm thick. Cut out circles using a cookie cutter (mine is of 7 cm of diameter) or a small inverted glass and place them delicately on a baking tray covered with baking paper. Cover them with a clean tissue and let them rise for another 30-40 minutes.
Place them in a 180°C preheated oven and bake for 10 to 15 minutes.
Take them out as soon as they get lightly golden, they should not get too dry.
A tip immediately after baking: brush the donuts with boiling water as soon as you take them out of the oven and sprinkle them with sugar (or grated chocolate). This would keep them soft and give them the texture of "fried donuts". It's even more delicious if you flavour the water with orange zest or if you use orange flower water.
---
---