Peas and corn lemon zest pasta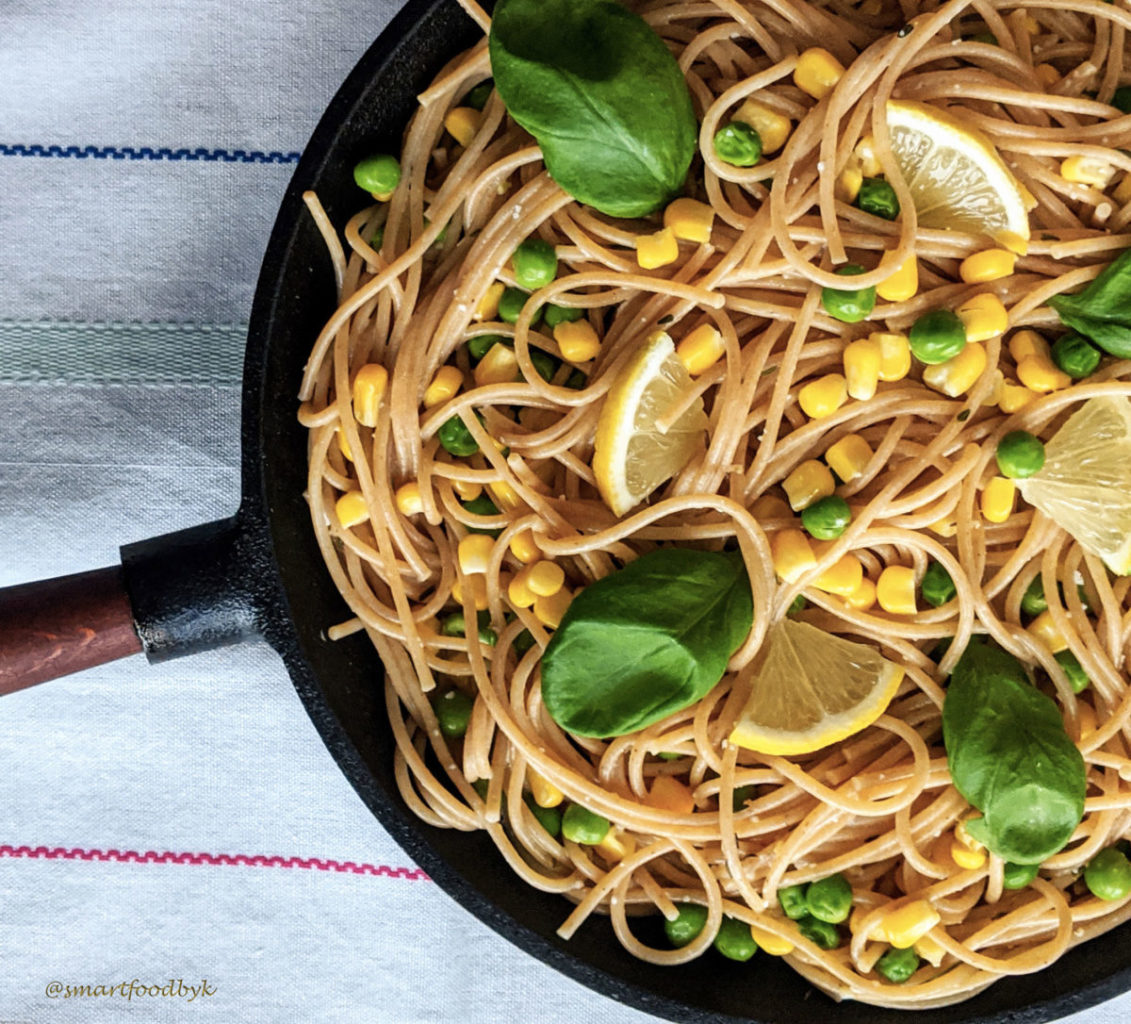 A lunch, quick! You need 10 to 15 minutes only to prepare this fresh, light, flavourful lemon zest pasta. The creamy cheesy white sauce is 100% veggie 🙂
Most of the time I use a wholegrain pasta and here is why.
Whole grains or unrefined grains are made of three components: endosperm, germ and bran. They provide you a much higher nutrient value than white (refined) grains. Fibers to begin with, to improve your digestive health. They contain several minerals, vitamins B and E and some other antioxydants and a moderate amount of protein. Their digestion is slower to provide you a longer lasting energy.   
The refining process used to make white (refined) grains takes away the outer fibrous shell of the grain and with it most of the nutrients, leaving us with only the inner starch, which our bodies almost instantly turn into sugar. 
So eat the wholegrain pasta people 🙂 and make it "al dente" always! Not because this is really the only good way to eat the pasta 😉 but also because it has lower indices than the one cooked to mush.
Serves: 2. Total time: 15 minutes.
INGREDIENTS (organic and in order of use)
200g of Wholegrain Spaghetti (100g per person)
200ml of Oat Cream
1 generous tbsp of Nutritional Yeast
2 pinches of Unrefined Salt
2-3 tours of Pepper grinder
1/3 tsp of dried Thyme
1/2 tsp of Garlic powder
zest of 1/3 to 1/2 Lemon
100g of frozen Corn Kernels
50-100g of frozen Peas
small handful of fresh Basil
PREPARATION
Warm 200ml of oat or soy cream in a casserole pan on a medium heat (2-3 minutes).
Put water to boil for spaghetti with a pinch of salt.
Add 1 generous tbsp of nutritional yeast, a pinch of unrefined salt, 2-3 tours of pepper grinder, 1/3 tsp of dried thyme, 1/2 tsp of garlic powder and zest of 1/3 to 1/2 lemon to the warm/hot cream and let simmer while the pasta is cooking.
Put 200g of spaghetti to cook, for about 8 to 10 minutes, as indicated on the packaging.
Cook the peas and the corn together with the pasta.They need between 3-5 minutes to cook so add them to the boiling pasta accordingly.
When done, drain the pasta, the peas and the corn and add them to the sauce. Combine everything together and take off the heat. Serve with some fresh basil and a few drops of lemon juice (optional).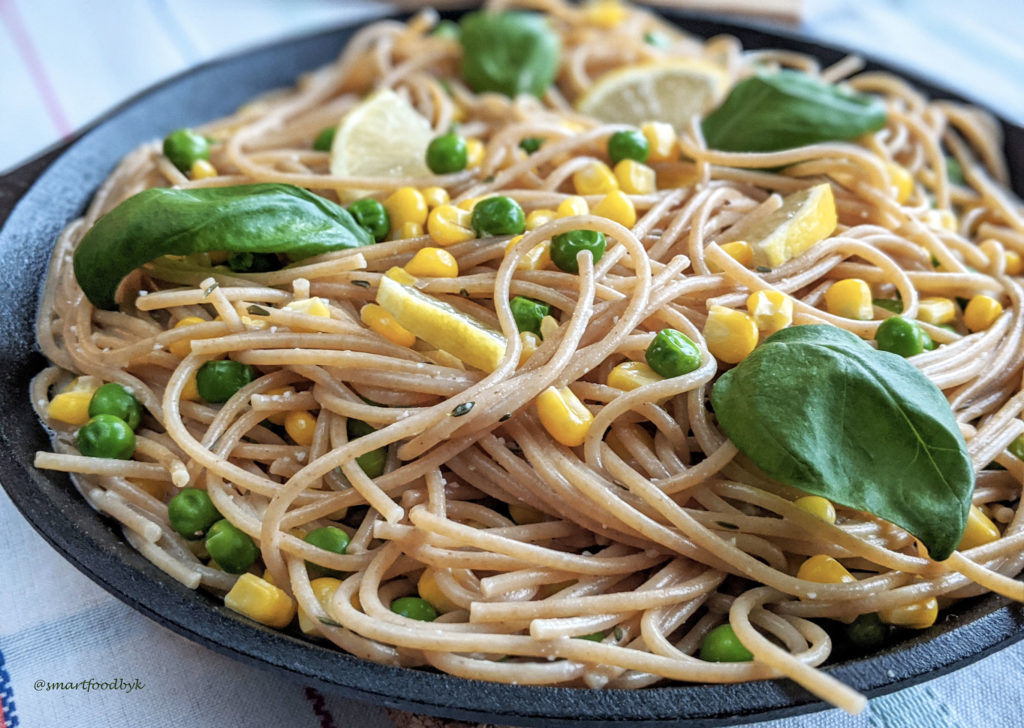 ---
---