Winter veggies gratin with mustard and seeds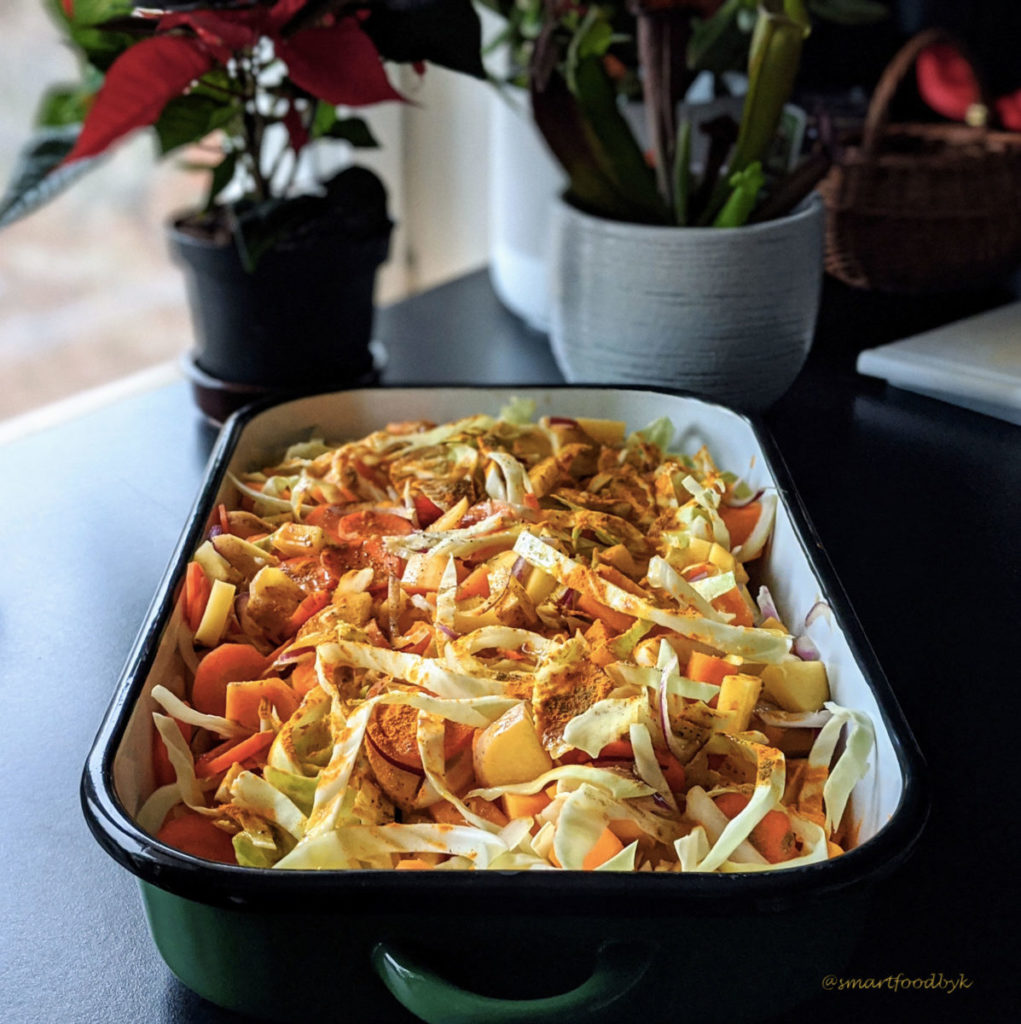 Effortless comfort dishes are my favourite in the winter. Those where you put everything together and the ingredients do all the magic by themselves combining their flavours and fragrances. The winter veggies gratin is one of those dishes. Cabbage texture and taste compliment beautifully the "creaminess" of baked butternut and potatoes. Carrots, onions, garlic, herbs, spices and mustard enhance them all, making this dish the new star of our table. It is a new recipe inspired by the veggie gratin I am used to make, mostly in spring and summer when vegetables are more abundant.
Cutting the vegetables for this winter gratin is the only time it takes to prepare it so if you have a good mandoline (like I do and I love it so) it will not be more than 15 minutes. Then off it goes in the oven and your work is (almost) done.
Serves: 6. Total time: 2h (preparation 30 min, oven cooking 1h 30min)
INGREDIENTS (organic and in order of use)
1 small Butternut or Pumpkin (or 1/2 if big)
5-6 Potatoes
3 Carrots
2 medium Red Onions (yellow is OK too)
1/3 of White or Red Cabbage
3 Garlic cloves
4-5 tablespoons of Olive Oil
1 tablespoon of Turmeric
1 teaspoon of Cumin
3 teaspoons of Unrefined Salt (to taste)
3-4 tours of Pepper Grinder
1 teaspoon of dried Thyme
1 teaspoon of dried Parsley
a small handful of Pumpkin Seeds
a small handful of Sunflower Seeds
For the gratin sauce
240ml of Oat Cream
1 tablespoon of Mustard (I use mild)
3 tablespoons of Nutritional Yeast
PREPARATION
Start by cleaning and cutting all your veggies: onions in fine stripes, cabbage in a bit thicker stripes, butternut (or pumpkin) in dice, potatoes in slices and then quarters, carrots in thin slices, press garlic.
Put them all in a Dutch oven (maybe the best because you would need to "bake" the veggies covered first) or a baking dish and combine together.
In a separate small bowl make a mix of 4-5 tablespoons of olive oil, 1 tablespoon of turmeric, 1 teaspoon of cumin, 3 teaspoons of unrefined salt (to taste), 1 teaspoon of dried thyme, 1 teaspoon of dried parsley and 3-4 tours of Pepper Grinder. Pour the mix over the veggies and combine everything well together.

Oven ready winter veggies gratin.

Cover with a lid or make a cover out of baking paper or tin foil and bake covered for 1h at 200°C.
While the veggies are cooking make the gratin sauce. In a bowl, mix 240ml of oat cream, 1 tablespoon of mustard (I use mild) and 6 tablespoons of nutritional yeast. Reserve for later.
After 1 hour of oven cooking, bring the veggies out, pour the gratin sauce all over, sprinkle with pumpkin and sunflower seeds and bake uncovered for 30 more minutes. You can add your favourite grated cheese too.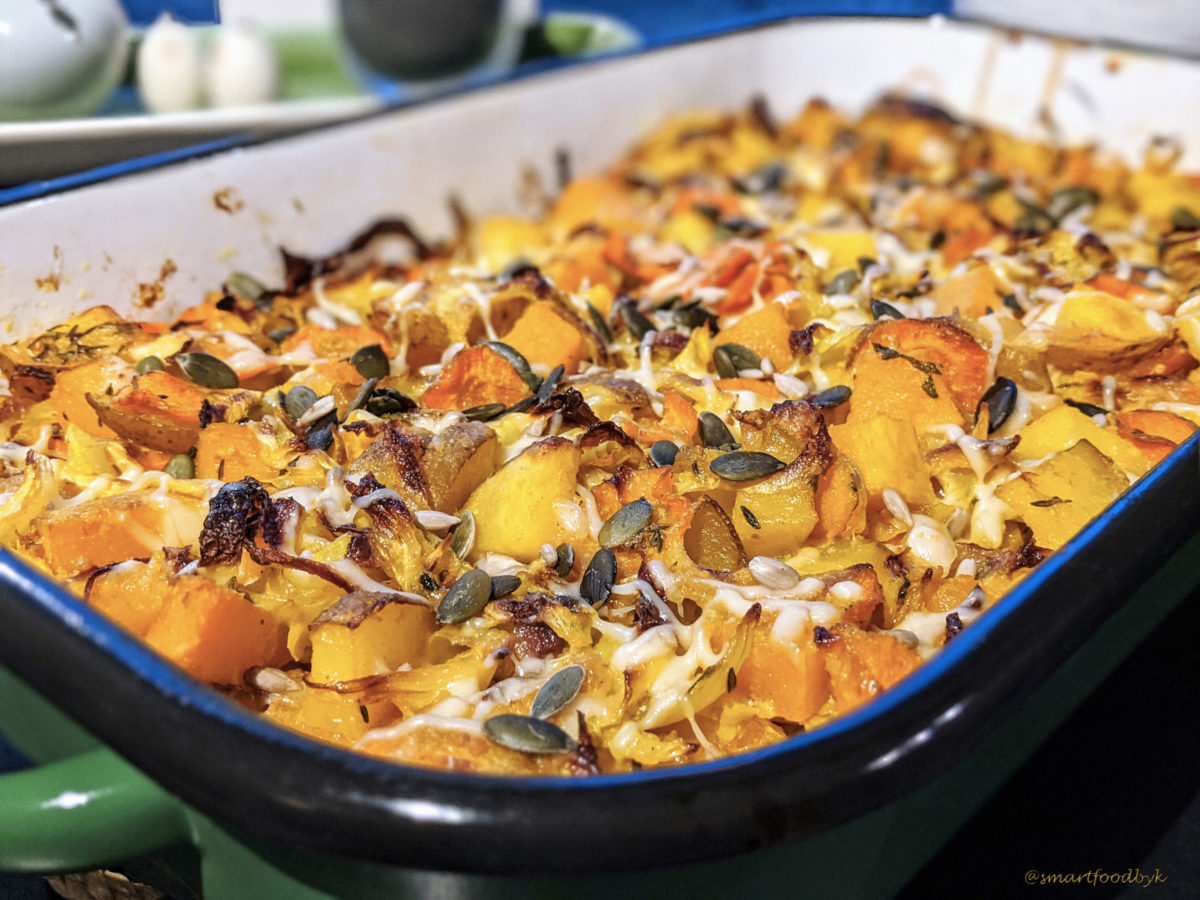 ---
---