Broccoli and cabbage rice bake casserole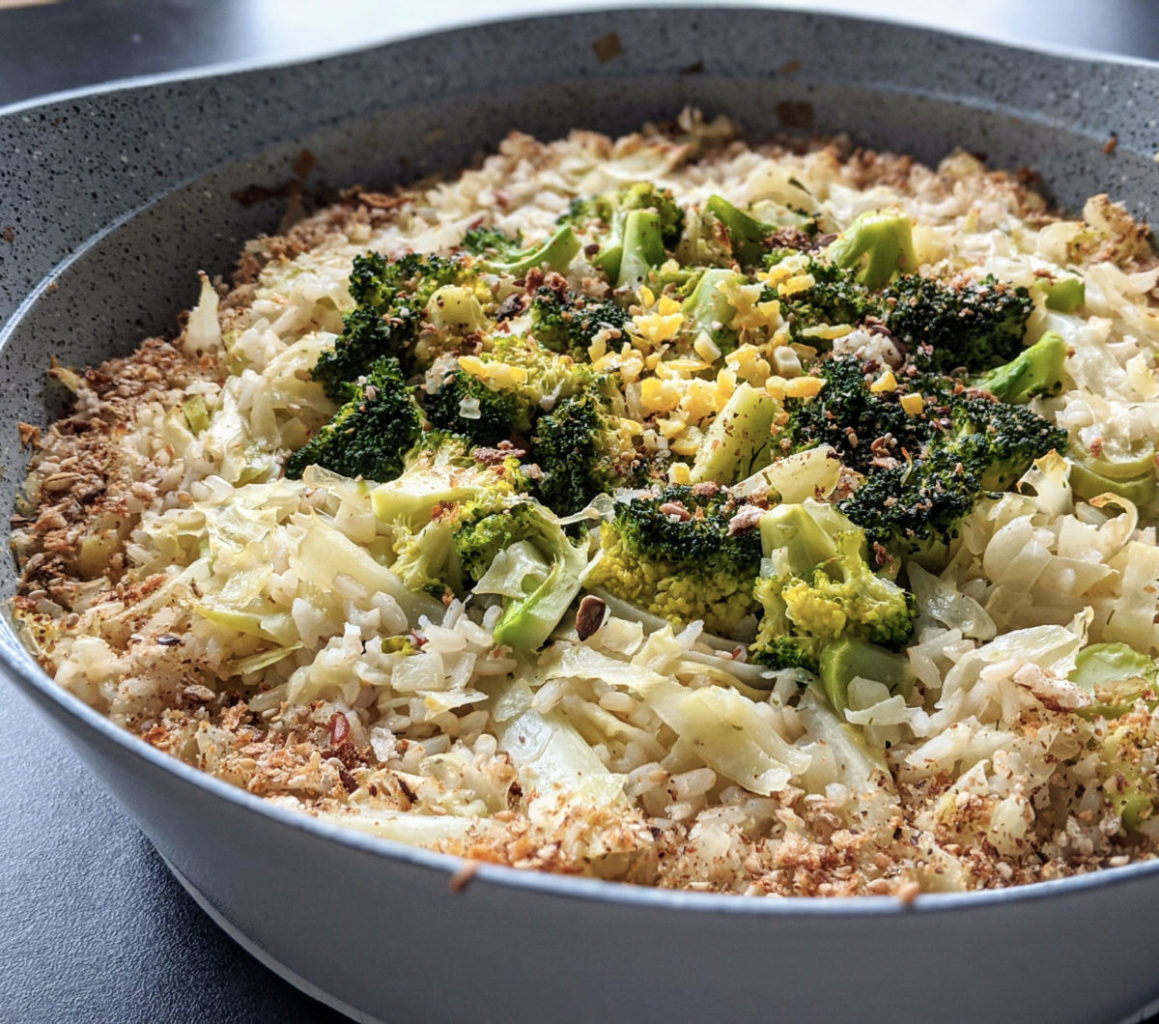 Creamy soft wholegrain rice with perfectly cooked cabbage and broccoli (if they were pasta they would be al dente 😉 ) with a subtle fresh flavour of lemon zest under a thin crunchiness of bread crumbs gratin. A combination of oat cream and nutritional yeast gives this rice bake casserole a slightly nutty-cheesy taste so you can have it all in this delicious vegan meal. Let's see how simple it is to make it!
Serves: 4. Total time: 1h 10 minutes (preparation 20 min, cooking 50 min).
INGREDIENTS (organic and in order of use)
250g of Wholegrain Rice (60-70g per person)
You can also mix it with wild rice. 
1/3 to 1/2 of White or Red Cabbage
1 Broccoli
3-4 tbsp of
Olive Oil
2-3 generous pinches of
Unrefined Salt
240ml of Oat Cream
1 level tbsp of dried Dill
150ml of Oat Milk
2 tbsp of Nutritional Yeast
1/2 Lemon Zest
2-3 tours of Pepper grinder
2-3 tbsp of Breadcrumbs
PREPARATION
Start by rinsing and cooking the rice in 2,5 volumes of water. Whole grain rice needs 30 to 40 minutes of cooking.
Cut the cabbage in about 0,5cm wide stripes.
Cut off the main thick broccoli stem and then cut in slices all the other smaller and tenderer stems.

Rice bake casserole, step 2.

Squeeze the cabbage stripes with 2-3 generous pinches of unrefined salt with your hands for a few seconds to soften them a bit and prepare them for cooking.
Sauté the cabbage and the sliced broccoli stems with 3-4 tbsp of olive oil in an oven-proof casserole (like a dutch oven), covered, on medium-high heat for about 15 minutes.
Cut the broccoli in smaller florets and add them to the casserole with all the other ingredients except the breadcrumbs. Combine everything together, lower the temperature to medium-low and let simmer covered for about 15 minutes.
The rice should be ready by now. Drain it, add to the casserole and combine with the veggies.
Take the casserole off the heat, even the surface with a wooden spoon, sprinkle with bread crumbs and place in the oven uncovered for about 15-20 minutes at 200°C (no need to preheat).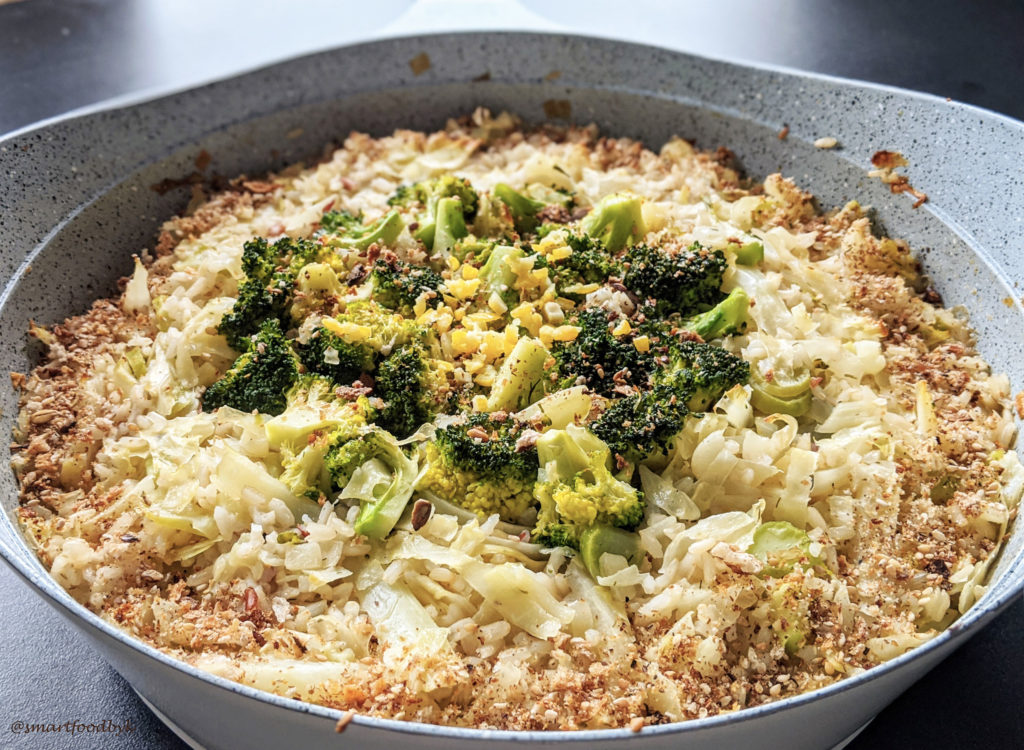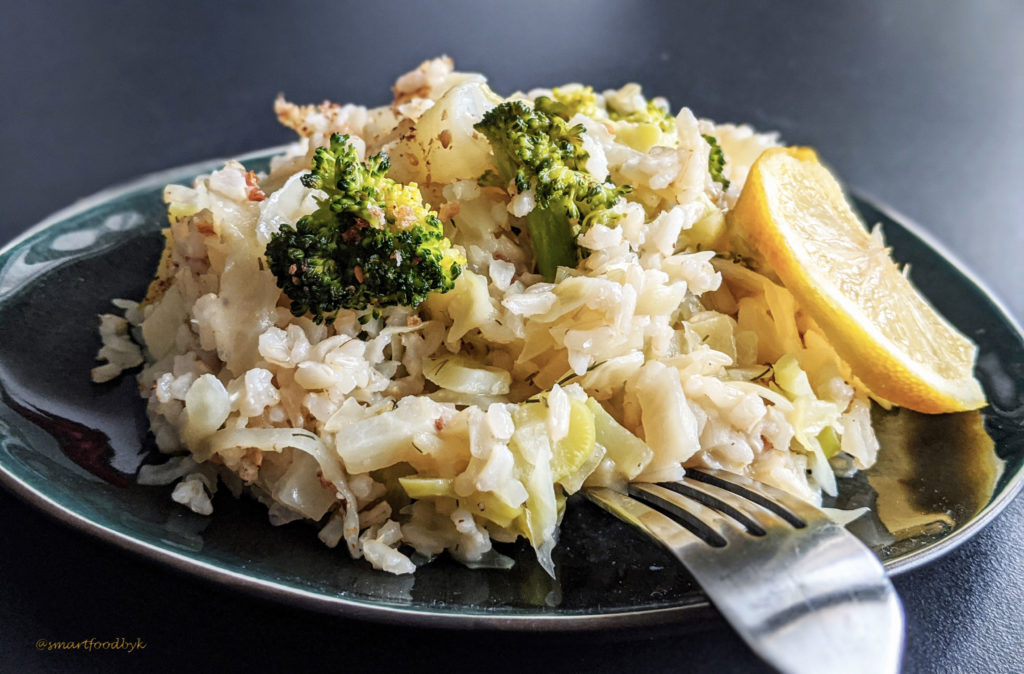 ---
---