Broccoli, carrot and tofu Asian sticky rice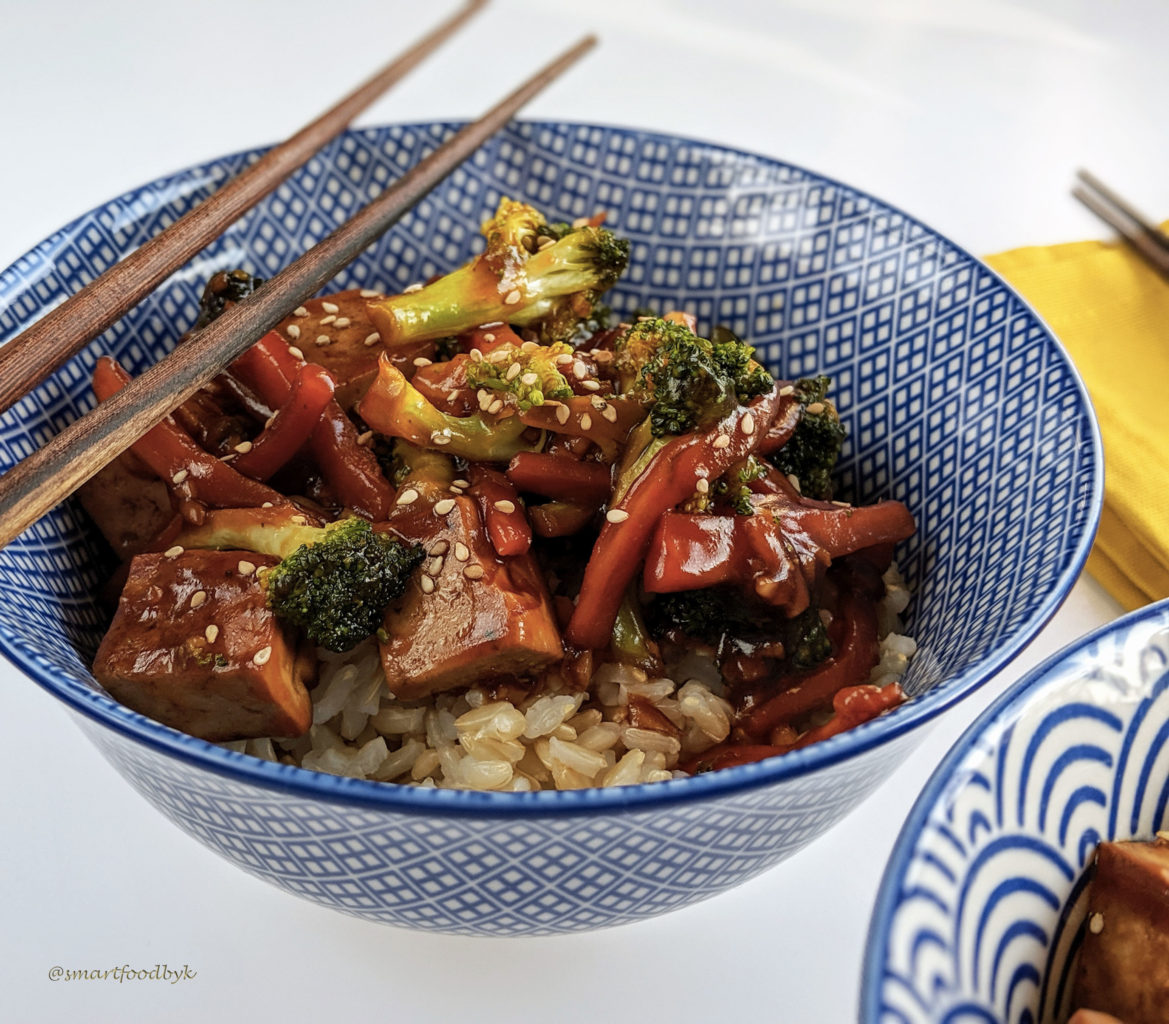 I really like Asian rice and noodle takeaways but, to be honest, I'm always a little reluctant about the quality of the ingredients. I always prefer to know what exactly I am eating (hence the idea of the Kwalito application, a few years ago). The "take-away" style Asian sticky rice that I am about to propose to you is really simple to make. Moreover its sauce has just the right stickiness and flavour that we all like sooooo much.
If you use the wholegrain rice (like I do, because more nutrients and fiber), the preparation will take a little longer because this type of rice requires 30 to 40 minutes to cook. Otherwise, the dish can be ready in 20 minutes.
Serves: 2. Total time: 20-40 minutes.
INGREDIENTS (organic and in order of use)
140g of Wholegrain Rice (70g per person)
7-8 tablespoons of Soy Sauce (ideally low in sodium)
2 tablespoons of Rice Vinegar
2 tablespoons of Sesame Oil
120g of firm Tofu
2-3 tablespoons of neutral Oil (Sunflower, for example)
1 Carrot
1/2 Broccoli
2 tablespoons of Water
1 tablespoon of Agave Syrup
2 cloves of Garlic
2-3 cm of fresh Ginger
2 tablespoons of Water
1 tablespoon of Corn Starch
1 teaspoon of Sesame Seeds
PREPARATION
Cook the 140g of wholegrain rice in 3 volumes of cold water. Do not add any salt because the dish will be salty enough.
Prepare the marinade for the tofu: in a bowl mix 7-8 tbsp soy sauce, 2 tbsp rice vinegar and 2 tbsp sesame oil. Cut the 120g of firm tofu into rectangles (about 2cm x 1.5cm x 1cm) then immerse them in the marinade for 5-10 minutes.
While the tofu marinades, chop the carrot into thin sticks about 4cm long and the broccoli into small florets. Peel and finely chop the 2cm of fresh ginger and 2 cloves of garlic.
Heat 2-3 tablespoons of neutral oil in a wok (or frying pan) then take the tofu dice out of the marinade and fry them for a few minutes until golden brown. Take the fried tofu out of the pan and set aside for later.

Fried marinated tofu.

In the same pan, sauté the carrot sticks 2-3 minutes then add the broccoli florets and sauté another 2-3 minutes.
In the tofu marinade add 2 tbsp water, 1 tbsp agave syrup and finely chopped ginger  and garlic. Mix together and pour over the stir-fried vegetables.
Continue cooking and in the meantime prepare a mix of 1 tablespoon of corn starch with 2 tablespoons of water. Pour the mix into the pan/wok and continue cooking for another 2-3 minutes to thicken the sauce.
The rice should be cooked by now, drain it and split between two bowls.

Wholegrain rice.

Put the sautéed vegetables and the sticky sauce over the rice, sprinkle with sesame seeds and enjoy your homemade take-away 😉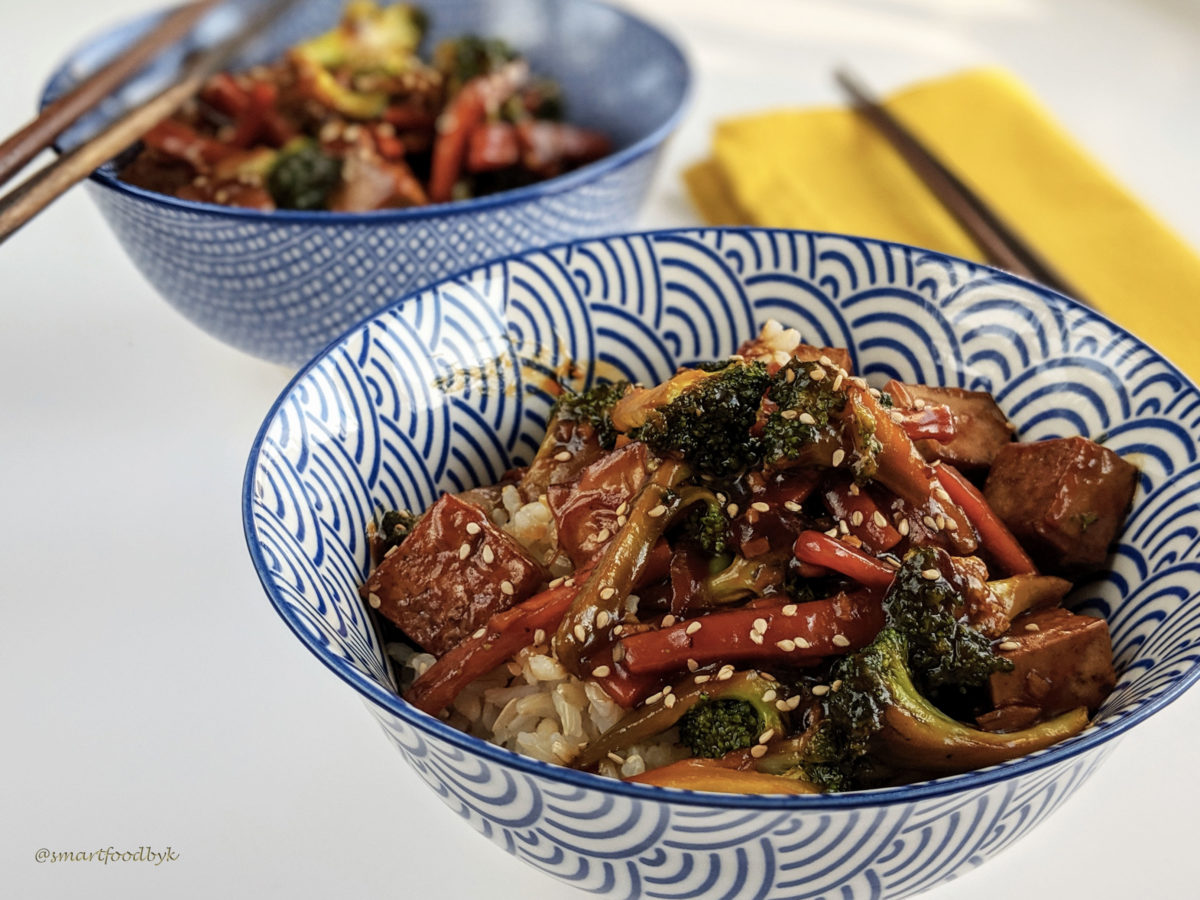 ---
---