Corn, pomegranate, walnuts and quinoa salad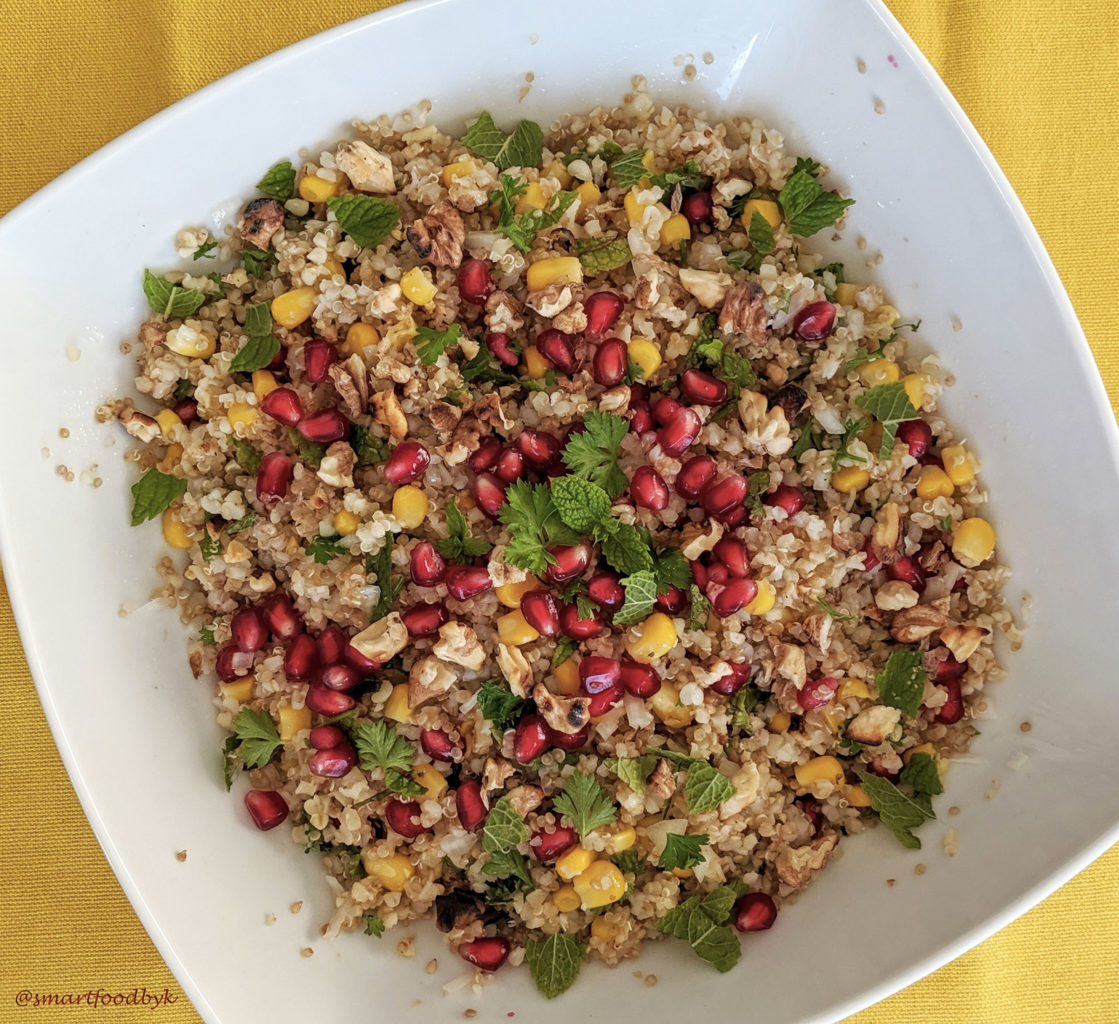 Corn, pomegranate, walnuts, bulgur and quinoa salad, seasoned with fresh herbs, lemon and extra virgin olive oil is fresh, soooo flavourful, full of vitamins and proteins and really beautiful on a plate. When the nutritional quality of food is assured, the color and the visual aspect of the food are essential to me. By the way, more colors (natural colours of course) you have in your plate more diverse vitamins you offer to your body 😉
Serves: 2. Total time: 30 minutes.
INGREDIENTS (organic and in order of use)
70g of Quinoa
70g of Wholegrain Bulgur (or 70g more of quinoa for a gluten free version)
1 small handful of Walnuts
1 small Onion
50-60g of Corn Kernels (canned is OK)
Arils of 1/2 of Pomegranate
1 handful of fresh Mint
1 handful of fresh Parsley
For the dressing
Juice of 1 lemon + zest of 1/2 lemon
2-3 tablespoons of Olive Oil
1 level tablespoon of Gomasio (or 2 pinches of Unrefined Salt)
1/2 teaspoon of Garlic powder (or 1 small Garlic clove pressed)
1 tablespoon of maple sirup or 1 tsp of honey
PREPARATION
Cook 70g of quinoa and 70g of bulgur together in 3 volumes of slightly salted cold water (they have the same cooking time, about 15 minutes). It is sometimes necessary to rinse the quinoa beforehand because it can be bitter after cooking.
While cooking the "grains", roast the walnuts slightly (2-3 minutes) in a pan without any fat. Take them out of the pan and crush them roughly.
Finely cut 1 small onion. Delicately open your pomegranate and take the grains out as shown here. Cut roughly mint and parsley. Mix all these ingredients in a large salad bowl and add the corn kernels.
Quinoa and bulgur should now be ready, drain and spread them on a large plate to cool for 5-10 minutes. If you are in a hurry, rinse once with cold water and drain well.
In the meantime, prepare the dressing. In a small bowl, mix 2-3 tablespoons of olive oil, juice of 1 squeezed lemon, 1 tablespoon of gomasio (or 2 pinches of salt according to taste), 1/2 teaspoon of garlic powder (or 1 clove garlic pressed) and 1 tbsp of maple sirup or honey. You can of course adjust the dressing to your taste.
Add the lukewarm or cold quinoa and bulgur in the salad bowl and pour in the sauce. Mix the ingredients together to incorporate the sauce, sprinkle with roasted nuts and enjoy 😉 .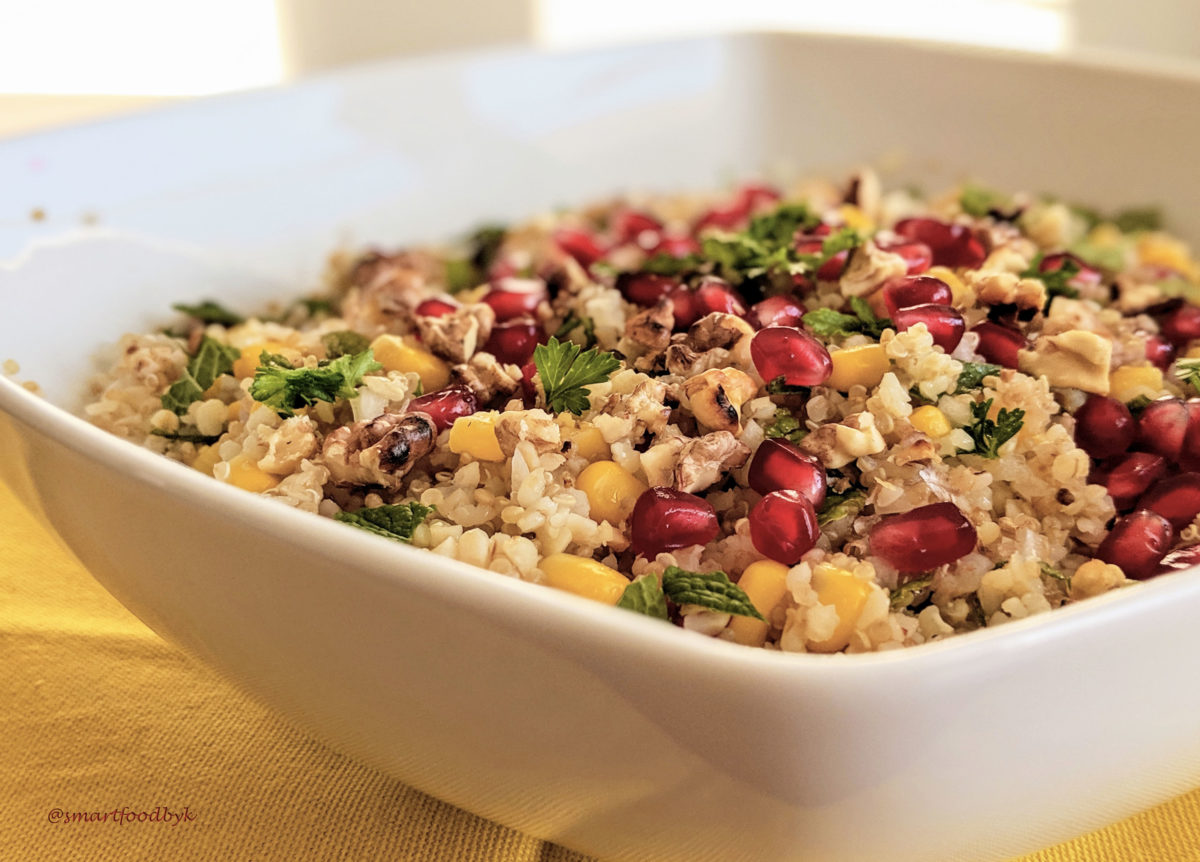 ---
---