Lentil, tomato and spinach curry soup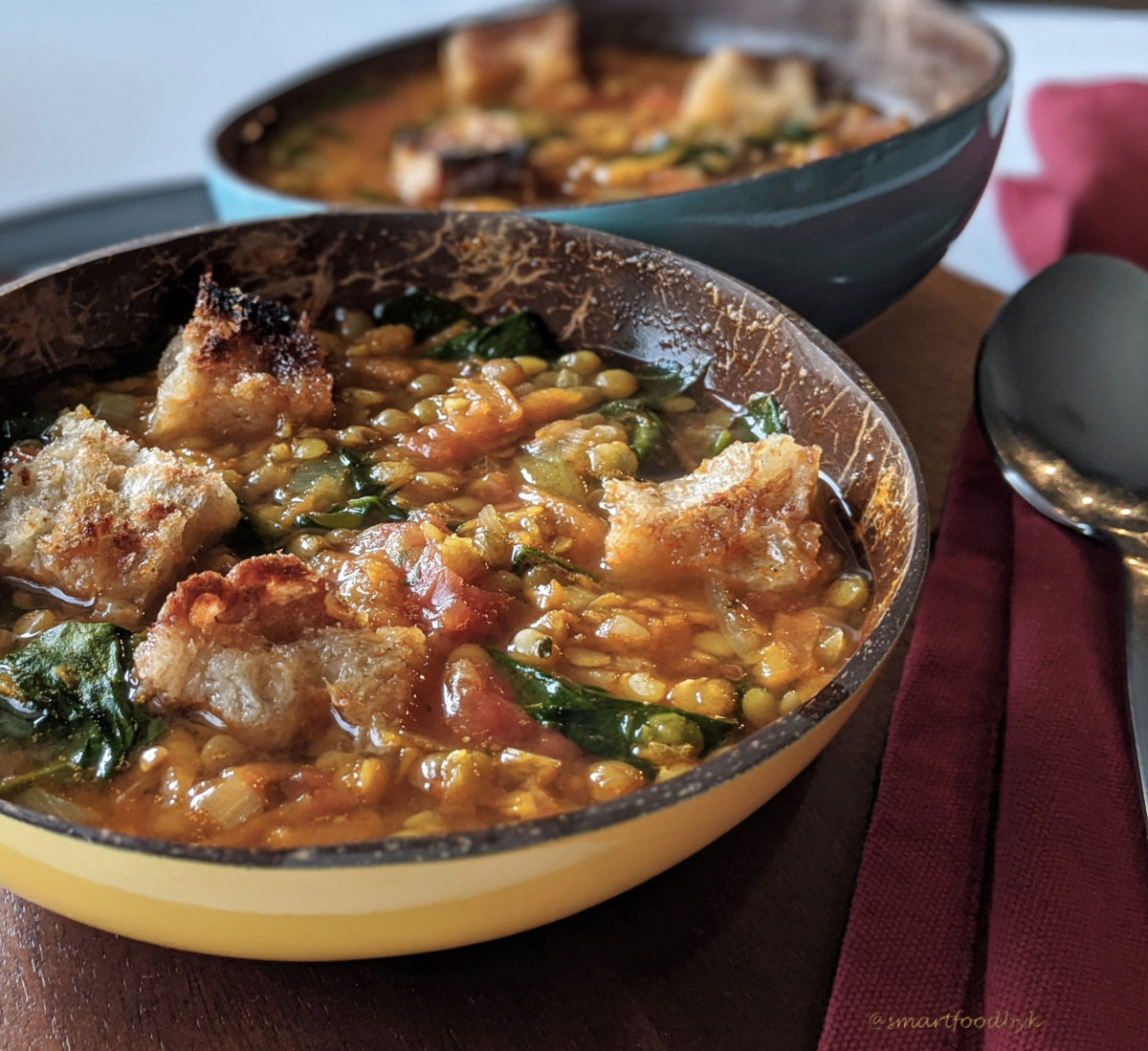 I had the idea for this lentil, tomato and spinach curry soup just before Christmas, looking at my pantry filled with grains and canned tomato in all shapes and forms. Except that the time was for fancy party and dinner food not for simple hearty soups. Or was it? I however left it for later and its moment of glory finally came yesterday. We loved it, thick, comforting and oh soooo yummy. Perfect for batch cooking, or at least for two days because it is even better the day after 😉
Let's see how simple it is to make it.
Serves: 7-8. Total time: 1h 10 minutes (preparation 25 min, cooking 45 min)
INGREDIENTS (organic and in order of use)
3-4 tbsp of Olive Oil
1 Onion
2-3 Garlic cloves
2cm of fresh Ginger
1 big Carrot
a splash of Water
1 level tbsp of Curry powder
1 tsp of ground Cumin
1,5 tsp of ground Coriander
2-3 pinches of unrefined coarse salt (or more to taste)
400g of Tomatoes (I use whole Tomatoes canned)
1 tbsp of Agave Syrup or level tbsp of Unrefined Sugar
a small handful of fresh Parsley
2l of water (approximately)
80g of Red Lentils
160g of Green (French) Lentils
100g of fresh  Spinach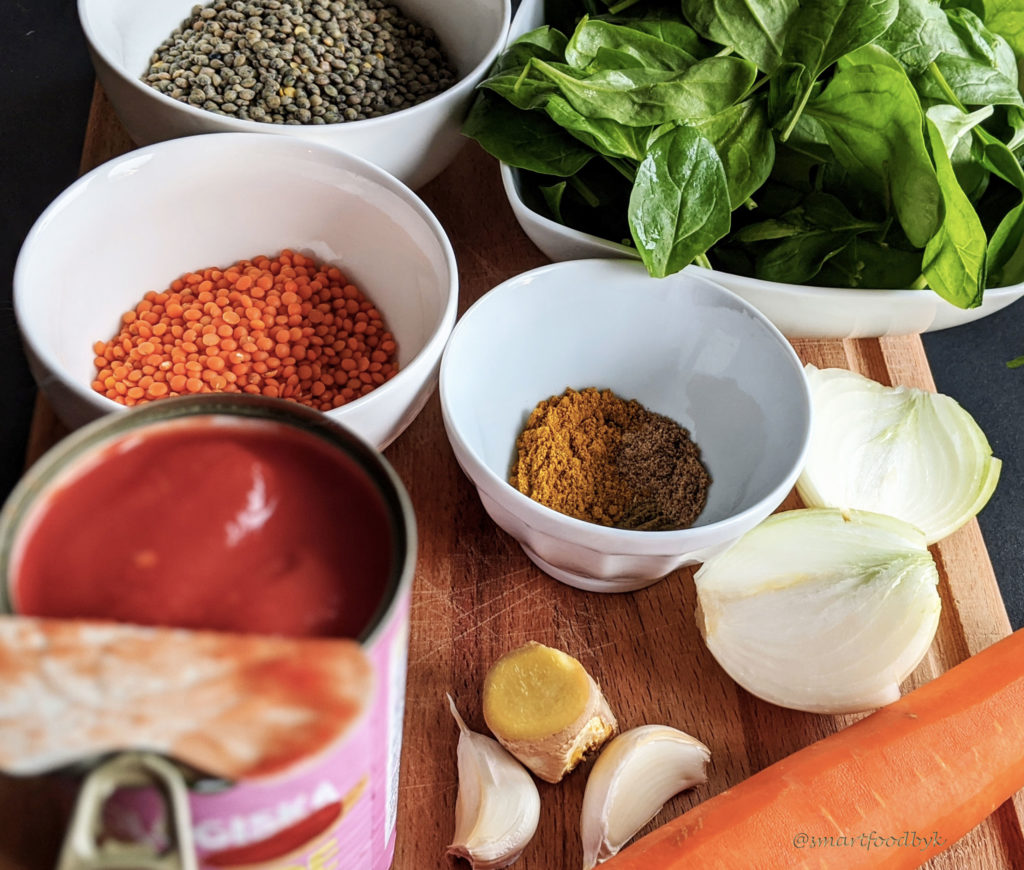 PREPARATION
Start by sauté 1 onion, 2 cloves of garlic and 2cm of fresh ginger, all finely chopped, with 3-4 tbsp of olive oil in a soup casserole on a medium heat for about 10 minutes.
Add 1 big grated carrot, 1 level tbsp of curry, 1 tsp of ground cumin, 1,5 tsp of ground coriander, 2-3 pinches of unrefined coarse salt (or more to taste) and a splash of water so that the carrot does not stick. Stir well and continue cooking covered for another 15-20 minutes. Add a bit more water if necessary.
Add 400g of canned tomatoes (or fresh ones cut in small dice), a small handful of parsley and a level tbsp of unrefined sugar. Sugar is an important step as it would kill the acidity from the tomato leaving only its delicious flavour. It is a tip from my mum who is a retired Chef 😉 Keep cooking covered for another 10 minutes.
Finally pour in 2 to 2,5l of water, add 80g of red lentils and 160g of green French lentils and cook covered for another 30 minutes, for the lentils to be well done. The red ones will turn into mash and thicken the soup and the green ones will keep their shape to enhance the texture and the taste.
You can add 100g of fresh spinach at the very end or 5-10 minutes before so it gets cooked a bit too. I prefer it fresh and still a bit "crunchy".
You can serve this wholesome hearty soup with some home made croutons, like in the photo below. All you need to do is cut a few "old" bred slices in dice, sprinkle them with some olive oil (garlic powder and dried thyme are optional but recommended) and grill them in the oven at 200°C for about 10 minutes.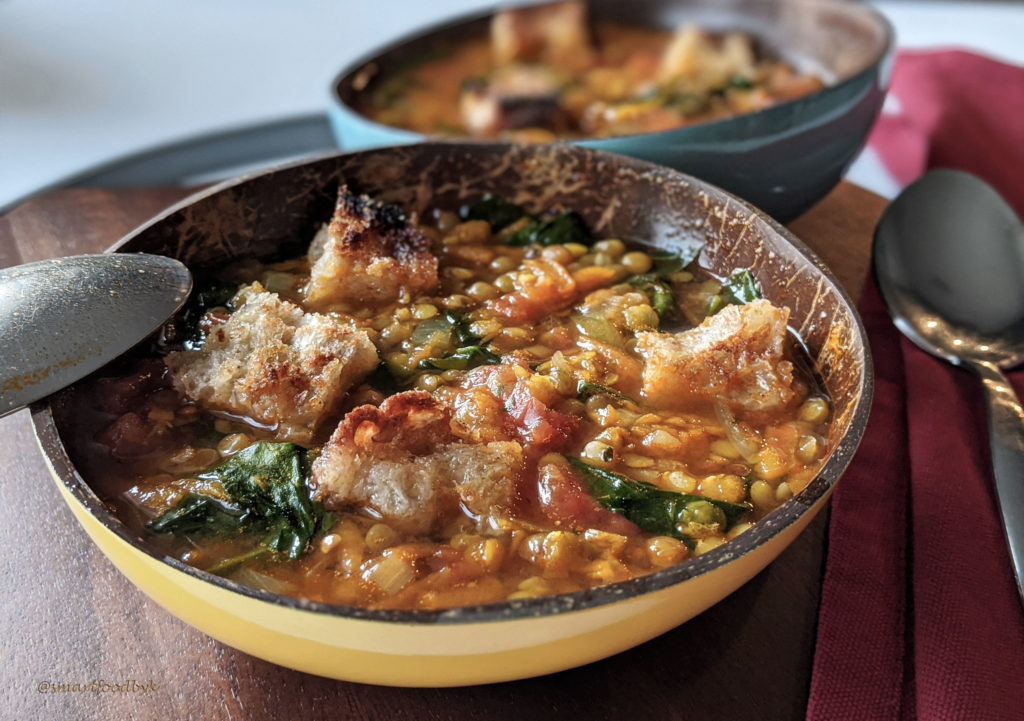 ---
---