Fresh and hearty noodle bowl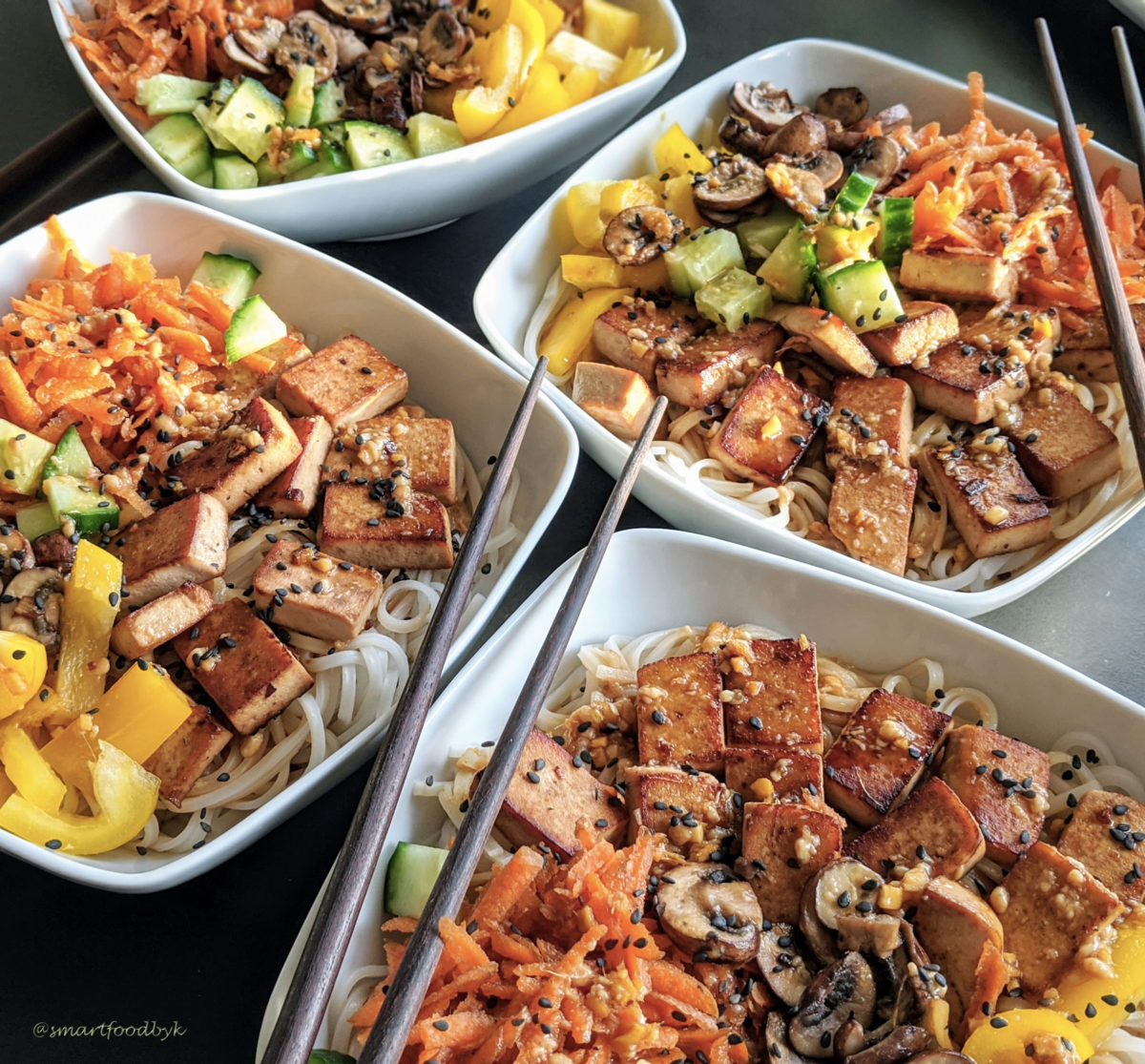 This hearty noodle bowl is one of our favourite meals at home. It is very easy to make, packed with nutrients and you can do it with whatever veggies you have left. Cook the noodles (rice noodle, udon or soba, whichever is your favourite), top them with raw or sautéd veggies and some crispy (smoked) tofu and season with just the right amount of the sauce. Yes, the sauce is the secret to its deliciousness.
Serves: 4 (generous) bowls. Total time: 35 minutes (preparation 20-25 minutes, cooking 5-10 minutes).
INGREDIENTS (organic and in order of use)
400g of rice, soba or udon noodles
For the sauce:
8-10 tbsp of Soy Sauce
2 tbsp of Rice Vinegar
2 tbsp of Water
1 tbsp of Agave Sirup (or 1/2-2/3 tbsp of Unrefined Sugar)
2 Garlic Cloves finely chopped or squeezed
2-3 cm of fresh Ginger finely chopped
1 level tbsp of Peanut Butter (crunchy is better)
For the topping:
250g of Firm Tofu (or Smoked Tofu)
a drizzle of Sesame Oil
6-8 Button Mushrooms (or Shiitake)
1 Bell Pepper
1 big Carrot
some fresh Cucumber
2-3 tsp of  Black Sesame Seeds
You can add also avocado, bean or soy sprouts, spinach, spring onion, sautéd kale…
PREPARATION
Start with the sauce since it would serve as a marinade for the tofu too. If you use a smoked tofu, you do not need to marinate it. Combine all the sauce ingredients together, except the peanut butter, in a bowl, stir it well and let rest for later.
Cut 250g of firm tofu in rectangles of about 1cm x 2cm and put them in the sauce to marinate for about 5-10 minutes.
You can now put the rice noodles to soak in hot water (about 10 minutes) or cook soba or udon (follow the instructions on the packaging).
Prepare your veggies: grate 1 carrot, chop 1 belle pepper in thin stripes, some cucumber in dice and slice the mushroom.
Heat a drizzle of sesame oil in a pan, take the tofu out of the sauce (drain it a bit above the sauce bowl) and sauté them for about 5 minutes both sides to make them golden brown and crispy.

Golden brown crispy tofu.

If you prefer your mushrooms cooked a bit (especially if you are using shiitake) you can sauté them for a few minutes with tofu or immediately after in the same pan. Otherwise they are great raw too.
Add 1 level tbsp of peanut butter (ideally crunchy) to the sauce and stir well to combine.
You can now assemble your noodle bowl: noodles first, a few drizzles of sauce all over, then veggies and tofu, followed by a drizzle or more of the sauce on top and some black sesame seeds as a final touch.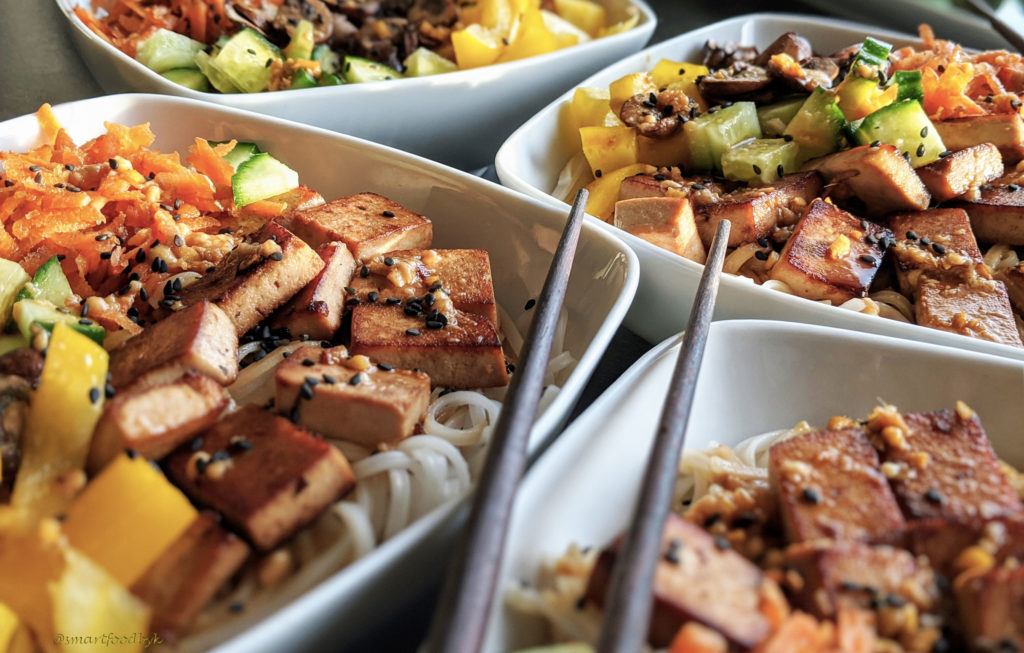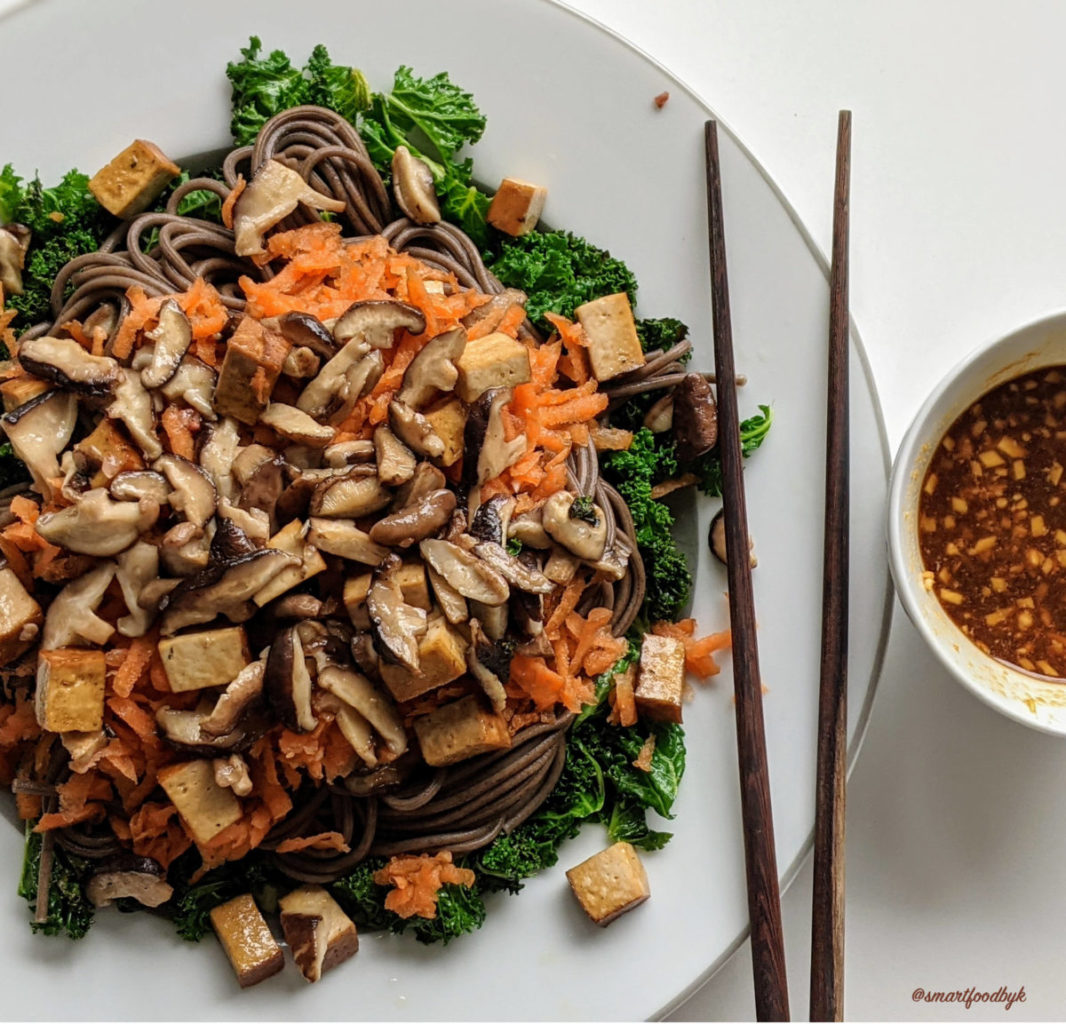 ---
---