Plant-based tuna sandwich is the yummiest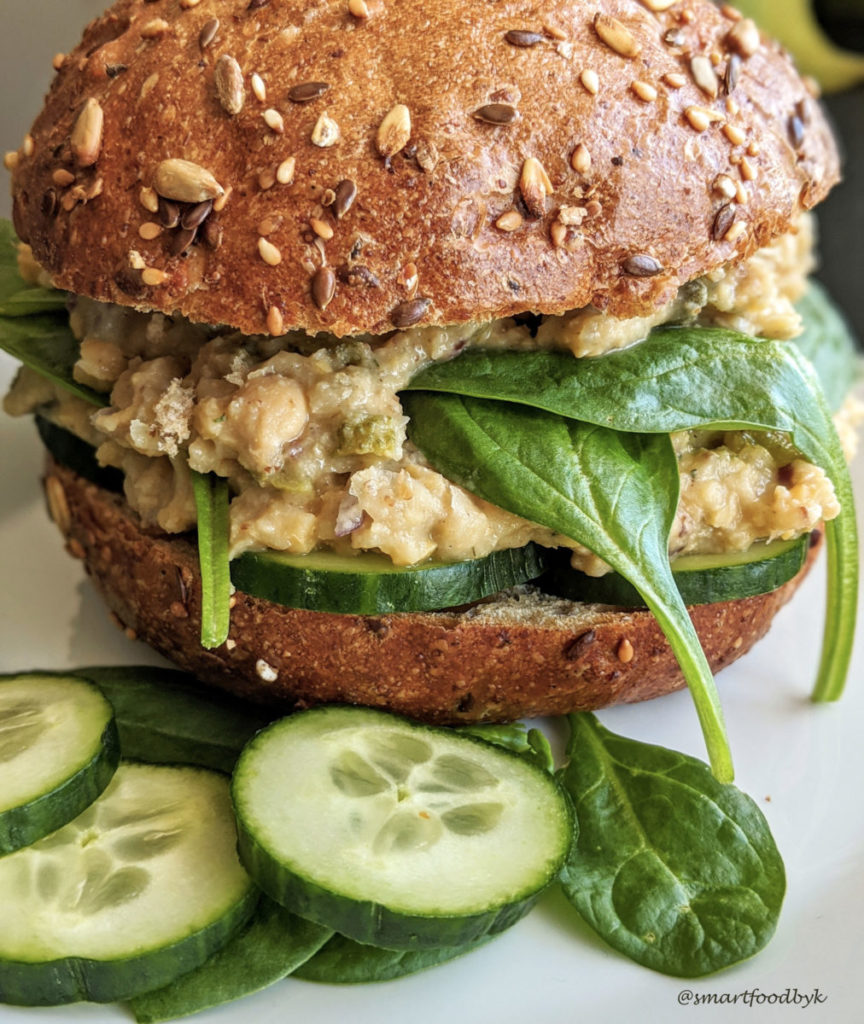 It tastes nothing like tuna but hey, that is how everyone calls it on the internet so let's stick to it to avoid confusion. Though it does look a bit like the tuna mix take-away sandwiches you will find in bakeries or grocery shops, doesn't it? The big difference is there is no fish in this plant-based tuna sandwich, it is more nutritious and in my opinion definitively yummier!
There a quite a few ingredients, but promise, nothing fancy. If you are already eating plant-based even occasionally you probably have it all in your pantry, if not your grocery store definitively does. The mix is ready in 15 – 20 minutes and then you can be creative and add to your sandwich whatever you like 😉
Serves: 4 big sandwiches (400g of "tuna" mix). Total time 15 – 20 minutes.
INGREDIENTS (organic and in order of use)
1 tbsp of Aquafaba (liquid from the chic peas can)
250g cooked Chic peas
1 tbsp of Tahini (sesame seed paste)
1-2 tsp of Dijon Mustard
1 tbsp of Apple Cider Vinegar
1 tsp of Agave or Maple syrup
2 tsp of small Capers
6-7 small Cornichons
1 very small Onion
1 tbsp of Flaxmeal (ground linseed)
1-2 pinches of dried Dill
2-3 tours of Black Pepper grinder
PREPARATION
Crush 250g of chic peas with 1 tbsp of aquafaba with a fork into a "lumpy" mash.
Chop finely 6-7 small cornichons (pickles) and 1 small onion (or 1/2 of a small onion) and add them to the mash.
Add all the other ingredients and combine everything together well with a fork.

Plant-based tuna sandwich mix in the making.

Done! 😉 You can now assemble the sandwich as you like. I added some cucumber and fresh spinach leaves.

1.

2.

3.

4.

5.

Plant-based tuna sandwich is ready 🙂
---
---