Soft dough pesto rolls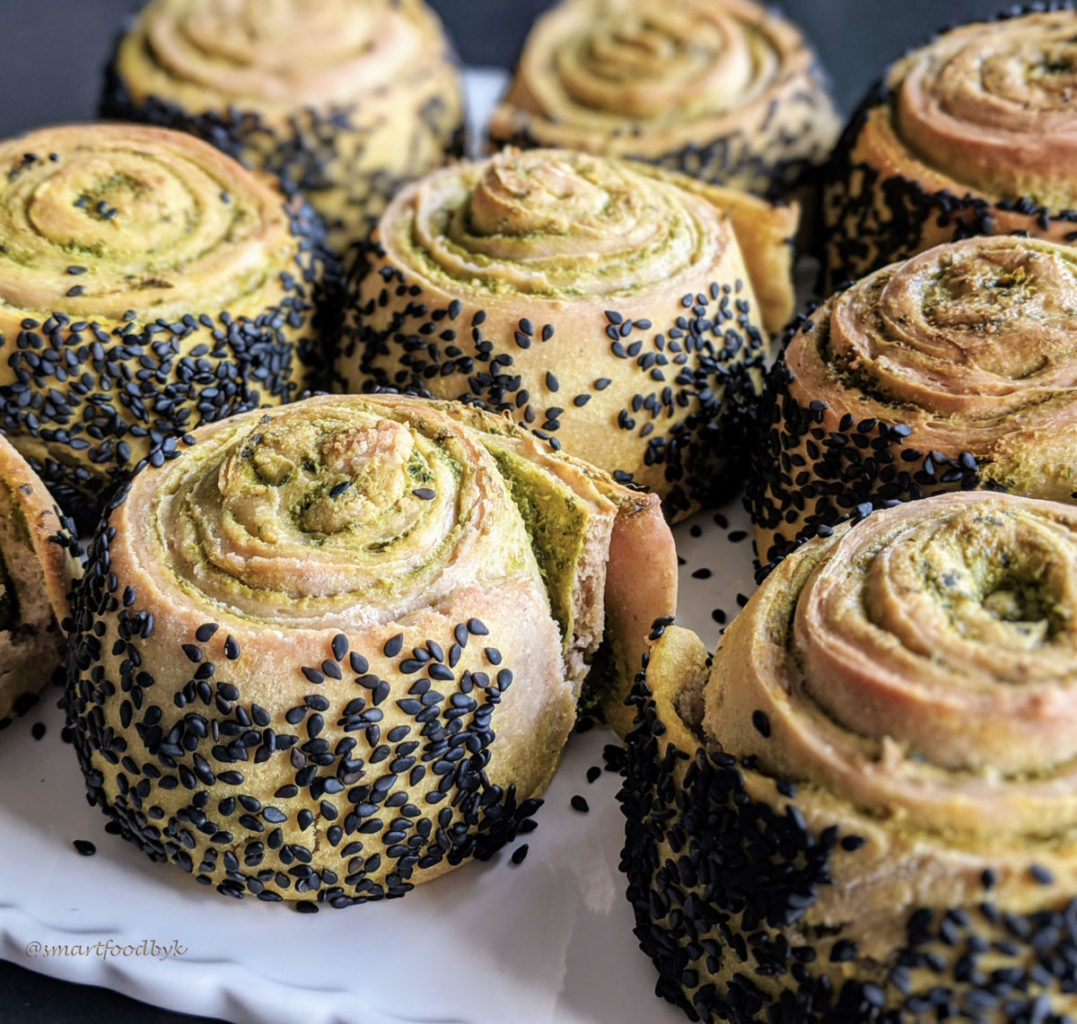 Ever since the virus "condemned" us to social distancing and even confinement (Sweden, where I live now, is not officially confined though but is respecting social distancing), I am obsessed with baking. There is something very soothing and comforting in tearing and eating the pieces of soft dough, don't you agree? These pesto rolls are easy to make, do not need much kneading and are delicious both warm and cold several hours after they were made. To be very honest they never survived to see the next day (all 4 of us looooove them) so I would not know how they are then 😉
I also brushed them with some olive oil on the sides and rolled them in black sesame seeds. You can roll them in any other seeds you like or even better in a mix of seeds (next time definitively!)
There is a little bonus to this recipe too – a home made pesto 🙂 Let's get started!
Serves: 15 generous rolls. Total time: 2 hours 45 minutes (preparation 45 min, dough proving 1h 30 min, baking 30 min)
INGREDIENTS (organic and in order of use)
For the dough
50ml of lukewarm Water
40g of fresh Yeast
1 heaped tsp of Unrefined Sugar
900g of Flour (I use a mix of Rye and Wheat)
2 tsp of Unrefined Salt
250ml of Plant Milk (I use oat)
250ml of Sparkling Water
100ml of Olive oil (you can also use a mix of Olive and Sesame)
1-2 tbsp of Olive Oil + 1/2 tsp of Turmeric powder to brush the rolls
120g approximately of black Sesame Seeds to coat the rolls
For the pesto
3-4 leaves of Kale
1 big handful of fresh Basil
2-3 tbsp of Olive Oil
Juice of 1/2 Lemon
3-4 tbsp of ground Cashew Nuts
Salt and Pepper to taste
PREPARATION
The rolls
Dilute 40g of fresh yeast into 50ml of lukewarm plant milk and 1 heaped tsp of unrefined sugar (sugar helps activate the yeast). Let sit for a few minutes until little bubbles appear on the surface.
Combine 900g of flour and 2 tsp of unrefined fine salt in a big bowl and make a little well in the middle.
Pour the "bubbling" yeast in the well and mix it with a bit of flour.
Add 100ml of oil and 250ml of sparkling water and start combining  with a wooden spoon pushing the flour from the outside to the well.
Add progressively 250ml of plant milk while combining the ingredients together with a wooden spoon.
When the ingredients stick together in sort of a big lump, start kneading with palms of your hands, scrapping the flour and sticky bits to incorporate them in the 'lump". Continue kneading for 3-5 minutes in the bowl or on a flour dusted flat surface. In case you do not know how to knead here is a very short video instruction.
The dough should be soft and sort of bouncy after kneading. Cover the bowl with the dough with a kitchen towel and let prove in a warm place for about 1 hour or until it doubles in size.
When the dough is ready, preheat your oven to 180°C. cut it in two and use the rolling pin to spread one part after the other into 5ml thick rectangles.
Spread the pesto evenly on the rectangles and cut the rectangles into 2-3cm wide stripes. Roll each stripe into a snail, brush it on the sides with a mix of olive oil and turmeric powder and roll it into sesame seeds (previously disposed on a flat plate). Place it on a baking sheet lined baking tray. Repeat until all the stripes are rolled and coated.

Pesto rolls proving before baking.

Let the rolls prove a bit longer (for about 30 minutes) on the baking tray.
Bake the rolls at 180°C for about 30-40 minutes until they are golden.
The pesto
Cut out the hard middle part of kale leaves they cannot be used for pesto.
Chop the kale leaves and add all the ingredients into a blow.
Mix them all together with a hand blender, taste and adjust the seasoning (lemon, oil or salt/pepper) to your liking.

Homemade pesto.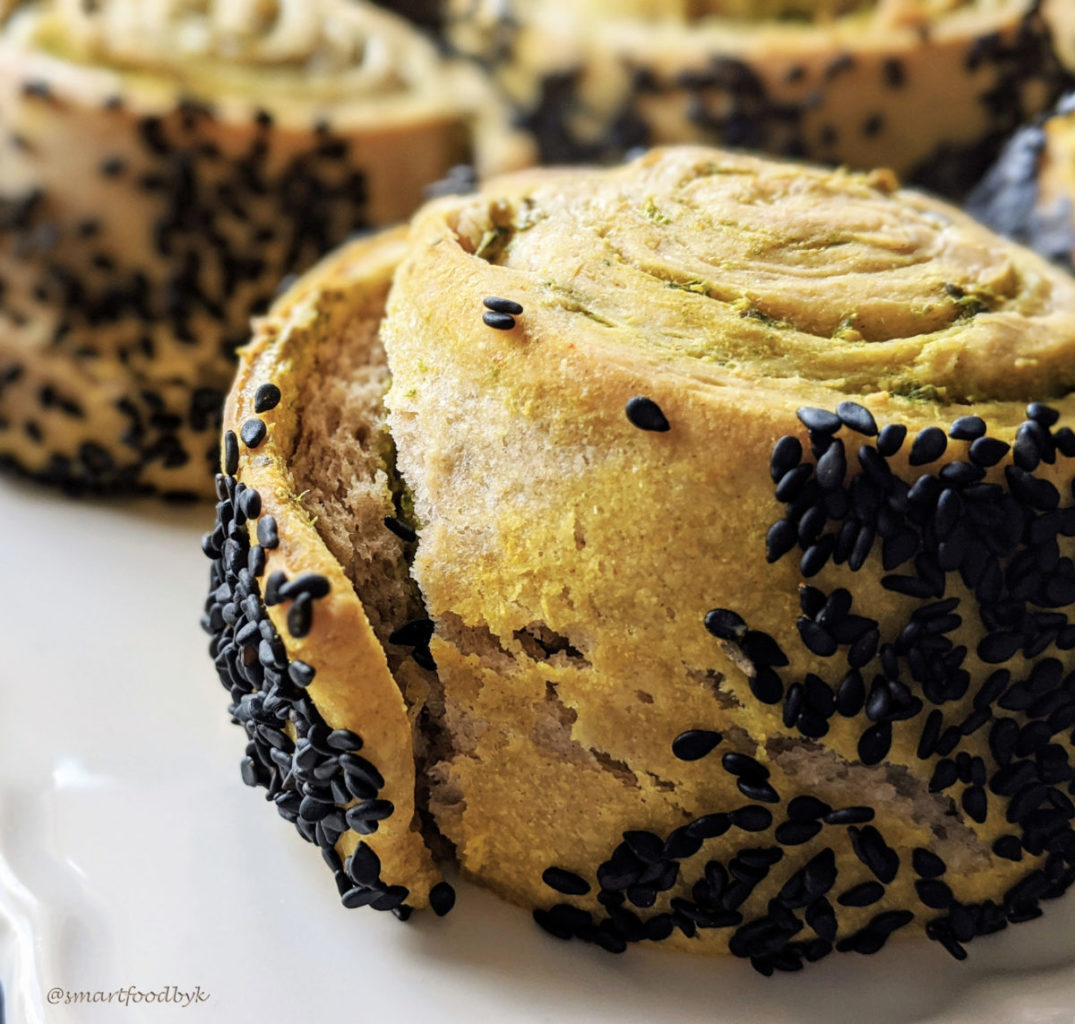 ---
---