Softest deliciously plant-based garlic naans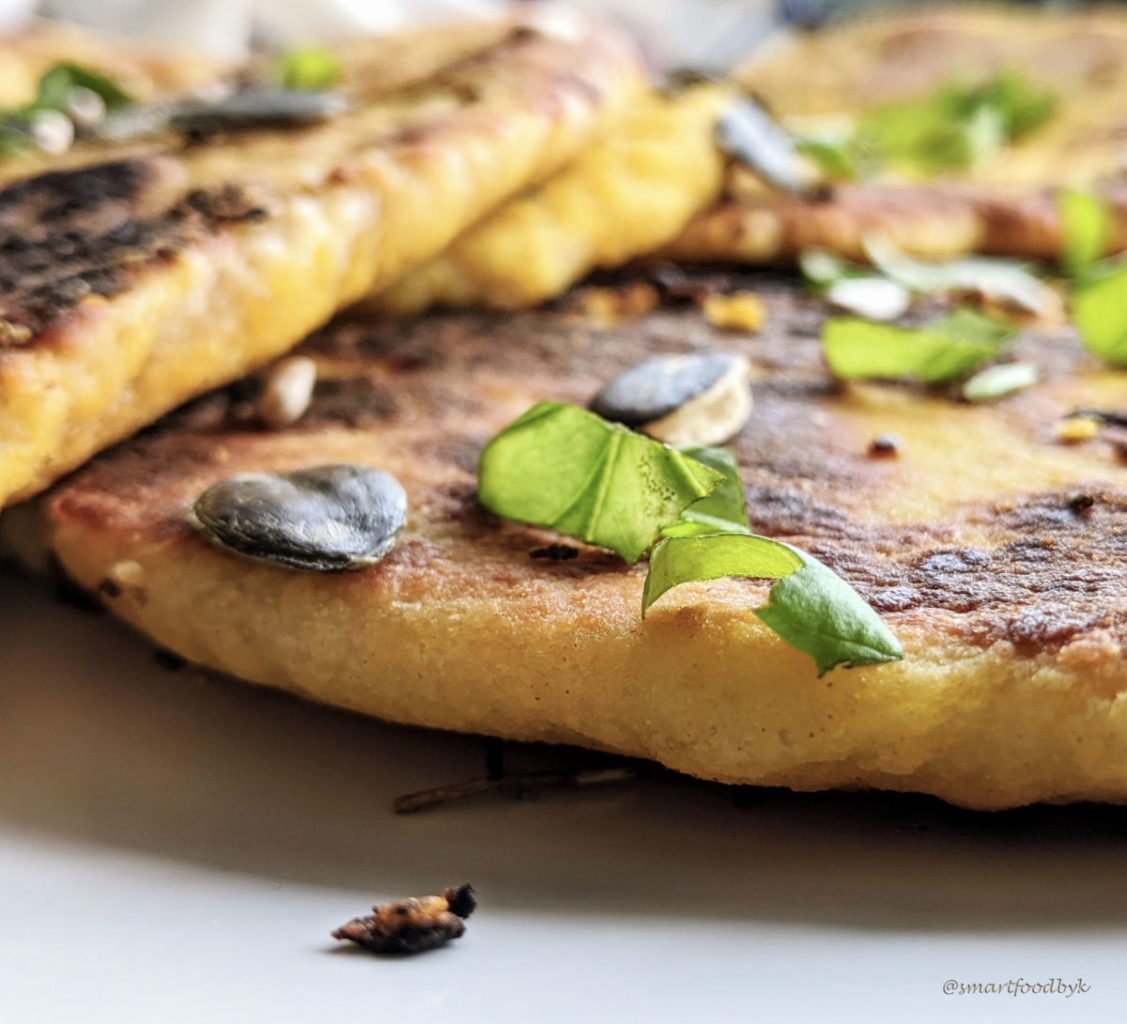 Oh I am an absolute fan of naans! Who isn't? They are one of those local foods that everyone knows and enjoys wherever they are, like a pizza, a croissant or a donut (to name but a few). My favourite kind – garlic naans! I picked up this recipe long time ago in Paris from an Indian girl I once knew. She had a little secret ingredient to make her naans irresistible, she told me. She used honey instead of sugar. I found out later that it was not that uncommon. Truth is, her naans were irresistible and you definitively couldn't stop at one.
I have finetuned her recipe over time and now made it plant-based too. Hope you'll like it and you'll drop me a comment if you do 🙂
Serves: 8 naans (20-25cm x 15cm). Total time: 1h 15 minutes (preparation 30 minutes, dough proving 30 minutes, cooking 15 minutes).
INGREDIENTS (organic and in order of use)
50ml of lukewarm Water
30g of fresh Yeast
1 tablespoon of Honey (or Maple for a vegan friendly version)
400g of Flour (I mix Rye and Wheat flour)
1 teaspoons of fine
Unrefined Salt
200ml of lukewarm Plant-based Milk (I use Oat or Soy)
100ml of thick Soy Yoghurt (my favourite brand is
Planti
)
4 tablespoons of Olive Oil
To brush the naans:
4 tablespoons of Olive Oil
1 level teaspoon of Turmeric
2-3 pressed Garlic Cloves
1/2 teaspoon of dried Thyme
PREPARATION
Start by activating the yeast. Dilute it in 50ml of lukewarm water with a tablespoon of honey and let sit for 5-10 minutes. Small bubbles will appear on the surface.
Mix the 400g of flour, 1 teaspoon of unrefined salt, 200ml of lukewarm milk, 100ml of yoghurt, 4 tablespoons of olive oil and the yeast mixture. Start combining everything together with a wooden spoon/spatule to make a dough. Then knead  manually for about 2-3 minutes to make a nice soft ball of dough, still a bit sticky. Sprinkle with some flour all over so it does not stick to the bowl, cover with a table cloth and let prove for about 30 minutes.

Garlic naans dough proving (before and after 30 minutes)

While the dough proves, mix together in a cup 4 tablespoons of olive oil, 1 teaspoon of turmeric, 1/2 teaspoon of dried thyme and 2-3 pressed garlic cloves. You will brush the naans with it while baking them.
When the dough is ready, take it out on a floured surface and knead just few times more. Form a ball and then divide it in half then 4 and finally 8 small buns. Spread the buns one after the other, with a rolling pin, into (more or less) 25 x 15 cm and 1 cm thick (not more) naans.

Garlic naan buns.

I bake the naans in a large cast iron skillet on a stove. It diffuses heat perfectly. Grease it lightly and make sure it is hot before you start the baking.
Bake the naans on one side for about 1-2 minutes until big bubbles start to form. Brush them with the mixture of olive oil and garlic and turn to the other to bake for about the same time. Brush lightly the other side too while still baking.

Garlic naans baking in a cast iron skillet.

Serve immediately! They are good hot, warm, cold… always 🙂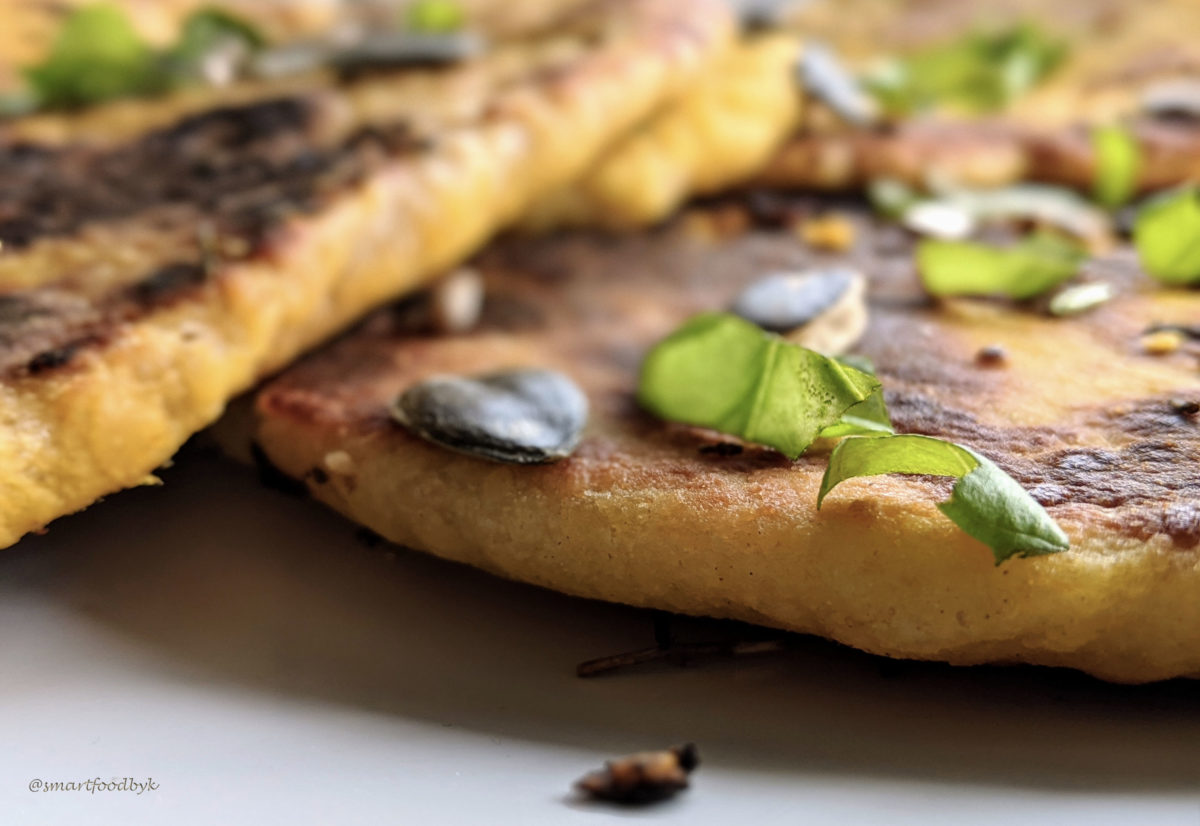 ---
---