Spring berries crepe cake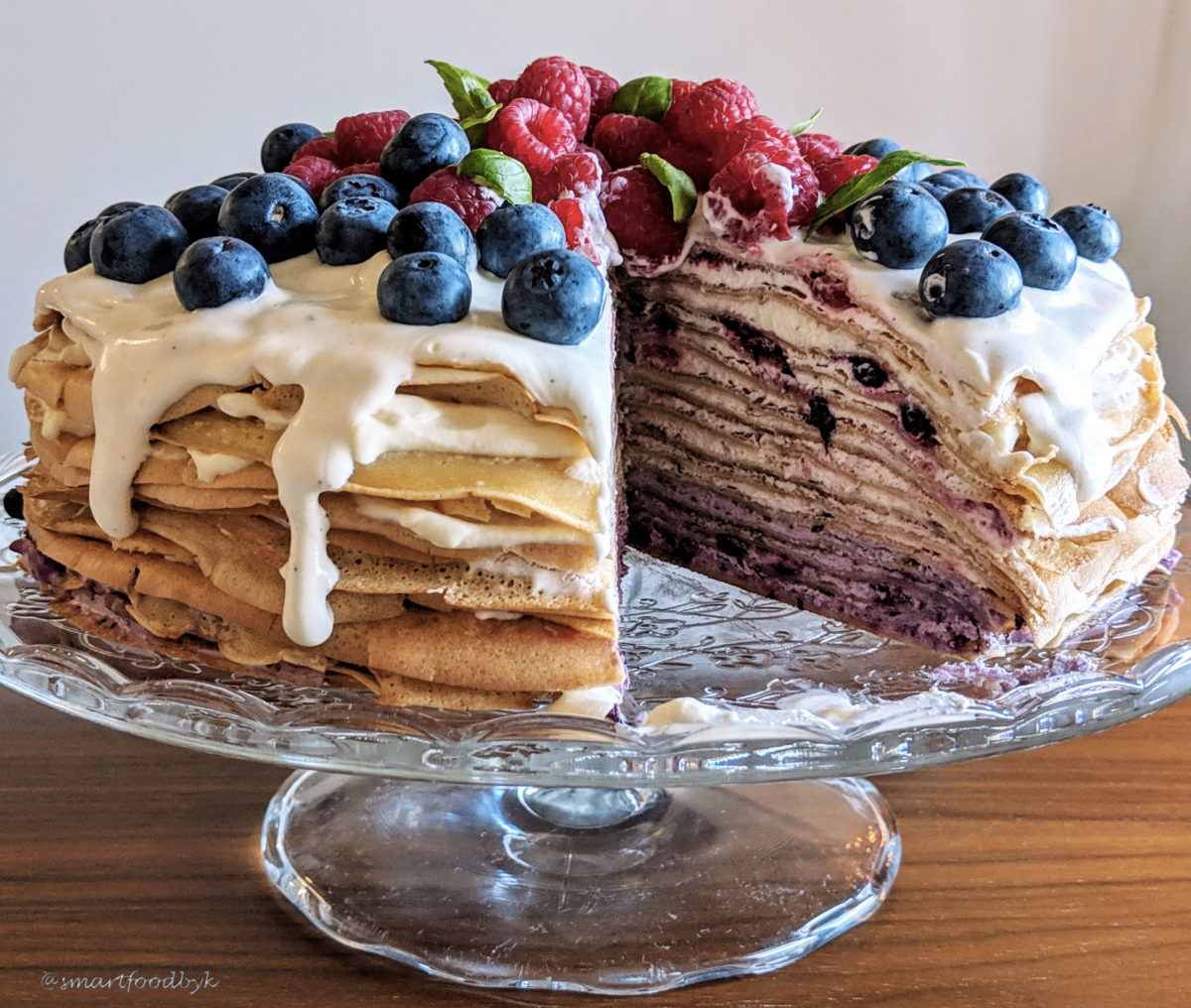 I had seen so many beautiful version of this layer cake on social networks that I simply had to make one. Especially having in mind that French crepes are our favourit dessert that I am always happy to make. My son's 10th birthday was a perfect occasion for this spring berries crepe cake 🙂
I knew that everybody would like it and that it would also be visually very impactful. It does take a bit of time to make 20 crepes and fillings of different colours but it is all worth it. This one was gone in one sitting, hihi 😉
Serves: 12. Total time 1h 30 minutes (preparation 1 hour, baking 30 minutes)
INGREDIENTS (organic and in order of use)
Crepes (20 appx)
30 level tablespoons of White Flour
1/2 teaspoon of Unrefined Fine Salt
4 tablespoons of Unrefined Cane Sugar
1 teaspoon of Vanilla Extract
4 Eggs
3 tablespoons of Plant Oil (I use a mic of Rapeseed and Olive oil)
200ml of Sparkling Water
200ml of Plant Based Milk (I use Oat)
add more milk if needed to obtain the right consistency (as presented here)
Filling
500g of Cream Cheese
4 tablespoons of Powder Sugar
150g of White Chocolate
500ml of Double Cream
1 teaspoon of Vanilla Extract
4 tablespoons of Unrefined Cane Sugar
250g of Blueberries
150g of Strawberries
100g of Raspberries
a small handful of fresh basil leaves
PREPARATION
Crepes
Mix all the dry ingredients together.
Mix all the liquids together with a whip starting with eggs. Add them to the dry ingredients and mix all vigorously together with a whip or with an electric mixer to obtain smooth lumpless batter.
Let the batter rest for about 30 minutes before baking (this is the secret of great crepes).
Bake crepes ideally in a non-stick pan, approximately 30 sec. each side over a (medium) high temperature.
Let cool down completely before filling.
Fillings
While the crepes batter is resting you can start preparing the filling.
Mix 500g of cream cheese and 4 tbsp of powder sugar into a smooth paste.
Melt 150g of white chocolate and add it to the cream cheese paste.
Whip 500g of double cream with 4 tbsp of unrefined sugar and 1 tsp of vanilla extract. Incorporate the whipped cream into the cream cheese delicately with a spatula. Reserve in the fridge for later.
Mix 150g of blueberries in a blender. Reserve for later.
Mix 150g of strawberries in a blender. Reserve for later.
When the crepes have cooled completely, take the filling out of the fridge and divide it into 3 equal parts.
Add mixed strawberries into one of them and incorporate delicately to obtain a pastel rose filling.
Add mixed blueberries into the second one to obtain a violet filling.
Keep the third filling white.
Assemble the cake
Spread a bit of the white filling in the middle of a cake presentation plate and place the first crepe. It will stick to the plate securely.
Start with a violet filling spreading it on 6 crepes, one on top of the other, making sure that you do it as evenly as possible.
Continue with the rose filling on 6 to 7 crepes and finish with the white one.
Spread the white filling on top of the last crepe also and garnish with fresh raspberries, blueberries and basil leaves.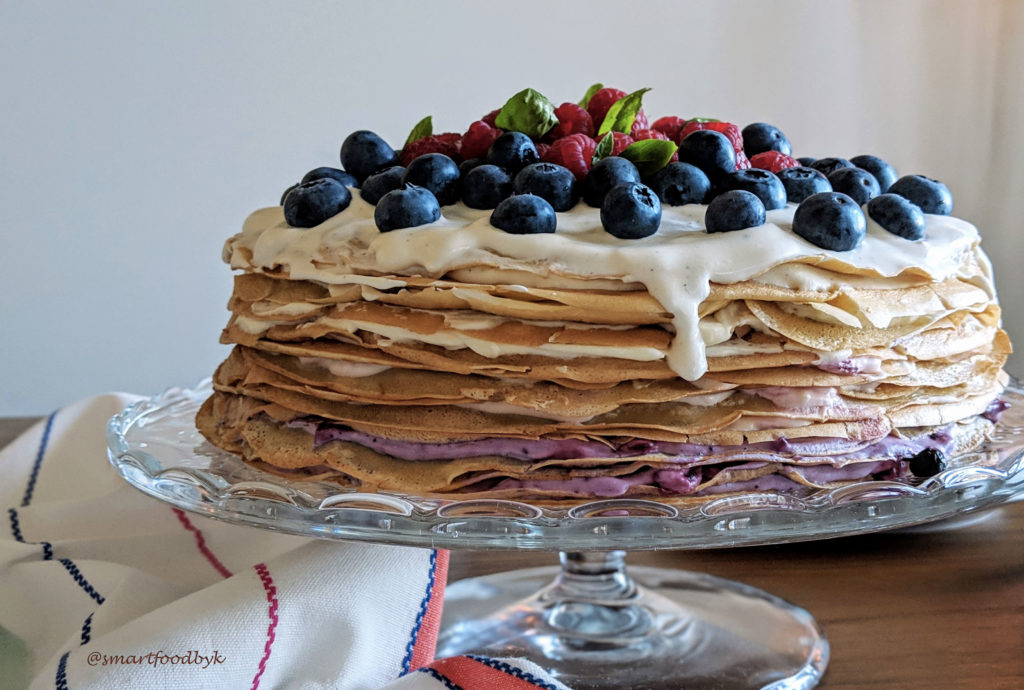 ---
---