Sweet potato soup with roasted shiitake and pumpkin seeds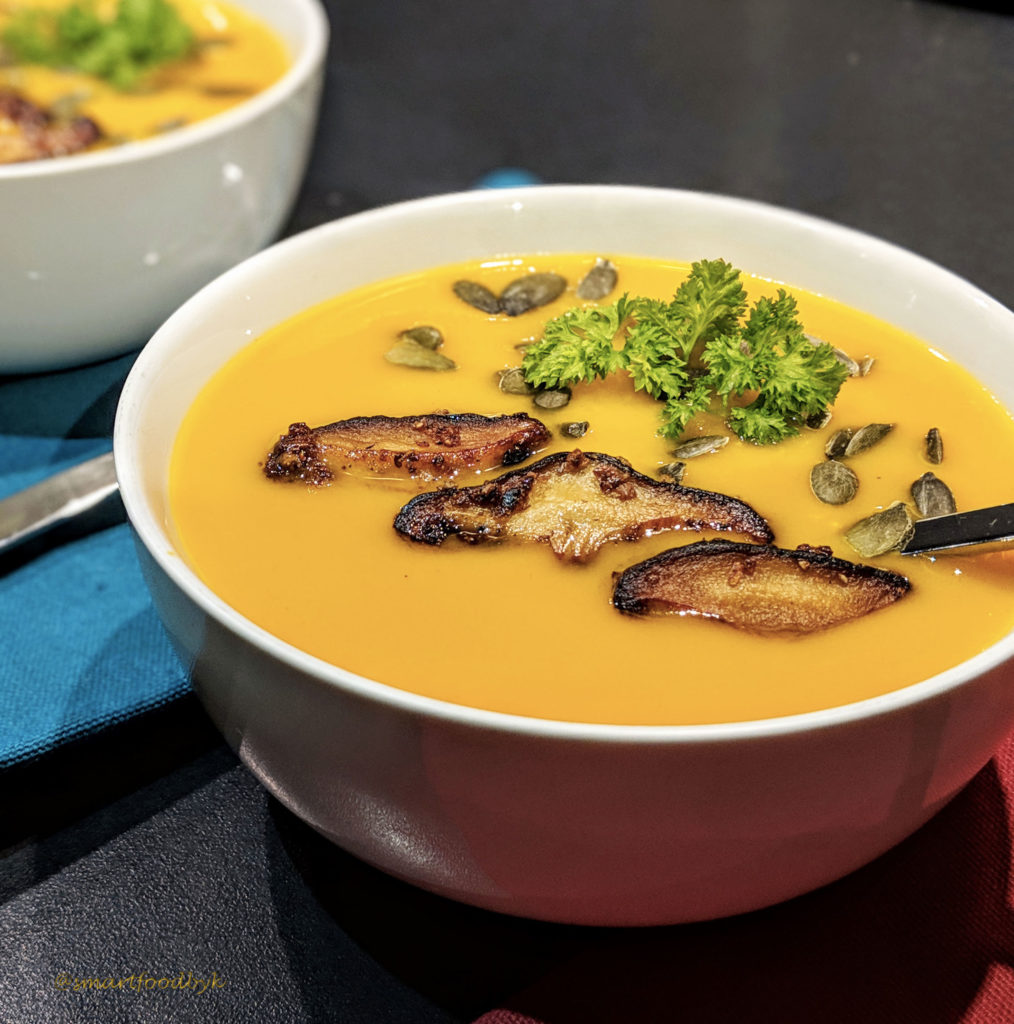 Deliciously smooth sweet potato soup with grilled shiitake and a sprinkle of squash seeds.
I discovered sweet potato when I was already adult, we didn't have it in my country when I was growing up. Not only does it taste delicious but it is also high in nutrients. It contains a good amount of fiber, vitamin A and C, manganese. Moreover it is so versatile, there are many delicious recipes you can do with it, both savory and sweet. Here is one of the easiest ones 😉
Serves: 6. Total time: 1h (preparation 25 min, cooking 35 min)
INGREDIENTS (organic and in order of use)
For soup
3 tablespoons of Olive Oil
1 Onion
3-4 cloves of Garlic
1 tablespoon of Turmeric powder
1 teaspoon of Paprika powder
2 large pinches of Unrefined Salt
3 Sweet Potatoes (medium)
2 large Potatoes
2 large Carrots
1/3 teaspoon of Espelette Pepper
1/2 teaspoon of Ground Nutmeg
2l of Water
For garnish
1 tablespoon of Olive Oil
1 tablespoon of Bread Crumbs
150g of Shiitake
1 large pinch of Unrefined Fine Salt
1 Pepper Mill turn (black)
Fresh Pumpkin Seeds
PREPARATION
Soup
Peel and cut into pieces all the vegetables.
Sauté them with all the spices and 3-4 tablespoons of olive oil, for about ten minutes over medium heat.
Add 1.8 to 2 liters of boiling water and cook for about 30 minutes, the carrots must be cooked. I prepare soup in a pressure cooker so 30 minutes are enough.
Mix everything with a hand blender.
Shiitake
Clean and cut the 150g of shiitake into 1 cm wide slices.
Heat 1 tbsp of olive oil in a pan. Add the shiitake, a large pinch of salt, a pepper mill spin and a tablespoon of breadcrumbs. Sauté about ten minutes over medium-high heat. Shiitake should be golden.
Place the slices of shiitake gently on the soup and add some pumpkin seeds and fresh parsley.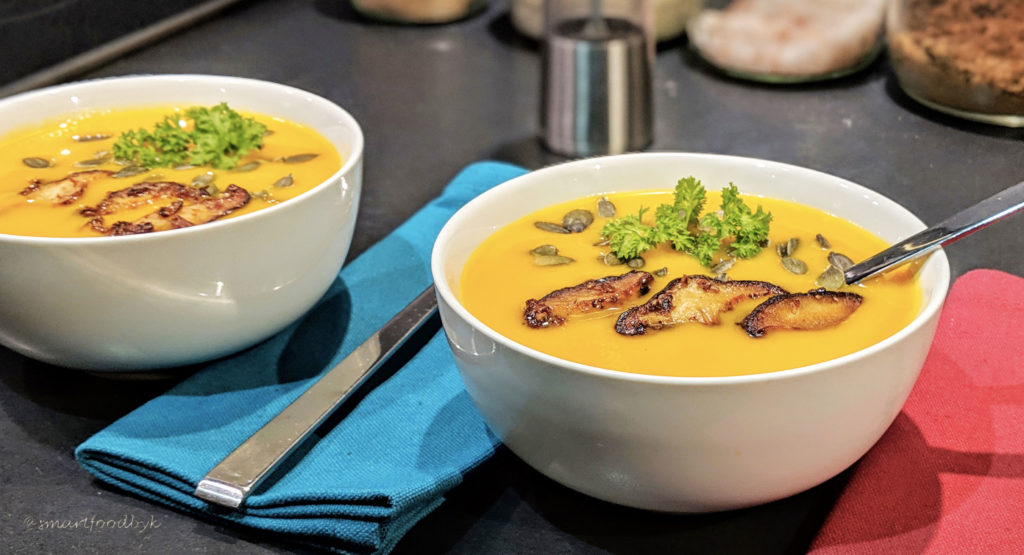 ---
---