Almond and Chocolate Pear cake (vegan & gluten-free)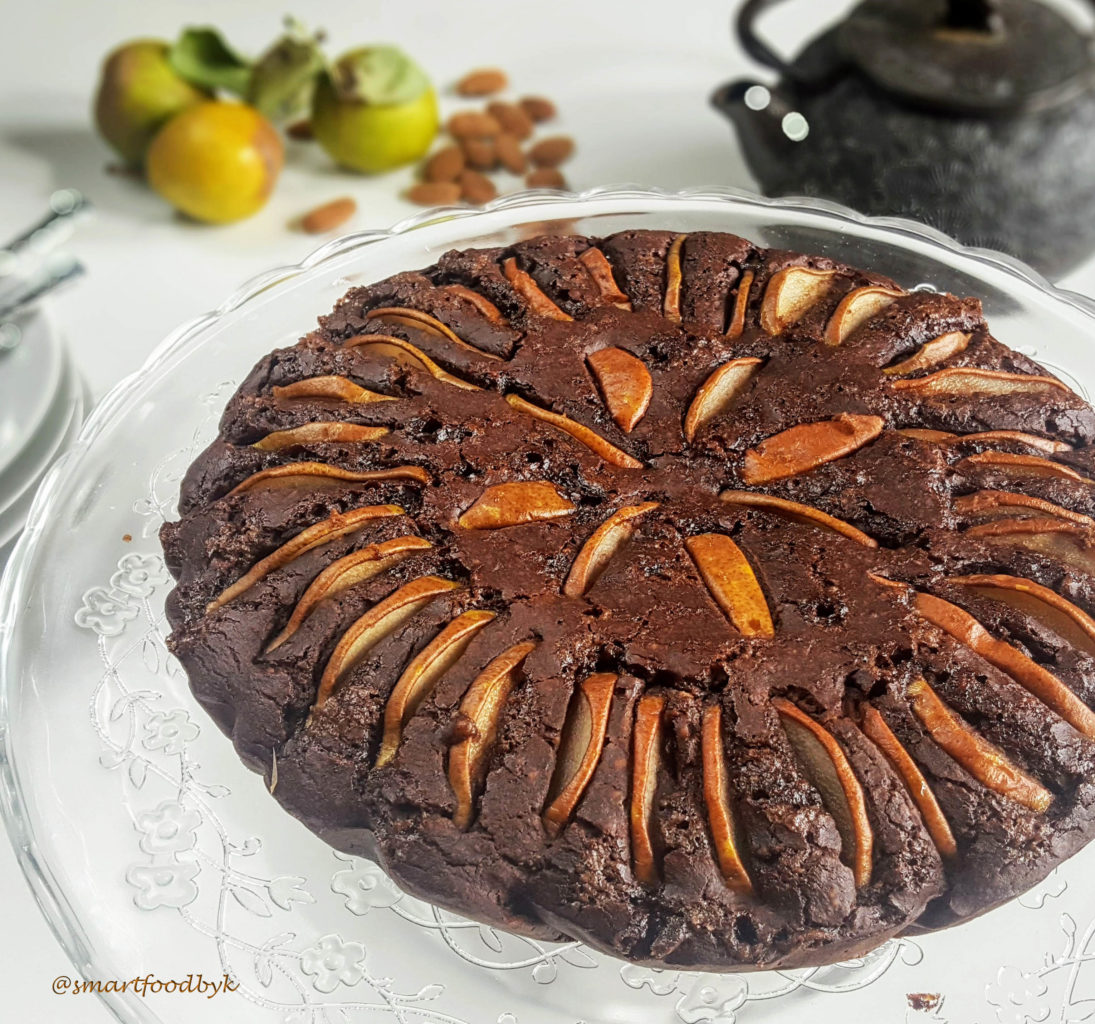 What a beautiful season the autumn is, a festival of colours and flavours! The shorter the days become and the lower the temperature, the more I cook. There is something very comforting in the kitchen enveloped in warmth and mouth-watering fragrances coming from the oven. This pear cake will tease your nostrils well before feasting your taste buds 😉 Eggs, butter and gluten free, it leaves all the room for a delicious combination of juicy fruit, roasted almonds and chocolate.
Serves : 8 pieces. Total time: 50 min (preparation 15-20 min, oven baking 35 min)
INGREDIENTS (organic, in order of use)
100g of Buckwheat flour
40g of Pure Cocoa
100g of Almonds
80g of Unrefined Cane Sugar
1 packet of Baking Powder (10g, gluten free)
40g of Almond Oil or any other neutral (Sunflower or Coconut deodorized)
200ml of Almond Milk
3 Pears (medium size)
PREPARATION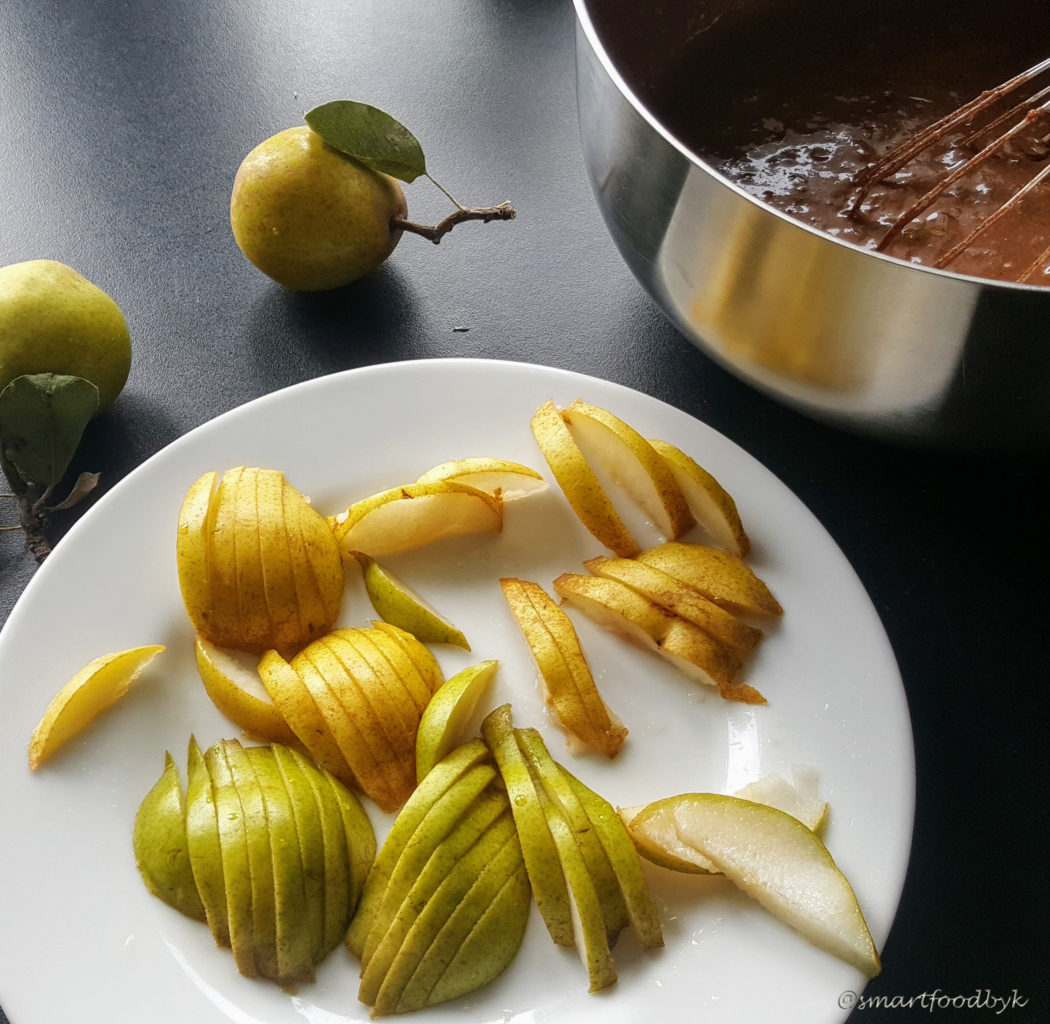 Start by roasting the almonds on a baking sheet at 160°C for 15 minutes (no need to preheat the oven).
In a mixing bowl mix the buckwheat flour, baking powder, unrefined sugar and cocoa. You will add the almond powder as soon as it is ready.
In another smaller bowl, mix the almond milk, oil and a pear, seeded and mixed with its peal. Add the mixture to the first bowl and whisk vigorously to obtain a paste without lumps.
Clean and cut in slices of 3-4 mm the other two pears.
Your almonds should be ready by now, take them out of the oven and mix in a blender but not too finely. Leave a few crunchy pieces it adds flavour and texture to the cake. Add them to the bowl with the cake batter and whisk to incorporate.
Pour the dough into a cake pan of about 20cm in diameter, covered in baking paper.
Push the pear slices into the dough, in a shape of a star or as desired, and bake at 200°C for 30-35 minutes. Serve lukewarm.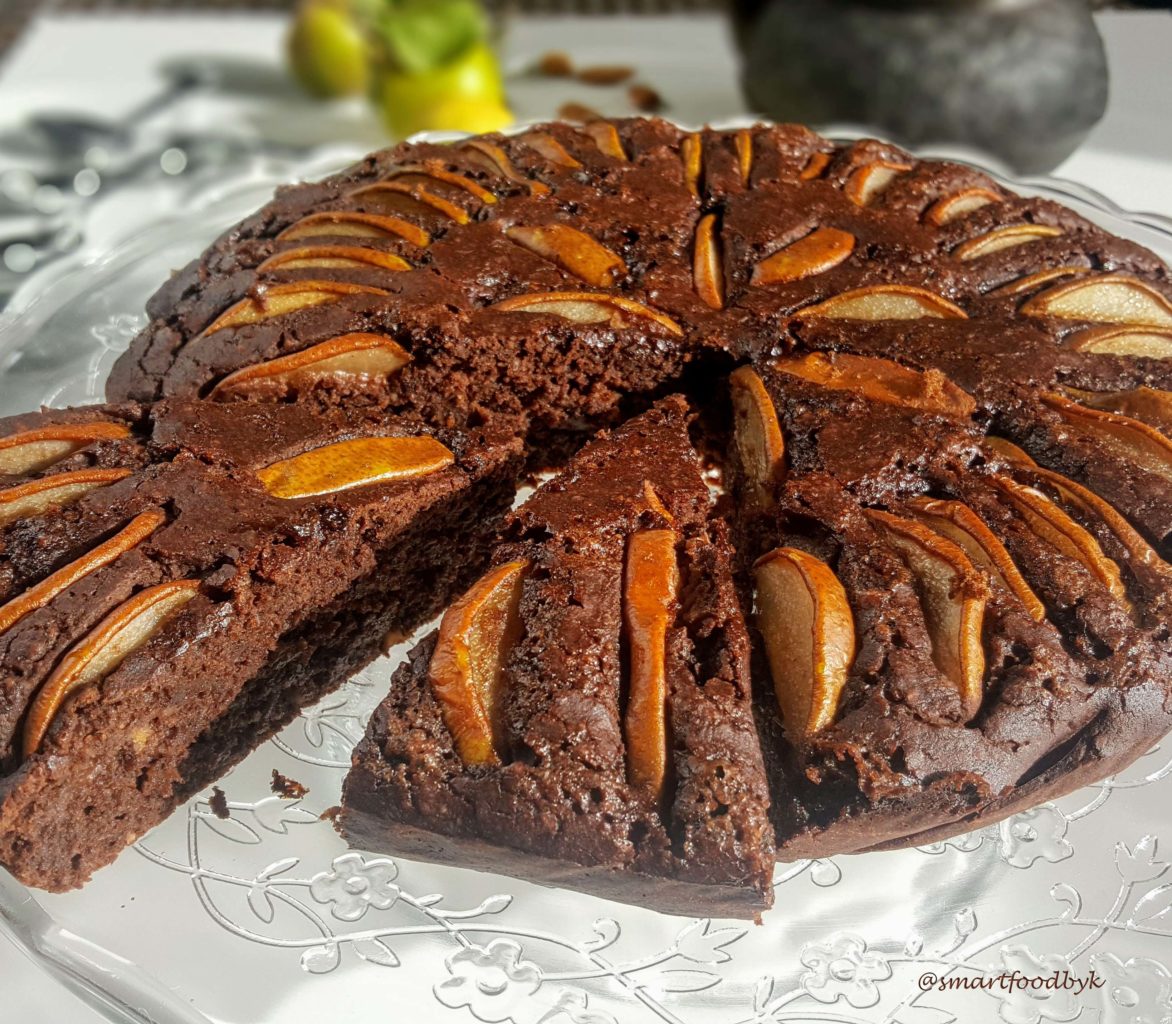 ---
---