Colourful hummus with veggie flavours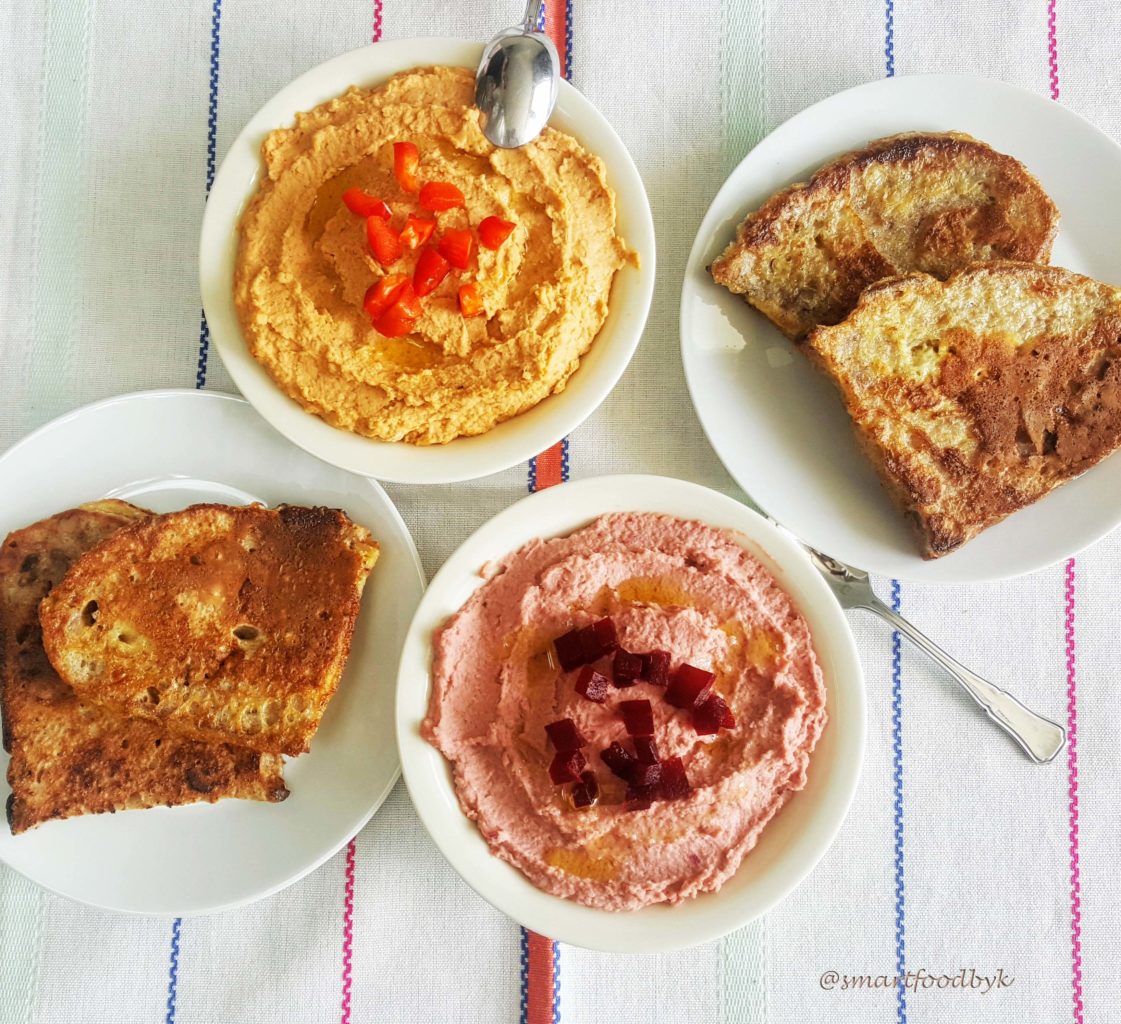 As a starter, an aperitif or for breakfast, hummus is a very popular dish at home. Consequently, I prepare it often experimenting with different flavors. The basic hummus recipe probably varies little from what you may already know. On the other hand, the addition of roasted red pepper or cooked beetroot turns it into a colourful hummus with a very unique taste.
In the photos it is presented with savoury "French toast" (przenice). The French do not actually make it savoury but sweet. The savoury version called "przenice" is made in Serbia, my country of origin. This very simple recipe  of "przenice", or how to turn your stale bread into a yummy side dish, is a little bonus I prepared for you at the bottom of the hummus recipe 😉
Servings: about 400-430g of each.
Total time: 15 min with cooked chickpeas or 1h 20 min if you cook the chickpeas yourself (cooking 1h, preparation 20 min (+10h of soaking to start the day before)).
INGREDIENTS (organic)
600g of cooked Chickpeas or 200g of dried Chickpeas
3 tablespoons of Lemon Juice
6 tablespoons of Olive Oil
5-6 tablespoons of Chickpeas cooking water
3 tablespoons of Tahini (Sesame seed paste)
6 cloves of Garlic (medium)
3 teaspoons of Unrefined Sea Salt end
1-2 teaspoons of Cumin
1 small cooked Beetroot
1 Red Pepper, roasted and peeled
PREPARATION
If you cook the chickpeas yourself, which I do, soak them the day before in 3 times their volume of cold water for 10 hours minimum.
The next day, drain and rinse them and cook them in at least 2 times their volume of water for 1 hour.
Drain them and keep the cooking water.
If you are using already cooked chickpeas, the preparation for you starts here 😉
Put all the ingredients except red pepper and beetroot into a blender and mix until smooth. Add some more cooking water if you prefer a more "liquid" consistency.
If you're cooking chickpeas yourself, start preparing a red pepper while they're cooking. Roast the pepper, washed and seeded, on a pan without fat over medium heat. Flip on each side as soon as it begins to blister. When its skin is browned (not charcoaled) and blistered all over, after a few minutes, remove it from the heat, let cool a little, then remove the skin (it should come off easily).
Divide the mixed hummus in half and mix each half with one of the two vegetables.
You can also try it with Kalamata olives (a dozen are enough with a little less salt and olive oil), or fresh basil (a handful).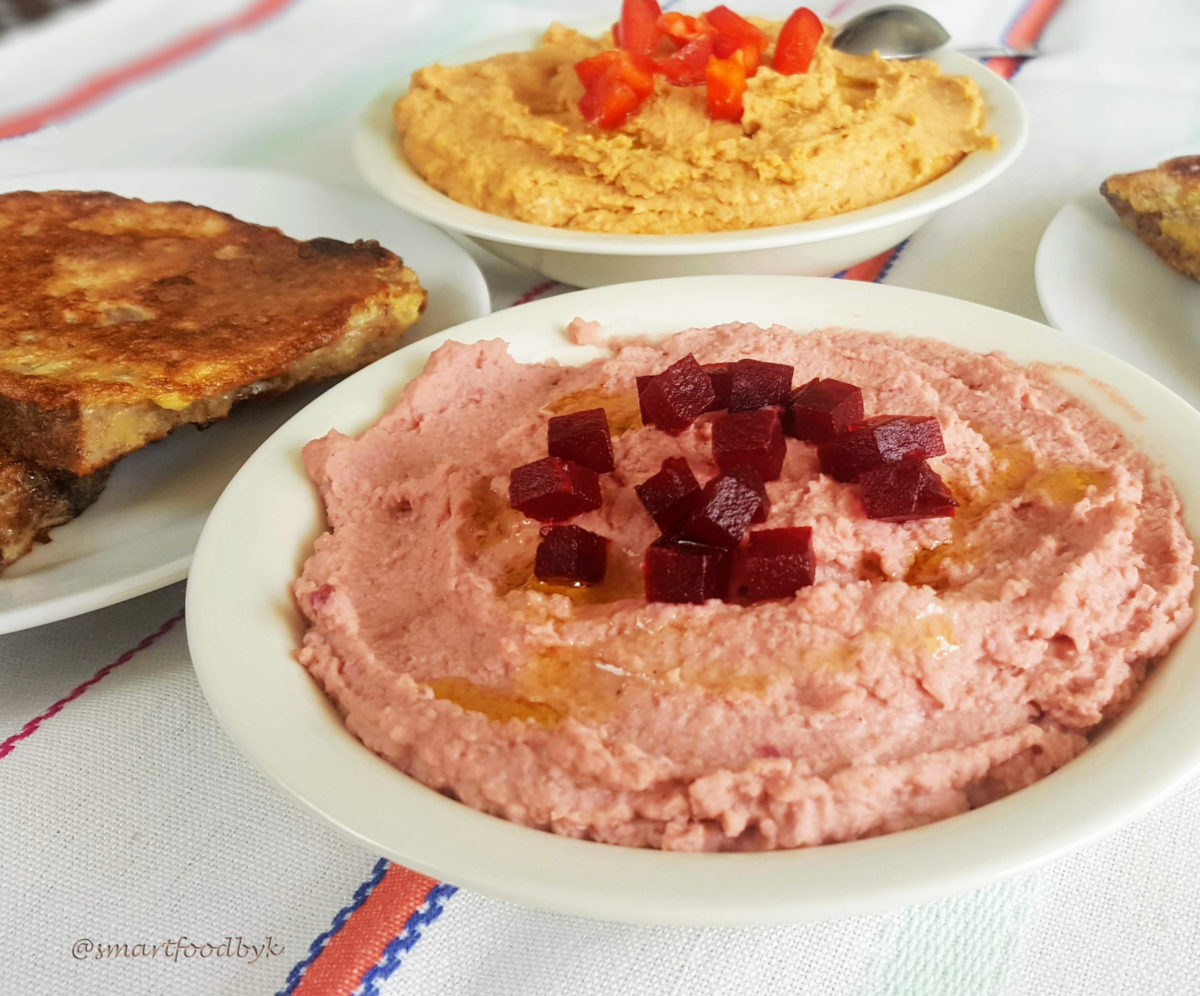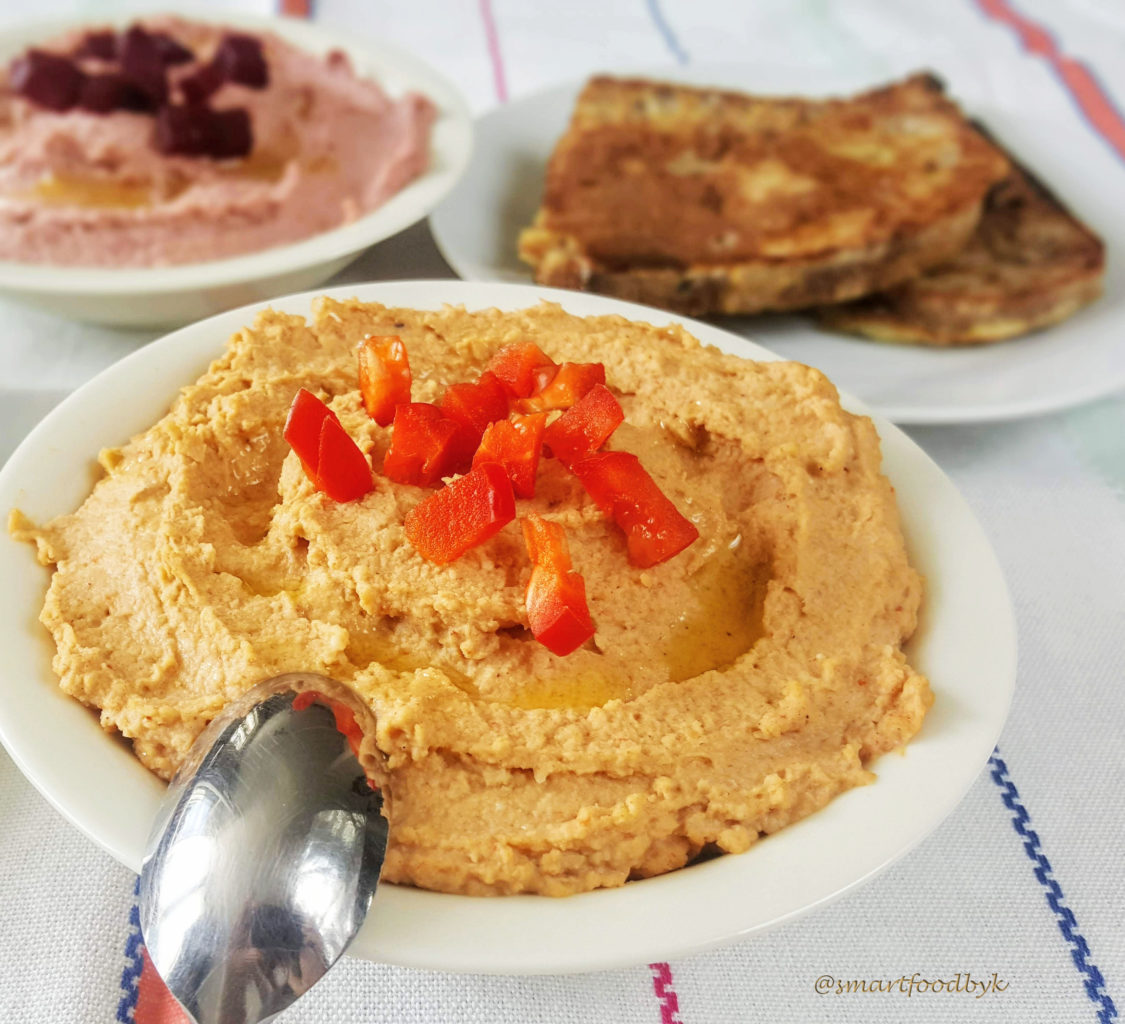 Bonus : The recipe of the Serbian savoury "French toast", aka przenice 😉
Serves: 10 slices. Total time: 15 min.
INGREDIENTS (organic)
10 slices of stale/dry bread
2 eggs
1 pinch of unrefined sea salt
100ml of vegetable cream (oat is my favorite)
1 pinch of garlic powder
1 pinch of thyme
2-3 tablespoons of olive oil
PREPARATION
Whisk eggs, cream, thyme, garlic powder and sel in a large enough bowl for 2-3 minutes.
Dip the slices of bread into the mixture and fry them in a pan with already hot olive oil.
---
---