Hearty veggie lasagna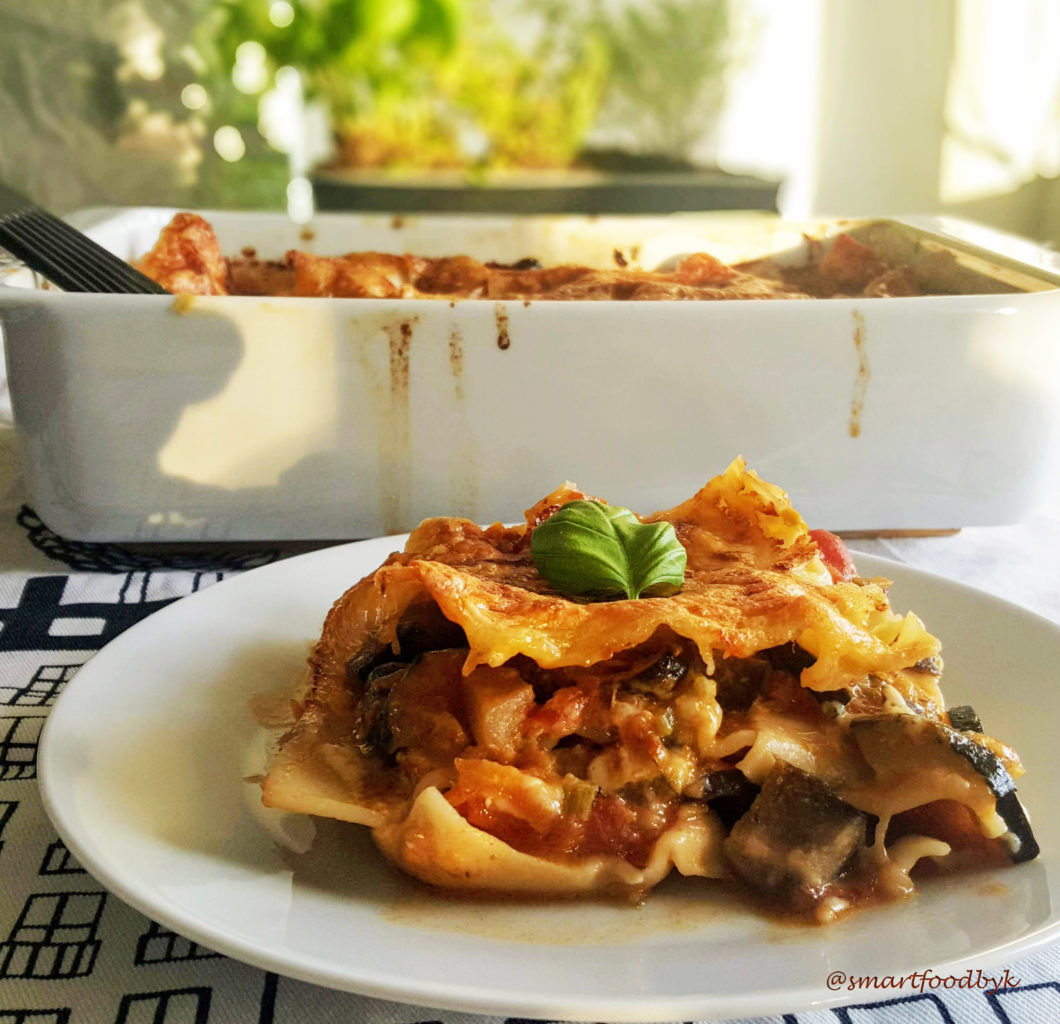 You definitively do not need meat to make a delicious lasagna! It is about a mouthful of melting wholesome ingredients enhanced by those Mediterranean flavours and enveloped in layers of comforting pasta. And it's a perfect dish to share too, putting a big plate of freshly baked golden brown lasagna on the table brings joy to  everyone's face. With a hearty veggie lasagna like this giving up meat is a piece of lasagna promise 😉
Serves: 8. Total time: 1h 35 minutes (preparation 1h, oven baking 30-35 min)
INGREDIENTS (organic and in order of use)
6-7 tablespoons of Olive Oil
1 big Onion
4-5 Garlic cloves
2 Celery branches with leaves
1 Leek
2 Carrots
1 Aubergine
1 tablespoon of Unrefined Salt
2 Bell Peppers
2 Courgettes
300g of Mushrooms
1 teaspoon of Thyme leaves
1 teaspoon of Oregano
3-4 tours of Pepper mill
500g of Tomato puree or whole peeled tomatoes
1 dry Laurel leaf
3 layers or 300g of Lasagna pasta appx
400g Mozzarella
200g grated Cheese (I use various: Mozzarella, Emmental, Gouda…)
a few leaves of fresh Basil to serve
For Béchamel Sauce
20g of butter or Olive Oil
2 level tablespoons of Flour
400 ml of cold Milk (I use Oat milk)
a pinch of unrefined Salt
a turn of Pepper mill
few leaves of fresh Basil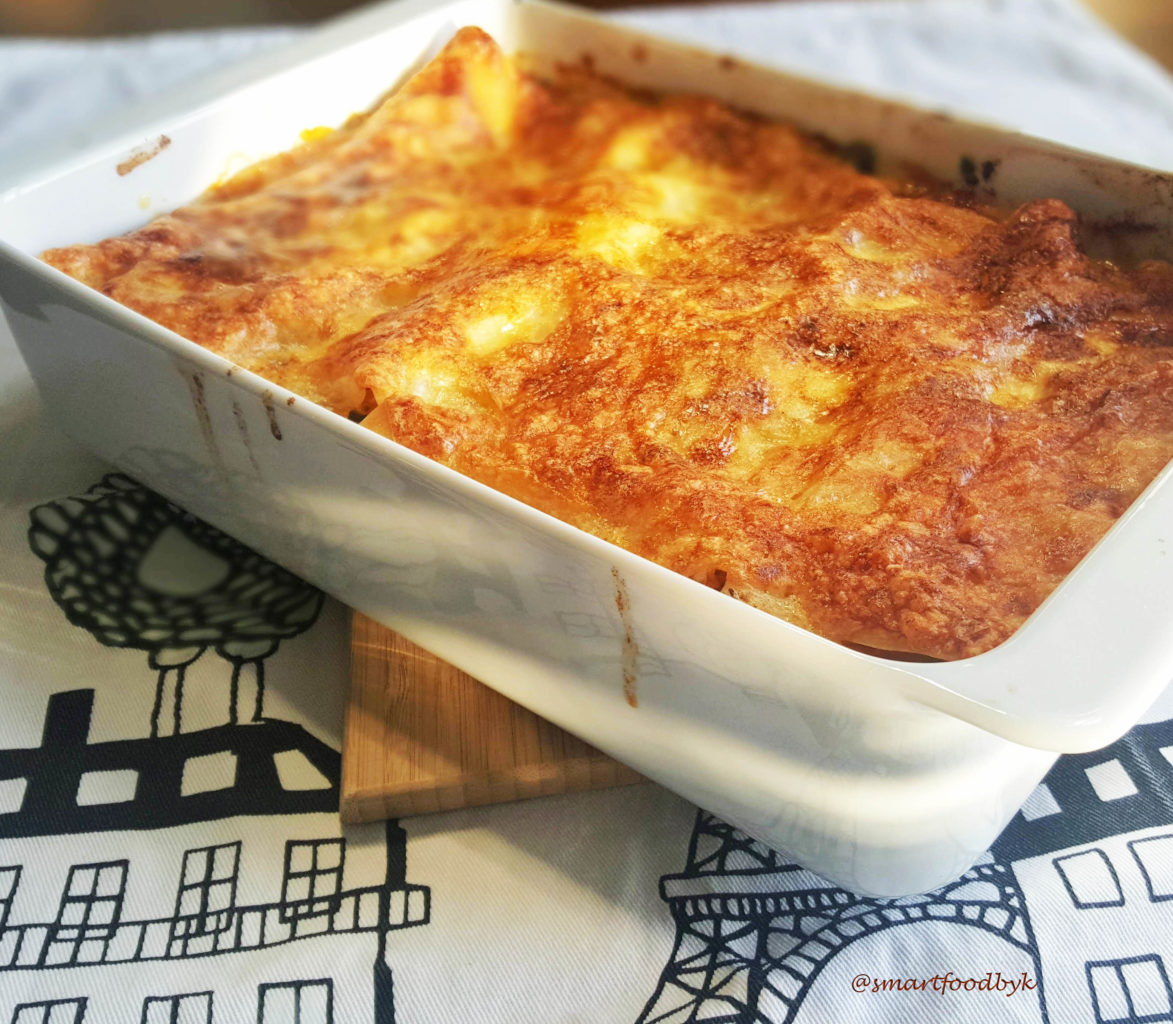 PREPARATION
Lasagna filling
Vegetables are cooked in a certain order depending on the time each needs to be properly cooked. Just soft or melting in order to blend perfectly in the sauce. Cooked them with lid on all the time.
Chop finely onion, garlic and celery with leaves, put them in a large casserole dish and cook them with 4-5 tablespoons of olive oil on a medium heat for about 10 minutes (to soften them a bit).
Cut leek in thin rings, aubergine in small dice (1cm x 1cm) and grate carrot (it is best to grate it so it melts beautifully in the sauce). Add them with salt to the casserole. At this point add just a bit of water to prevent vegetables from sticking to the casserole. Cook for another 10 minutes.
Cut courgettes in quarters of thin slices, bell pepper in 1cm x 1cm pieces and mushrooms in thin slices. Add them too to the casserole with thyme, oregano and pepper and continue cooking cooking for another 10 minutes.
Finally add tomato (chopped in dice if you use them fresh) and laurel and simmer at a lower-medium heat for about 30 minutes. Cook the the vegetables with lid on all the time.
Béchamel sauce
While the veggies are cooking, you can prepare your Béchamel. Melt butter or warm up olive oil in a casserole over a low-medium heat. Add flour and stir continuously to make a smooth paste, slightly beige but it should not get brown. When it's ready it will start making tiny bubbles.
Pour the cold milk on it and continue stirring until brought to boil. The secret of the Béchamel sauce is in the thermal shock when the cold milk meets the hot flour paste. Add salt and pepper. The sauce should thicken a bit. When it starts boiling you can take it off the heat and stir for a few more seconds to avoid sticking. It will thicken a bit more when it starts cooling down. Chop basil leaves and stir them into the sauce. Reserve for later.
I'll tell you a little secret 🙂 When I do not feel like making the Béchamel, I simply use oat cream to replace it. 200ml of oat cream would do it just fine.
Assemble the lasagna
Take a big oven dish (mine is 37 x 30cm), grease it with 2 tablespoons of olive oil and cover the bottom with a layer of lasagna pasta. Pour half of the lasagna filling on it and spread it evenly.
Cover with a second layer of lasagna pasta. Cut your mozzarella in 3-4 mm thick slices and spread them to cover the lasagna.
Pour the other half of the filling on it and again spread evenly. Cover with a final layer of lasagna. Sprinkle with generous layer of grated cheese and top it all over with the Béchamel.
Bake at 200°C for about 30-35 minutes. Serve garnished with fresh Basil leaves and some fresh green salade on the side 🙂
---
---