Nutriciously Gourmet, (almost) No-kneading Bread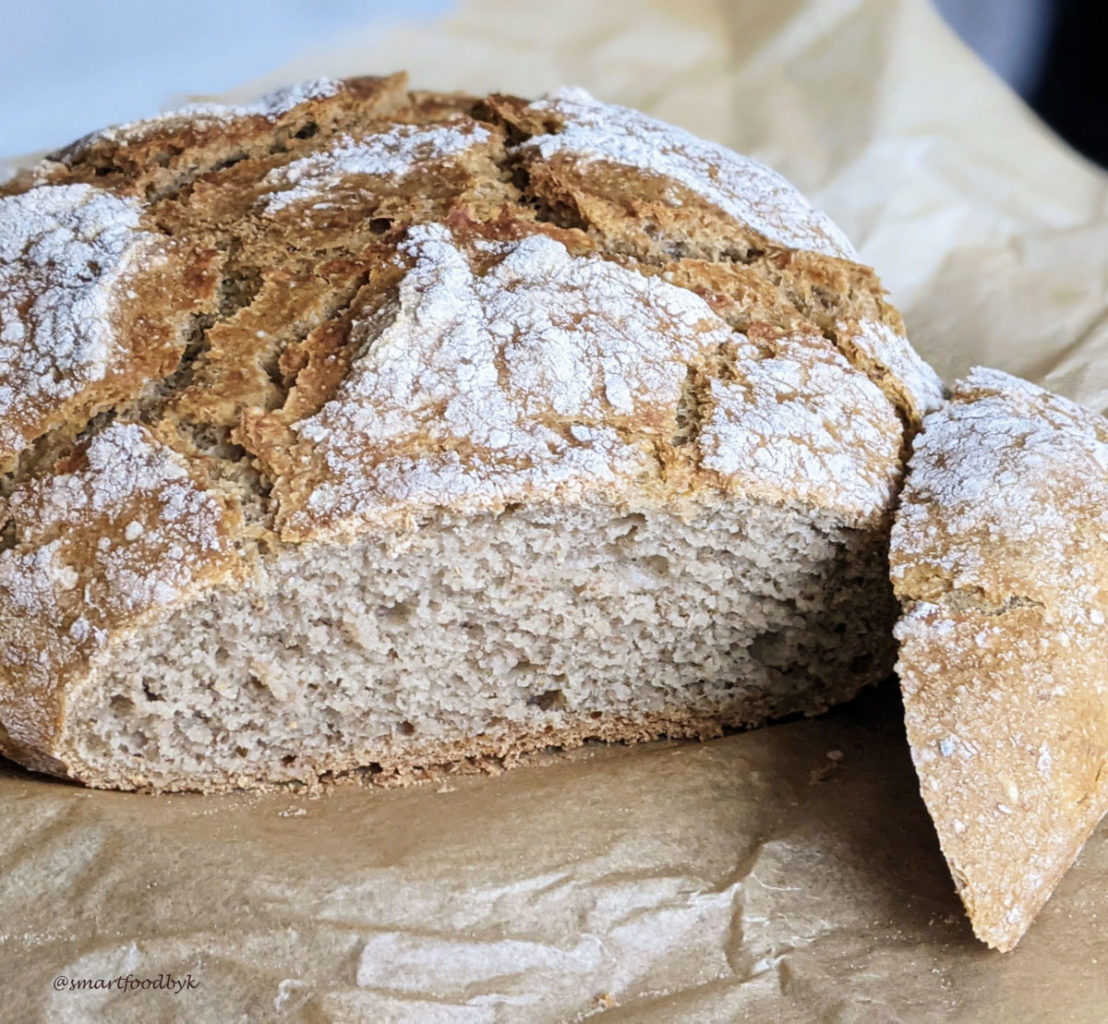 The recipe for this (almost) no-kneading bread was born out of pure necessity 🙂
I moved houses and the closest bakery was 20 minutes walk from my new home (+20 minutes back). Far too far away to make the effort early in the morning. Sometimes I really miss Paris with its bakeries on every corner of the street with so much choice…
Besides buying a plastic wrapped bread in a supermarket I was left with no option but to make my own. I needed a healthy, easy to make bread that would be so tasty that you would want to eat it on its own. Or with just some butter (plant-based!) as I love doing while it is still warm. I imagined a perfectly crunchy golden crust with a deliciously nutritious softness inside.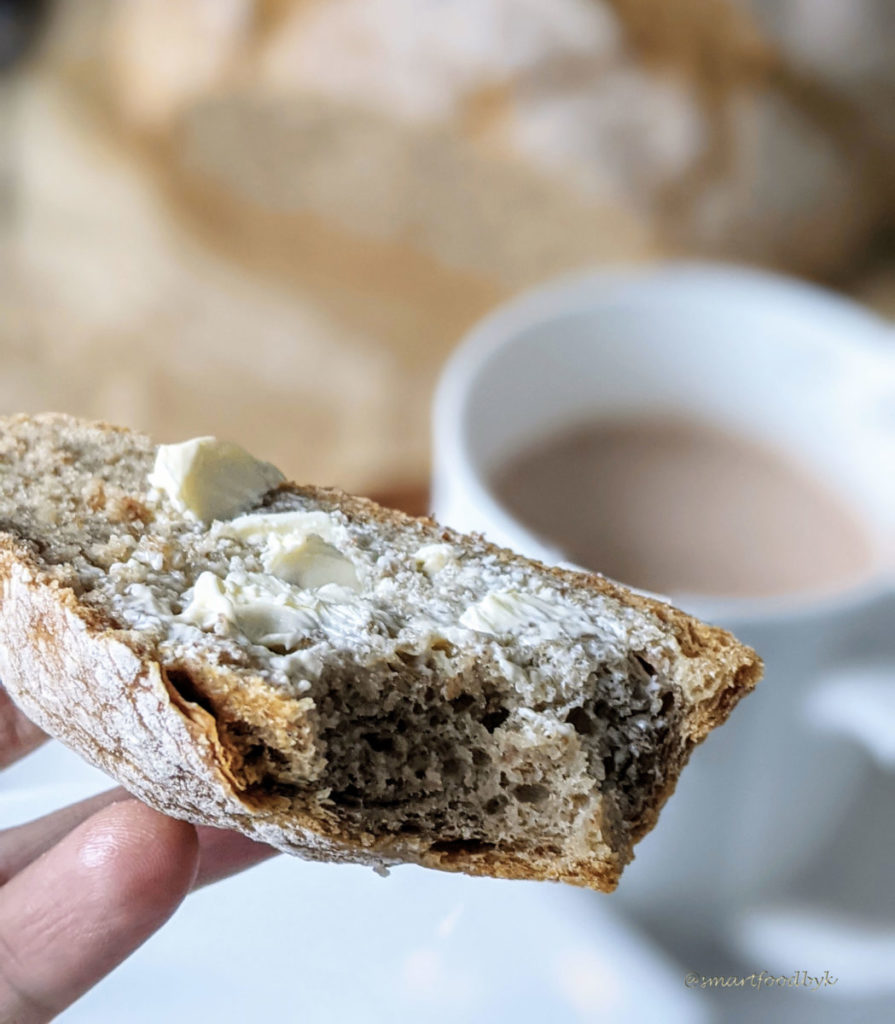 I tried several different recipes from my favourite chefs (Jamie Oliver has a great sourdough one) but found them either too complex to make (a lot of proving and kneading phases) or not healthy enough (white wheat flour only). They were all, however, very inspiring so I started experimenting.
I tested this recipe over and over again until I came up with the "perfect" ingredient combination, proportions and baking time/temperature. It starts with a quick preparation in the evening, then overnight dough proving and finally some light kneading and baking the next morning. And, yes, you would need a Dutch oven to bake it in, too 😉
Serves: 700g loaf. Total time: 1h 45 minutes (preparation 30 minutes +overnight dough proving, baking 1h 15 minutes) 
INGREDIENTS (organic and in order of use)
30g Fresh Yeast
100ml Warm Water
1/2 tsp Unrefined Sugar
450g Mix of Rye & Wheat Flour (30/70 approximately)
150g Graham's* Flour
1 tsp to 1 level tbsp Fine Unrefined Salt
400ml of Lukewarm Water
50-100g of Rye/Wheat Flour for dusting
1 heaped tbsp of Flax Meal (ground lin seed) – optional
*Graham's flour, named after Sylvester Graham the 19th century vegetarian advocate, is a variety of coarsely ground whole wheat flour. It is unbleached, and less processed than whole-wheat flour. It consists of finely ground kernel or endosperm of winter wheat. The other parts of the wheat, germ, and bran are also ground and added back to the endosperm grind, resulting in very slightly sweet brownish-colored flour.
BREAD PREPARATION
Start with melting 30g of fresh yeast in 100ml warm water (not too warm or hot, it may kill the yeast) and 1/2 teaspoon of unrefined sugar. Let it sit for a few minutes, the small bubbles will start appearing on the surface.
Combine 450g of rye and wheat flour, 150g of Graham's flour and 1 teaspoon to 1 level table spoon of fine unrefined salt stirring them together in a big bowl.
Make a little well in the middle, pour the yeast mixture in and combine it lightly with a spatule.
Add 400ml of lukewarm water progressively (in 3-4 times) and combine it with the flour, with the spatula making the round movement from the outside in. Repeat until water and flour are well combined, it should take 5-10 minutes). You will obtain a very sticky dough a bit too soft to form a lump. Cover with a clean kitchen cloth and let prove overnight on a kitchen top (up to 10 hours otherwise in a fridge).
The overnight proving gives the enzymes adequate time to work on the complex chemicals to realize better and tastier results.

Sticky dough.

Sticky dough ready to prove overnight.

The next morning, take the sticky dough out on a generously dusted (50 – 100g of flour) surface and sprinkle with a tablespoon of flax meal for a nice little dose of Omega 3 (optional). Knead for a few minutes, generously coating with flour (see how to start in the video below). No need to to press hard and knead thoroughly, just enough to form a soft loaf.


Place the dough to rest on a baking paper for another 10-15 minutes while you are pre-heating the oven to 200°C with a Dutch oven inside. It should take about 10 minutes for the Dutch oven to be hot.
Place the loaf in the hot Dutch oven, make incisions on it as in the photo and bake 1 hour at 200°C and  then 15 minutes without the lid at 180°C.

Oven ready loaf.

Let cool until slightly warm or room temperature before eating.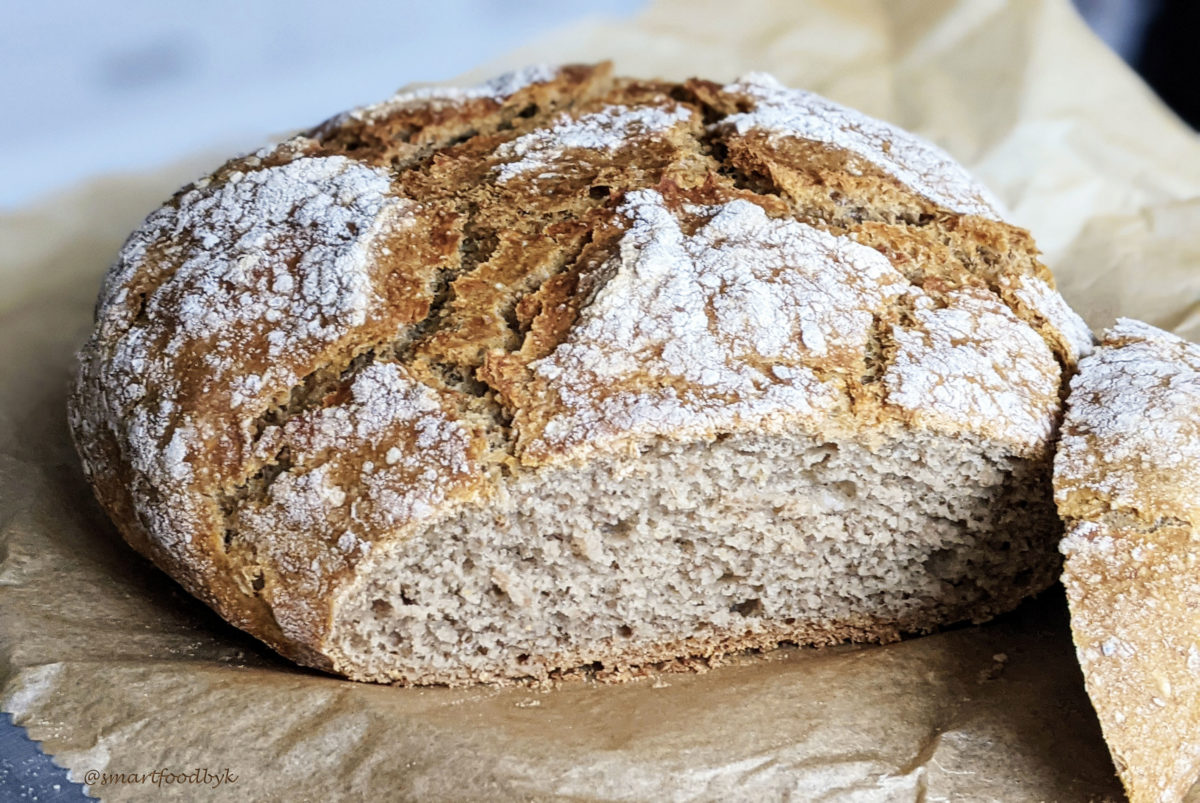 ---
---