All Plant Pigs in Blankets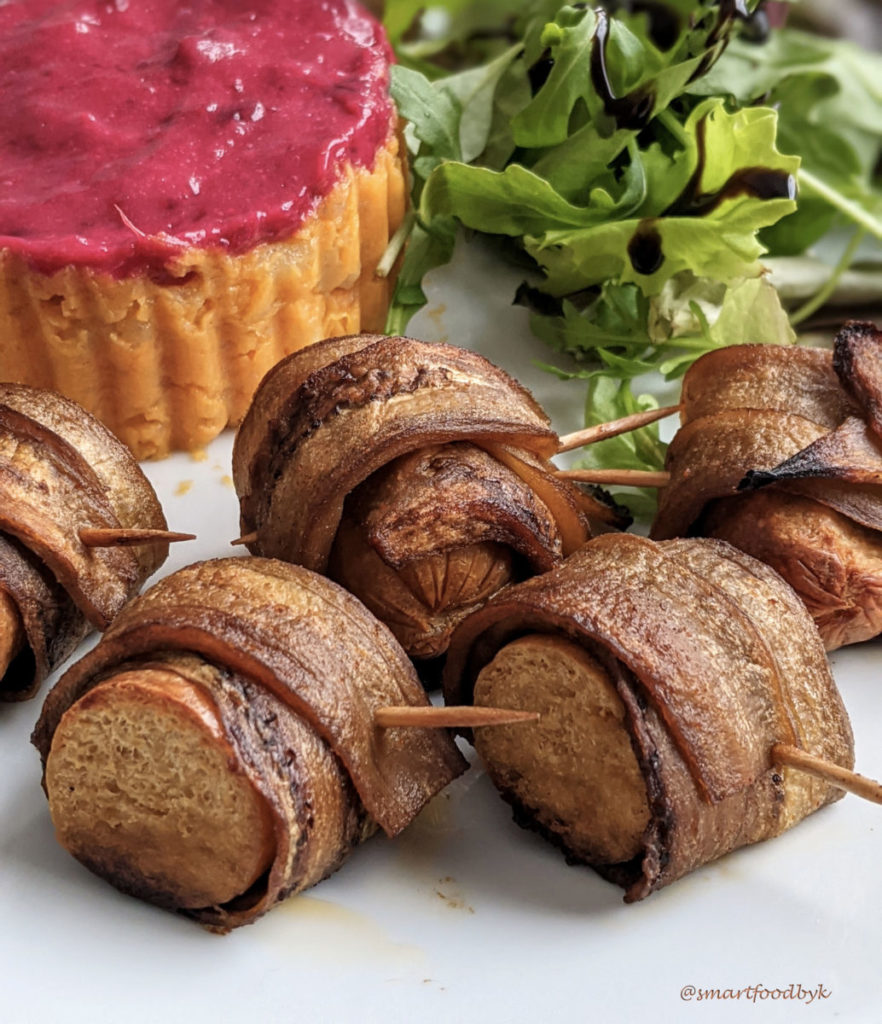 These little pigs in blankets are soooo simple and delicious, you would want to make them all the time 🙂 And they actually look like the "real" ones, don't they!
I would have loved to come up with this recipe but I haven't. It was borrowed from the guys from Bosh (you can find it on their instagram and probably on their FB page too). I modified it slightly but it is so very simple there is not much to change really. You should how ever make sure to use a good quality vegan sausage. There are now many out there and very few are both tasty and made of good ingredients. You should always pay attention to the ingredients list because you definitely do not want to replace the meat sausage with and overly processed and full of additives vegan one.
Making these green piggies is really quick and easy but you would need to start marinating aubergines an hour or two earlier.
Serves: 16-18 piggies. Total time: 50 minutes (20 min preparation, 30 min oven baking, + at least 1 hour of marinating)
INGREDIENTS (organic and in order of use)
1 Aubergine (medium-big)
4 tbsp Olive Oil
1/2 tsp Paprika (or Sweet Pepper)
1 tbsp of Liquid Smoke
1 tsp of Maple Sirup
Unrefined Salt and Pepper to taste
4 Vegan Sausages (about 18cm long)
You can replace liquide smoke + paprika with 1 level tbsp of smoked paprika.
PREPARATION
Peel the aubergine and cut it in half lengthwise. Then cut each half in 2-3 mm thick slices. Salt lightly each slice and place them in a dish to marinate.
Make the marinade. Mix 4 tbsp of olive oil, 1/2 tsp of paprika (or sweet pepper), 1 tbsp of liquid smoke, 1 tsp of maple sirup and pepper to taste in a small bowl.
Cover the slices (making sure that each one is well covered) with a marinade and let them rest for at least an hour.
Cut each sausage in 4-5 cm long pieces. Roll a slice of marinated aubergine around each piece of sausage, pierce with a tooth pick to hold and place in a baking trey. You can pour the rest of the marinade over the piggies.

Preparation.

Oven ready.

Bake at 180°C for about 30 minutes. Serve immediately, they are best warm. I served them for lunch with my bi-color potato purée: potatoes + sweet potatoes and potatoes + beetroot. They are also perfect as party food or an appetiser 😉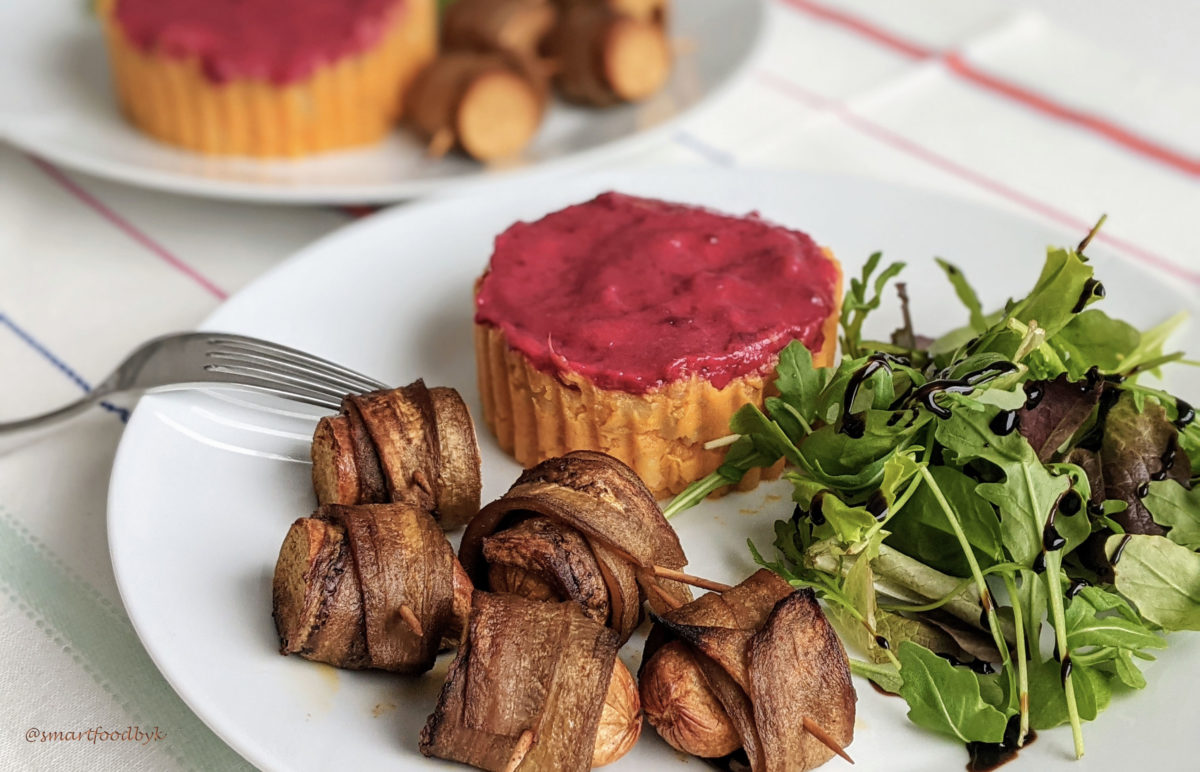 ---
---