Vegan Sushi 4 ways (shiitake, smoked tofu, avocado…)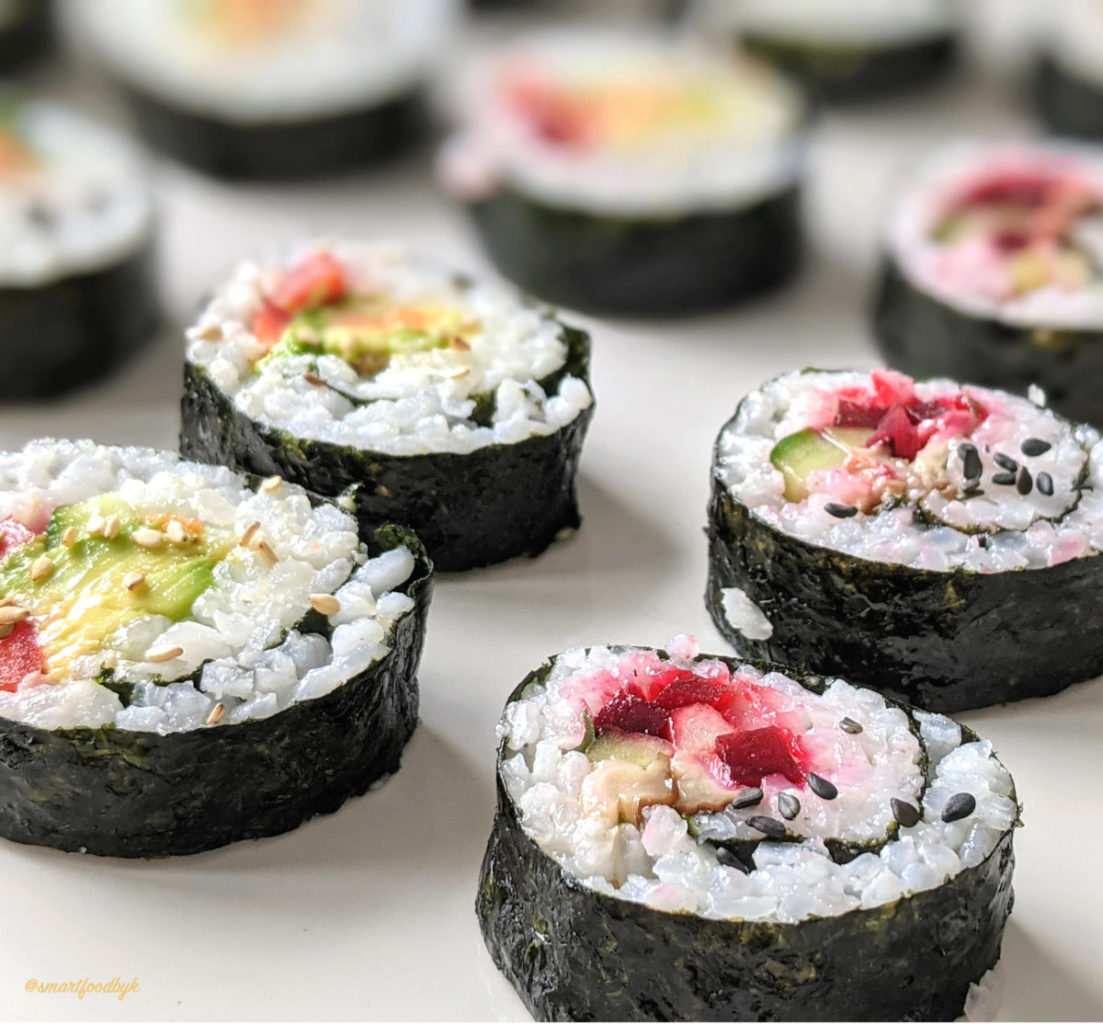 Sushi is one of our favourite foods. My children have eaten and loved them ever since they were small boys. We never even considered vegan sushi before we switched to a plant-based diet. We thought that we would have to renounce the sushi all together, because hey, what's the point if you do not eat fish, right? Wrong! Turns out there is so much more to it than the sea food.
Rice is a big part of it, its flavour and texture are quite unique. It is also the trickiest part to get right. When it is perfectly cooked, it is sticky but still you can feel the grains separately. It is slightly sweet with a delicate crisp and mild sourness. It is so tasteful, you can serve it as a side dish to a fried tofu and veggies for example.
Being creative with the stuffing is the second important part. Both colours and flavours are what make this food delicious, playful, fun and sophisticated at the same time. Getting the right combination is really a question of your personal preference and testing. Just try different things, you cannot really go wrong when you use the ingredients that you like 😉 You will find my suggestions below but they are only there to get your imagination going.
OK, let's dive in!
Serves: 5 nori rolls/40 sushi pieces. Total time: 1h 15 minutes (rice cooking about 12 min, preparation about 1h)
INGREDIENTS (organic and in order of use)
For the Rice
300g of Sushi Rice (special kind of white short grain rice)
5 tbsp of Rice Vinegar
1 tbsp of Unrefined Sugar
1 tsp of Unrefined Salt
For the Stuffing
2 large Kale Leaves
4 large Shiitake Mushrooms
2 tbsp of Sesame Oil (and some more for brushing)
2 pinches of Unrefined Salt
1 Carrot
1 small Cooked Beetroot
80g of Smoked Tofu
15cm (approximately) of Cucumber
1 Avocado
1 small Red Pepper
5 Nori Sheets
some Golden and Black Sesame seeds to sprinkle
pickled Ginger slices and Soy Sauce to serve
PREPARATION
Sushi rice and vinegar sauce
Start with cooking the rice so it has the time to cool while you are preparing other ingredients. Rince thoroughly 300g of sushi rice in cold water to lose the starch. Repeat the rincing until the water becomes clear (and not milky white). Put the rice in a casserole and cover it with 1,2 volumes of cold water (20% more water than the quantity of rice). Bring it to boil and stir once or twice in the mean time so that the rice does not stick to the bottom of the casserole. Always stir with a wooden spoon in order not to break the grains. When it starts boiling, lower the temperature to medium-low, cover and let simmer for about 10 minutes. Try the grains to check if they are cooked. They should stay apart (not sticking like a mash) and water should have evaporated.
It has already happened to me that the water evaporated before the grains were completely cooked, so I would just add a splash of boiling water and let simmer for a few more minutes.
While the rice is simmering, prepare the rice vinegar sauce. Pour 5 tbsp of rice vinegar to a small saucepan, add 1 tbsp of unrefined sugar and 1 tsp of unrefined salt and warm up on a stove until the solids completely melt. Let cool before you mix it in with the rice.
When the rice is ready and cooled a bit and the vinegar mix has cooled also, pour the vinegar over the rice and stir everything together gently with a wooden spoon.

Sushi rice ready to roll.
Vegan sushi
Cut out the middle of the kale leaves and shred the leaves into small pieces. Sauté them for 2-3 minutes in a pan with 1 tbsp of sesame oil and a pinch of salt.
Cut the shiitake in stripes and sauté them in the same pan (but not together with the kale) also with 1 tbsp of sesame oil and a pinch of salt.
Cut all the other ingredients in stripes: smoked tofu, carrot, red pepper, beetroot, cucumber, avocado.
You can mix and match the ingredients for the stuffing however you like. Here are my suggestions:
– shiitake + beetroot + cucumber (+kale)
– smoked tofu + red pepper + carrot+ kale
– avocado + carrot + beetroot + cucumber
– (red veggies only) carrot + beetroot + red pepper
– (green veggies only) avocado + cucumber + kale
Take a nori sheet and place it on you bamboo rolling mat. Spread a nice layer of rice (about 1cm thick) all over the nori sheet, leaving about 2-3 cm empty at the bottom of the sheet.

Sushi rice spread on a nori sheet on a bamboo rolling mat.

Place your stuffing on a first third of the rice spread and roll as presented in this video (the rolling bit is from 1'10" to 1'30").

Shiitake, cucumber and beetroot sushi ready to roll.

Repeat the process until all 5 nori sheets are used. Be creative with the stuffing 🙂

Vegan sushi rolls ready to cut.

When the rolls are done, brush them with some sesame oil to make them shiny and beautiful and to add a bit of flavour to nori. Use a very sharp knife to cut them into 1 – 2cm thick or whatever thickness is best for you.

Cutting the the homemade sushi rolls.

Sprinkle the sushi bites with some golden and black sesame (you can also sprinkle sesame on the rice before rolling) and serve with pickled ginger slices and soy sauce 🙂

Homemade vegan sushi.
---
---