Veggie Bolognese French style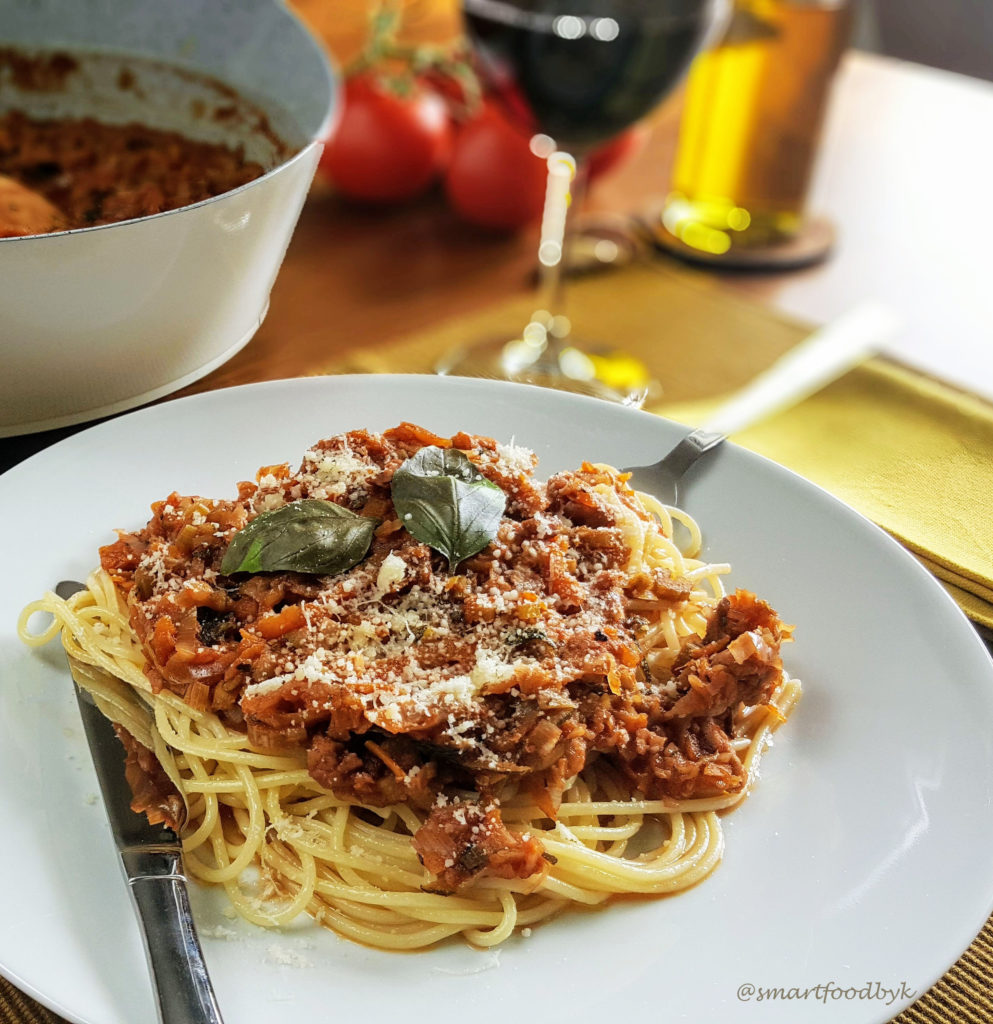 "Ohlala", purists would say, spaghetti bolognese with no meat and cooked as they would do it in France and not in Italy!? Well, oui! It is packed with delicious veggies and Mediterranean flavours and enhanced by some opulent red wine from the south-west of France. Who needs meat! You wouldn't be shy to serve this veggie bolognese even on a most elegant dinner table with a fine selection of French red wine (ok, ok, Italian would work as well 😉 ).
Serves: 4-5. Total time: 1 hour 40 minutes (preparation: 55 minutes, cooking: 45 minutes)
INGREDIENTS (organic, in order of use)
80g of dried Soy Mince (in small pieces)
1 Onion
4-5 Garlic cloves
2 branches of Celery with leaves
4-5 tbs of Olive Oil
3-4 pinches of Unrefined Sea Salt
1 big Carrot
1 small Leek (with green part)
1 big Courgette (zucchini)
1 level tsp of dry Oregano
1 level tsp of dry Thyme
1 Bay leaf
200ml of strong Red Wine (I use wines from south-west of France)
600ml of Tomato passata (5-6 minced Tomatoes)
1 level tbs of Unrefined Cane Sugar
small handful of fresh Basil
PREPARATION
Soak 80g of soy protein in a lukewarm water.
Chop finely onion, garlic and celery branches and sauté them in a skillet with 4-5 table spoons of olive oil and salt for about 10-15 minutes on a medium temperature to soften the onion.
Grate a carrrot and cut leek into 2-3 mm wide rings. Add them to the skillet and continue cooking for about 15 minutes at the same temperature.
Add a grated courgette (no need to peel if it is organic, vitamines are stocked just below a super thin layer of peel) and drained soy protein and cook for another 5 minutes.
Pour the wine, lower the temperature just a bit and let simmer for about 15 minutes. Alcohol will evaporate but the flavour will enhance the dish  😉
Add oregano, thyme, bay leaf, tomato passata and a level tbs of cane sugar and simmer for about 45 minutes. All the vegetables should "melt" in the sauce beautifully blending together.
Take the sauce off the heat and add a handful of coarsely cut basil leaves.
Cook your pasta as indicated on the packaging. I use organic wholegrain spaghetti, 100g per person.
Serve as soon as spaghetti is cooked and enjoy this full flavoured veggie delish with a glass of red wine. You can of course add parmesan or its vegan version.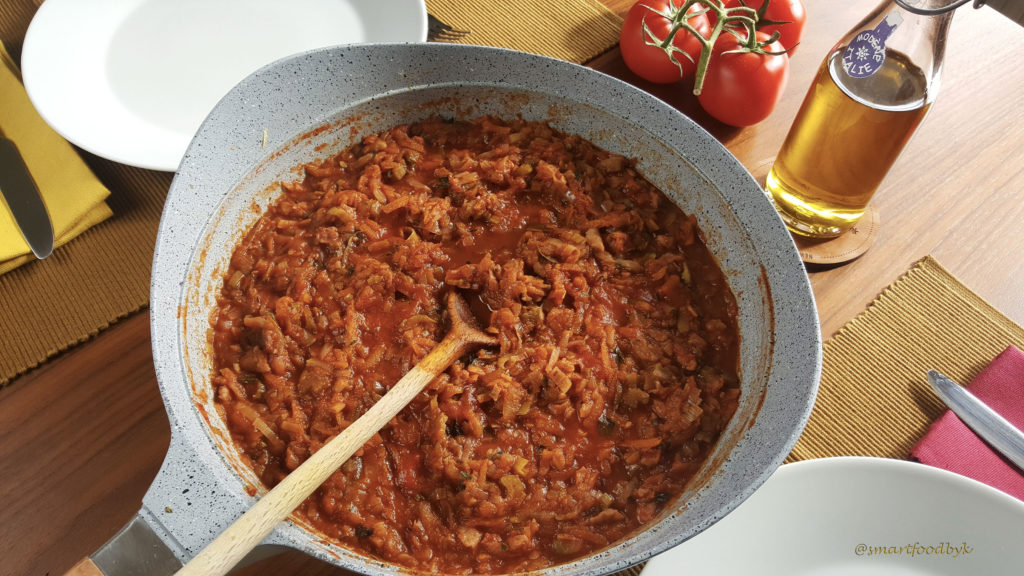 ---
---